By Jason Barnard
Pig Rider, whilst largely unknown in their years recording, have been recently discovered by a new generation of fans. Retrospectively labelled as pioneering proto-DIY psych, John Mayes, Colin Kitchener and friends recorded a number of homemade albums pressed as ultra-rare acetates.
Formed in the late 60s, their original albums now cost up to five figures. In fact their rarity has led Pig Rider being called the most "interesting band ever". Guerssen has recently released 'The Robinson Scratch Theory', a collection of their later material. Their sub label Sommor are now following it up a new 2 CD and limited edition vinyl set collecting 1974's 'Bloody Turkey Sandwiches' and 1975's 'Heterophonies'. With a back story like that Jason Barnard just had to track down Pig Rider's John Mayes.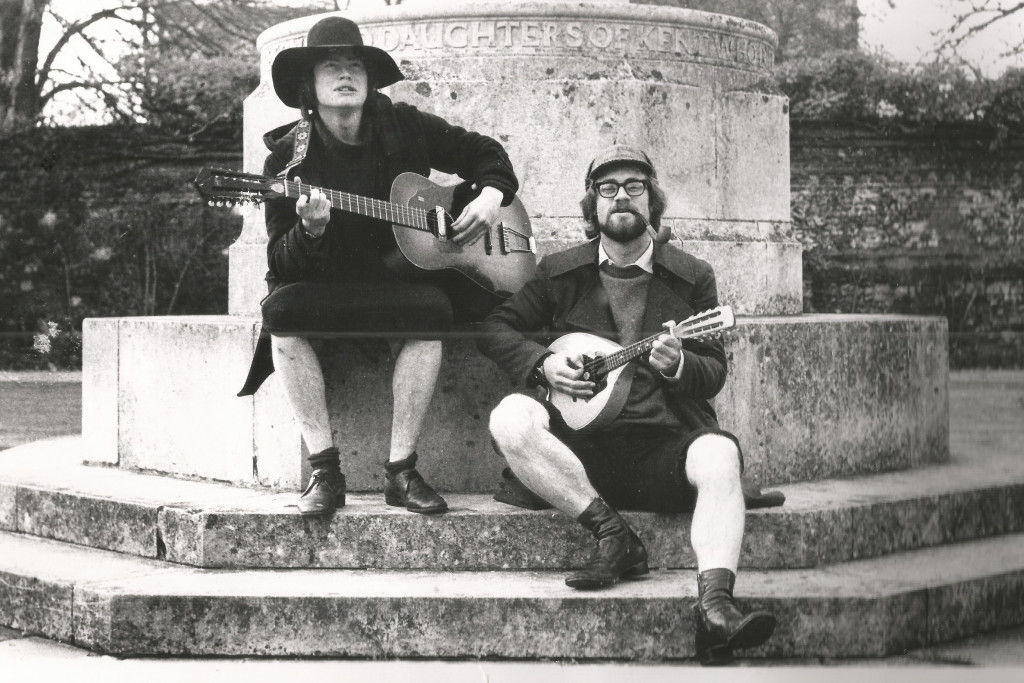 Pig Rider, left to right: Colin Kitchener and John Mayes
How did you and Colin start making music?
We were about 12, and at Sevenoaks School in Kent, when we became friends. Colin had been tinkering with his family's piano for some time and was teaching himself to play guitar, but despite years of piano lessons I couldn't play anything without very simple sheet music.
The school had a brilliant music teacher called 'Fuzz' Townend who in weekly 40-minute lessons would get a class of 25 boys of little musical ability to join together in playing a reasonable rendition of a current pop song on all sorts of instruments. He showed me that all the music I liked was a simple construct of chords, tune and words.
So sometime around the mid-60s Colin and I started playing music together on the pianos in the practice rooms at the school. I would hammer out the bass and chords and he would do clever things at the right hand end of the keyboard, we'd start singing some silly words – and we were away!
Of course, it wasn't that easy. We played our songs at a few school concerts and got lots of laughs (it's not difficult to be the highlight of a school concert when you're clowning around amongst all the precocious/pretentious performers), but we struggled with other live performances as you couldn't carry a piano round with you and we only had three or four songs to start off with.
Pig Rider, a unique name. What are its origins?
I saw it carved into a desk at school. We actually got our original name 'The Pig Rider Robinson Heterophony' from my misreading what actually said 'The Pig Rider rides on'. So we have some anonymous school chum to thank for the name.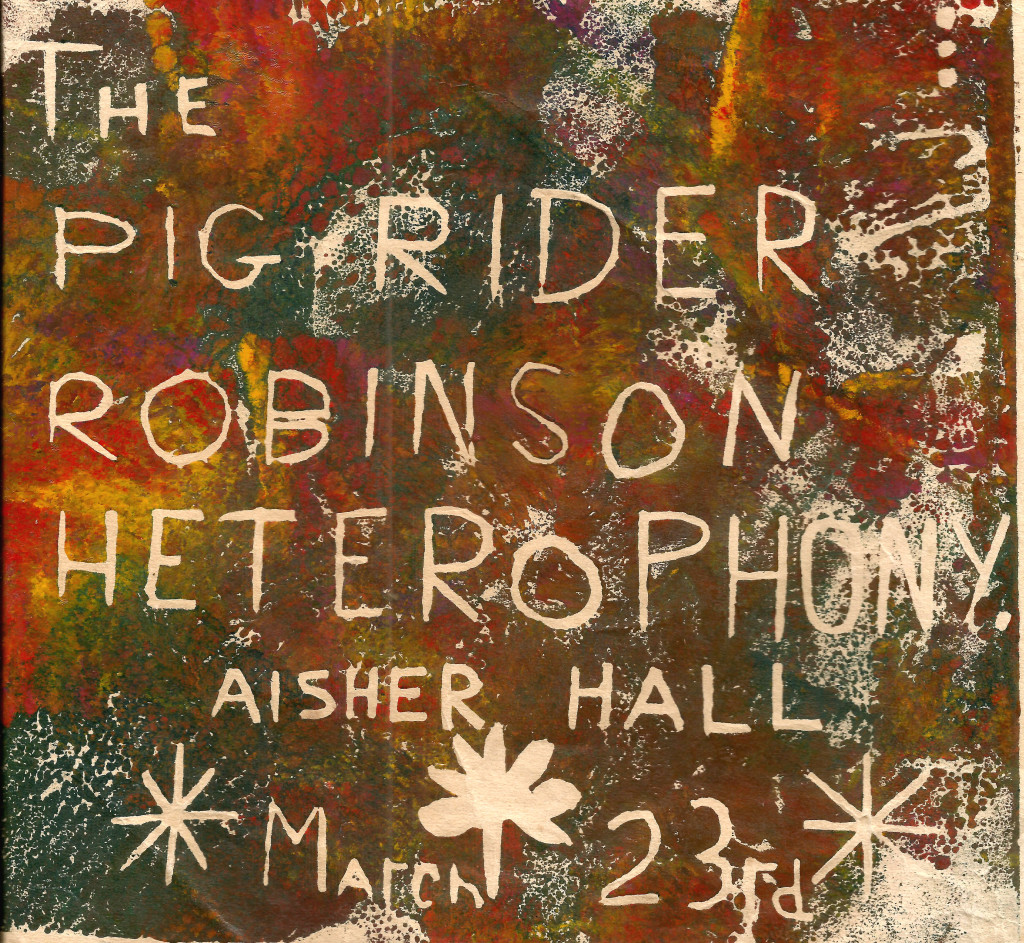 And I'm afraid it isn't unique. In the last couple of years a French duo called Pigrider has appeared on the internet. They're a bit ruder than us, but perhaps we'll benefit from their fanbase accidentally buying our albums?
How did your sound develop?
There were two stages of Pig Rider, really. What I'm going to call PR1 was from school through to 'BTS' and 'Heterophonies' – not much in the way of percussion, effects, multi-tracking or amplification, and almost no keyboards, but with various chums helping out (we had over 40 people play for us).
Then after a pause between 1975 and 1980, the PR2 phase saw us make seven more albums, two of them doubles, mostly just with the two of us performing. The real difference was that we had keyboards by then, and so we could achieve a much fuller and more interesting sound.
From the late 60s into the 70s saw more musicians join. Who were the most longstanding and who played on 'Heterophonies' and 'Bloody Turkey Sandwiches'?
Again, that wasn't how it worked. Joe, Ian, Colin and I were just a bunch of chums who did lots of things together, and so when we played music, we did that together too. Nigel and Jim were people we knew through work and our local pub (our lives centered on the Plough in Ivy Hatch, which features on the cover of BTS) who we asked along to recording sessions because they had instruments and could play them – but sometimes we asked people to join in who didn't have instruments and couldn't have played them if they did.
It was all very fluid – both Colin and I missed sessions, and Ian did 'Interdrive Overstella' (note the unsubtle Pink Floyd reference) on his own.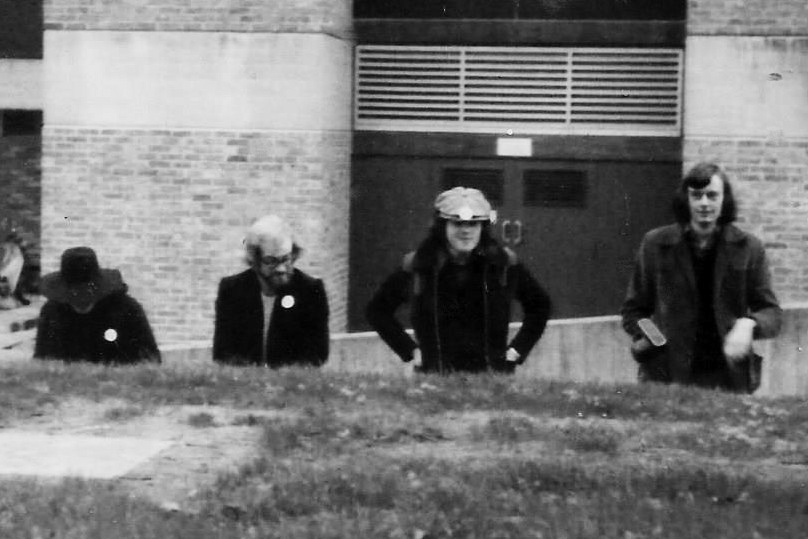 Pig Rider, left to right: Colin Kitchener, John Mayes, John Philip (Joe) Buckett, Ian Baker
You recorded two records before these two, the first described as 'awful'. Is it that bad?
The first one, from about 1968, was four of us, one microphone, a tape recorder and too much time and too many instruments on our hands. There were no actual songs involved; we just shouted a lot and hit and strummed things until the tape ran out. Even if we become mega-famous and we're offered millions for the tape, this one is staying under wraps.
No, I'm lying: we would take the money.
The second one, 'Animals with Few Teeth and Small Brains', was our first proper album. It was the first which was cut onto acetate, and is actually quite good, with two or three super songs. It suffers from just being the two of us; as we hadn't learned to double track it sounds a bit thin in places. Our song shortage also got in the way a bit as we had to fill the album with a few of the songs played backwards.
What marked you out was that you mainly focused on recording rather than playing live, why?
Because we were rubbish live. Our last gig before we started recording was marked by the audience leaving as we started – we were the meat in a good performer's sandwich, and our set was everyone's chance to go to the bar – and then the band disappearing as well. Our guitarist, who was having girl trouble, suddenly upped and walked off the stage in tears. When he didn't come back the autoharp player went to look for him. When neither of them came back I went to look for both of them, and that just left Colin, who played 'Nutrocker' and then walked off too. By now the audience had come back from the bar, and was extremely puzzled. Some of them actually clapped the empty stage!
Later our stuff got too complicated for the two of us to perform – just like the Beatles!
We have other connections with the Beatles, actually, as we were both there when they recorded the video for Penny Lane and Strawberry Fields Forever in Knole Park (John Lennon told Colin to 'sod off' at one point). In addition both bands weren't offered a contract by Decca, although in our case it was because they'd never heard of us.
You inadvertently were pioneers of the DIY scene that took off in the 80s through cassettes and now is commonplace through the internet.
So we've been told! We were just having fun.
We've very much enjoyed all the attempts to categorise what we did – apparently we're 'the undisputed kings of proto-DIY home-made psychedelic folk-rock' and our music runs from 'outsider synth-pop to Barrett-esque lysergic folk, from lo-fi garage-punk to basement prog'!
That may well be right although we don't know what any of it means and my garage was full of other stuff, I didn't have a basement and we didn't do drugs (largely, I think, because we weren't ever offered any). I'd say we just enjoyed writing, singing and playing, and drinking beer while we did it. Beer is important to the story: most of the songs were recorded in a single session, which meant that after we'd laid down three or four tracks and started on the vocals our singing could sound – and was – pretty well lubricated.
If you really want a category for our music that we're happy with I think – and I can't remember if I came up with the phrase, so I apologise if I've plagiarized it – that as we developed from PR1 to PR2 we went from joke folk to mock rock.
You recorded at home but these two rereleased records sound pretty good. What equipment did you use and your recording process?
Ian had an Akai ¼ inch reel-to-reel tape recorder and a cassette recorder, so we'd just plug microphones or instruments directly into one of these, and then overdub onto the other. Ian also used his machine to generate echo effects, edit the tapes and if necessary play them backwards.
For PR2 I had a Sony ¼ inch reel-to-reel and a Mitsubishi tape deck, both of which had four inputs, and a little four-way volume-only mixer, so we could overdub much more easily. Later I bought an Amstrad home studio which would allow us to mix up to 10 tracks down to a four-track output, but we only used it a few times before I moved to Scotland in 1993.
If there's ever a PR3 I suppose we'd have to go digital. As long as there was beer.
Black humour seemed to be a key theme, especially by songs like 'Which Way To The Exit' and 'Something Very Nasty'. 
You haven't mentioned 'Pus in our time'!
I admit I've never thought about this. I think we'd go for anything that we thought was funny – black humour, outright silliness, surreal shanties, twee Flanders & Swann rip-offs, twisted folk songs and so on.
If I were to describe your sound it would be a mix of Syd Barrett and the Bonzos. Is this something you recognise, what are your influences?
One of the best things about this whole weird process of suddenly being in demand over 40 years after we made the music is that we have had to answer this sort of question, and it's really made us think.
My first real "influences" were probably a 50s duo called Flanders and Swann, who sang funny songs accompanied by a piano; a comedy singer called Allan Sherman – remember 'Hello Muddah, Hello Faddah'? –Spike Milligan and Lewis Carroll. Oh, and Gilbert and Sullivan. Not, though, Gilbert O'Sullivan.
As I advanced through my teens I never stopped listening to music, but I was always more interested in lyrics than musical styles. Yes, I listened to Pink Floyd, but it was because of the words of 'Arnold Layne' and 'Flaming'; ('Piper at the gates of Dawn' was the first album I ever bought which is something to boast about, although the first single I ever bought was '633 Squadron' by Ron Goodwin which isn't); I was introduced to Genesis through 'Harold the Barrel'.
In the meantime the first record Colin played until the groove was worn out was 'Children of the Sun' by the Misunderstood. He was also listening to the Rolling Stones, the Byrds and Dave Dee, Dozy, Beaky, Mick and Tich (he's not embarrassed). It was he who got me into virtually anything issued on the Island or Chrysalis labels, especially Jethro Tull and Fairport Convention.
However, although we loved all this music and everything else in what became vast collections of vinyl, we made no conscious effort to imitate it. What was the point? They did it better than we could anyway.
As for the Bonzos, yes, we were fans, and it's easy to categorise us alongside them because of the eccentricity of their music and lyrics. But their core sound was nothing like ours, and they were real artists and proper musicians and had breakups and breakdowns. We were just having fun and haven't broken up yet.
Actually, I think our only musical influence was the availability of instruments. We played folk in the early 70s because we didn't have rock instruments and rock in the 80s when we did have them. We didn't have any external influences; we listened to everything, but copied nothing.
The band we sound most like, I believe, is They Might Be Giants, but they came along some time after us, so you'd hardly call them an influence.
Songs like 'Shine On' and 'Ayleen May' have a more accessible sound. Did you ever approach record labels for wider releases?
No. We entered 'Being Menaced by a Dinosaur' for a BBC competition, but that was our only attempt at being serious. Music was a hobby; we also played cricket together but we didn't think of turning professional at that either. And for much the same reasons.
Another point which arises from your choice of these tracks is that Colin wrote them both, and if they have jokes in them they're very well hidden. Perhaps he was hoping to go straight as a songwriter?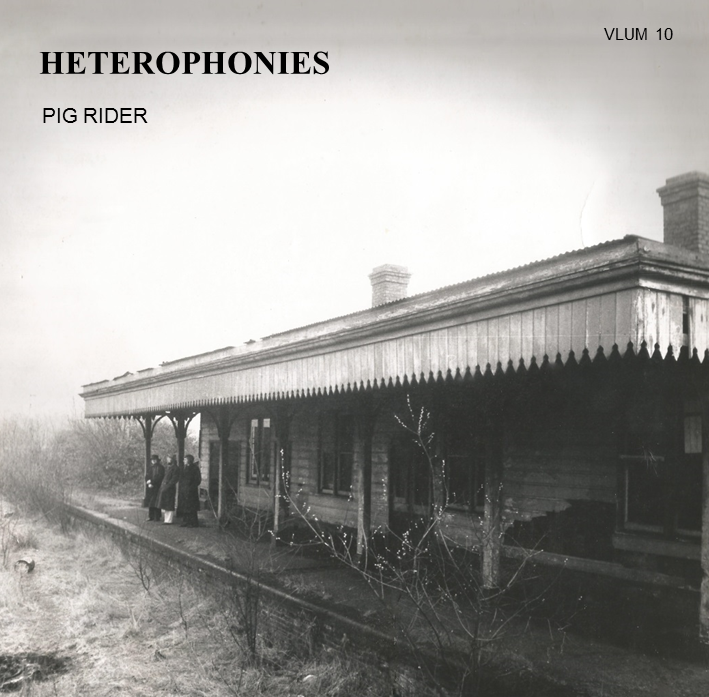 What are your favourite tracks from 'Heterophonies' and 'Bloody Turkey Sandwiches'?
An impossible question, but if I was really pressed I'd go for 'Ayleen May' and 'the Head Bashing Song' on 'Heterophonies' and 'South Coast Express', 'Blue Hair and Carrots' and 'Have you seen your neighbour in the bath' on BTS.
I asked Colin and he came up with Insect Song, Being Menaced by a Dinosaur, and Abbot Wulfrig's Rotunda from 'Heterophonies' and the same choice as me from BTS.
You privately pressed them in small numbers and over the years 'Heterophonies' became highly sought after by collectors. Were you aware of this?
Absolutely not! We don't know how one of the acetates escaped into the outside world, although we've been in touch with all the other band members to find out if they had lost or sold theirs and they all deny it.
The acetate seems to have travelled all over the world, and was even reviewed in a book called 'Galactic Ramble' – all without us knowing.
We started to get an idea of the interest when Colin spotted 'Heterophonies' on a website called rateyourmusic.com, and logged in to add a tracklist. This login was the clue collector Alexandre Mansuy had needed to track us down, and in 2013 he got in touch and let us know of the interest in the album, with the result that we were finally able to make some money from all our efforts through selling our copies of the acetates.
I've seen they have since increased greatly in value, way beyond what we got for them, but that's fine by us. To be honest, the acetates didn't mean much, we would rather people were interested in our music, and that's why what happened next is the bit we find exciting.
When did Guerssen get in touch about those two albums and can you tell me more about this new release?
Alexandre also recommended us to Guerssen, who got in touch with us in February 2014, and arranged a deal with us to release 'Bloody Turkey Sandwiches' and 'Heterophonies' as separate albums on vinyl and together as a double CD on its sub label Sommor.
This would have been success and recognition enough for us, but there was more to come when Alexandre put some of PR2's tracks on his blog somewherethereismusic.com.
Almost immediately Guerssen were back, offering to release a compilation of Alexandre's choices of some of the highlights from the band's albums from the early 80s, again on vinyl and CD.  Even more flattering was the decision that there was too much good stuff for the release to be only a single album, so it was to be a double – and the CD would have bonus tracks!
Rather confusingly Guerssen has released this selection of our later stuff under the title 'The Robinson Scratch Theory' ahead of 'Heterophonies' and 'Bloody Turkey Sandwiches'. We gather someone in Japan has already downloaded a copy, which by my calculation makes us international rock stars.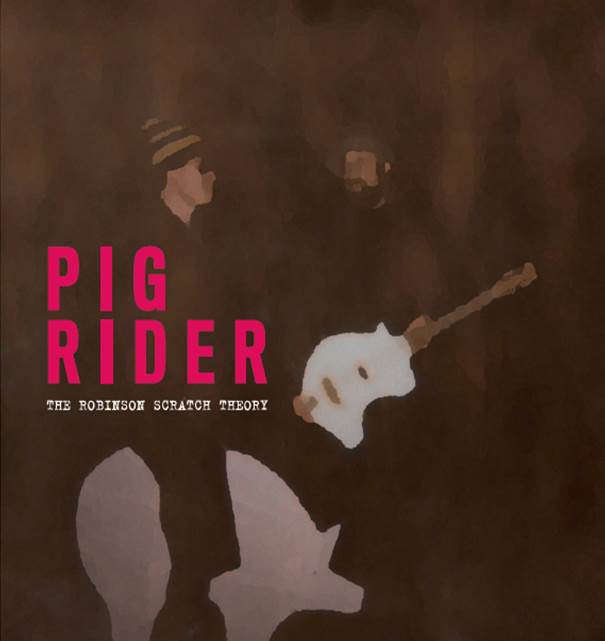 Are you and Colin still making music and what's next for Pig Rider?
Living 500 miles apart for the last 22 years has rather put the kybosh on regular meetings, although we did manage to finish our last album in 2003 over a couple of days and a worrying number of pints. Our last song to date was written by email and finished by post.
I'm sure if we ever got the opportunity we'd love to record some more stuff. As always, we'd advance through getting new equipment, and since we last recorded I've learned to play the bouzouki and bought another synthesiser, so those would definitely affect our sound and give us some new ideas.
What we won't be doing is going back on the road. We were young and terrible then; we'd be old and terrible now.
I suppose our best hope is that the music is popular enough that someone wants to do another compilation of our 80s stuff – we have well over a hundred more songs yet to be released on an unsuspecting world, including a lot that we think are among the best.
But that's being greedy, as we've already achieved more than we ever dreamed of – although I have a tracklist prepared, if anyone's interested…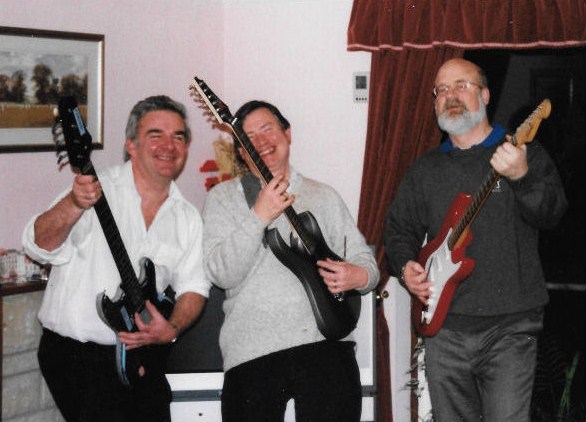 Pig Rider 2003 reunion, left to right: Jim Bruce, Colin Kitchener and John Mayes 
Wishing you all the best with 'Heterophonies with Bloody Turkey Sandwiches'. Where can people find out more about Pig Rider and grab a copy?
Many thanks; after all they've done for us we hope Guerssen make a pile of money from the project and lots of people get to hear and enjoy our music.
If anyone want to know more about us, 'The Robinson Scratch Theory' vinyl and CD double albums both contain a full history of the band, although we forgot to put in the bit about everyone disappearing at the gig and our close, if brief, connection with the Beatles.
As for getting copies and downloads of any of the albums the Guerssen site and Bandcamp are probably the best bets, but if I'm honest I don't really know. That's probably a hint as to why it's taken us 45 years to get a recording contract!
Photos used with kind permission of Colin Kitchener and John Mayes. 
Copyright © Jason Barnard and John Mayes, 2015. All Rights Reserved. No part of this article may be reproduced or transmitted in any form or by any means, without prior permission from the author.