Nick Warburton continues the fascinating story behind Milkwood and the efforts to get the tracks released on CD for the first time.
With recording sessions set for July, and the band lined up to work with noted producer Jerry Ragavoy at the Hit Factory in New York (abetted by engineer Eddie Youngblood), the group desperately needed a replacement.
To salvage the sessions, McKelvey put out the call to former Influence bass player Jack "August" Geisinger.
Looking back on the sessions, McKelvey has this to say: "Influence [the album] was done really quickly like in two or three days. With Jerry Ragavoy it was quite meticulous [on Milkwood's album]. We rehearsed well for them and took our time on the tracks. There wasn't a lot of overdubbing but there was some. Everything sounded great."
Scanning the album track listing, there are some fascinating song titles. Songs like "In The City", "Would You Leave or Let Me Go" and "Monopoly Game".
"Board games were extraordinarily popular with Louis and his friends; in England particularly it was endless games of Risk, so it could have been a riff on that," says Rosemary White, who witnessed the genesis of many of his songs. "That has a very interesting tune to it with lots of different changes and chords."
While recording the album, Frankel remembers some special guests turning up in the studio unexpectedly. As Mary Lou was laying down vocals for the song "There's A Man", Garth Hudson, Robbie Robertson and Levon Helm from The Band entered the studio and informed the musicians that they had really enjoyed her performance.
During Milkwood's New York stay, Mary Lou Gauthier also vaguely recalls doing a show with Dutch group, The Golden Earring, which might have been an audition for something. While in the Big Apple, the band got some publicity photos taken in Central Park, which seem to have vanished.
With the recordings done, Milkwood returned to Canada in August and embarked on a six-week tour. At one show at the Penny Farthing, members of Led Zeppelin turned up after their eagerly awaited Rock Pile debut on 18 August. John Bonham even sat in with the group for a few numbers.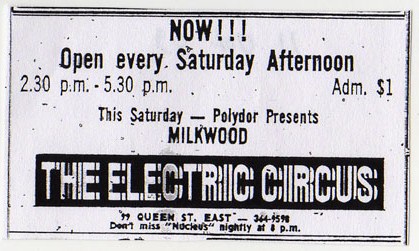 It was at this point that the band turned down an offer to appear at the forthcoming Woodstock Festival.
Having missed out on the most famous rock event of the Sixties, Milkwood did participate in Toronto's famous Rock 'N' Roll Revival Concert on a bill that also featured John Lennon's Plastic Ono Band and McKelvey's idols Little Richard and Jerry Lee Lewis. Mandel remembers some interesting guests at the band's house before the show.
"The then unknown Alice Cooper had been asked to back up Gene Vincent. Cooper's manager Shep Gordon and Milkwood's manager [Richie Miller] were old friends from either Phoenix (where Cooper was then based) or LA, which is how the Cooper invite was arranged. Cooper and Gene Vincent practised for the gig in our basement."
When it came to Milkwood's own performance, the group played a well-received set. Little Richard was ready to follow the group when a last minute rescheduling delayed his performance, says Mandel.
"He was scheduled to go on, and was already up on the backstage with his band members when the limo carrying John and Yoko, Klaus Voorman and Eric Clapton arrived. When he learned his appearance was being pre-empted by the Brits, Richard burst into tears and was inconsolable, but his entourage was urged offstage by the festival managers."
Milkwood's concert appearance resulted in a flurry of bookings. On 19 September, six days after the revival show, Milkwood played at York University in Toronto, sharing the bill with Teagarden and Vanwinkle. Then, the following month, the band appeared at Toronto's famous Electric Circus on 11 October.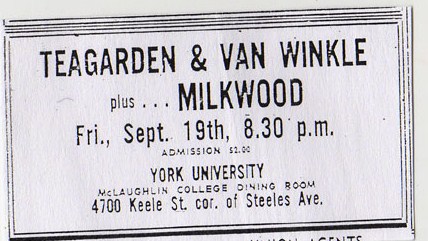 Less than a week after a performance at the Hawk's Nest in Yorkville Village on 17 October, Milkwood hit the road and travelled to Ottawa to play a small club date. One night, the musicians headed over to the renowned Café Le Hibou to catch Van Morrison, who was playing from 21-26 October.
"We went down to see his show," recalls McKelvey. "Malcolm and Mary Lou got up and sang 'Come Running' with him."
"He didn't know we were professionals, we just showed up," adds Mary Lou Gauthier.
Milkwood's guitarist remembers sharing a bottle of whiskey with Morrison in the club's dressing room after the show ended.
Dave Mandel was also present and has fond memories of the night in question. "Morrison drank at least one whole bottle of whiskey backstage in a quick barrage of gulps between sets, and you sure would never have known he'd taken a drink – amazing performer, amazing hollow leg!"
Moving on to Montreal, Milkwood were introduced to label mates, Life through former Influence drummer, the late Frank LoRusso (aka Yum Yum). Through Yum Yum, Tomlinson was enlisted to provide a superb flute solo to the track, "Lovin' Time".
While Life's album would see a release that year, Milkwood's own album was being held up. Unfortunately, a dispute over distribution between Richie Miller and Polydor had delayed the album's release, leaving the band minimally employed and bored.
Creative and personality differences added to the group's problems and the album was shelved in December, perhaps because Ragavoy sensed that there might not be a group to promote it. His instincts were right. That same month Milkwood imploded.
Judging by the producer's comments to Toronto's Globe and Mail in its 27 November edition, Ragavoy had had high hopes for the band, so must have been bitterly disappointed by Milkwood's premature demise.
"They have a lot to say and I think there'll be good things happening with this group," he told journalist Ritchie Yorke from his New York office.
Mary Lou Gauthier has her own take on the band's ultimate split. "We put our hearts and soul into it [the album]. We were a group of fiery passionate people who were reluctant to compromise in any way."
In the wake of the band's demise, Frankel did sessions for Jesse Winchester, but otherwise kept a low profile. Plagued by ill health, he lives in Montreal.
Mary Lou Gauthier, meanwhile, recorded a brilliant single for Polydor in September 1970 entitled "In The Summertime" c/w "Come Run" and later became a noted session singer, appearing on records for April Wine and Celine Dion. She later sang with Celine Dion in a long-running engagement at Caesar's Palace in Las Vegas and has recently recorded some new material with her second husband.
Original bass player Ronnie Blackwell later became a computer consultant and now lives in Las Vegas. "After I left I was playing with a band in Vancouver but they sucked. I knew I would never play with a band again that had so much promise and talent."
From the ashes of Milkwood, McKelvey, Tomlinson and Geisinger launched the aptly titled Damage, a gritty hard rock band that was especially popular with local biker gangs.
Consisting of drummer Yum Yum, occasional member Walter Rossi, and (later) ex-Majestics bass player Chris Vickery, Damage played a few notable dates – an appearance at the Toronto Rock Festival at Varsity Arena [26 March 1970] and the Electric Circus [8 May] – but crumbled by late summer.
Malcolm Tomlinson spent a brief spell in former Elektra band Rhinoceros before recording with Syrinx and Bill King. In 1973, he became a member of Rick James's original Stone City Band, which cut an album's worth of material that was shelved. Tomlinson later pursued a solo career, issuing two strong albums in the late 1970s.
He remains active on the live scene and has met up a couple of times with his old band mate from the 1960s, Martin Barre when Jethro Tull have been in town.
McKelvey briefly worked with Hank Squires during 1970, acting as a session guitarist for Squires's short-lived studio group Marble Hall. McKelvey contributed to the group's lone single, "Marble Hall" (originally recorded as a demo with Influence).
He also briefly worked with Chris Vickery and future Goddo member Doug Inglis in the rock group Powerhouse, formed in October 1970. Powerhouse opened for Lighthouse at Ryerson Great Hall in Toronto on 4 December but in early 1971 McKelvey lost interest and dropped out to pursue a non-musical career.
Music has remained his passion, however, and in 2004 he lent his guitar skills to local group, The New Signals' debut album.
McKelvey continues to play at his club in Toronto where Tomlinson also hangs out. A few years ago, the pair reunited with Mary Lou Gauthier and recorded some tracks.
Milkwood roadie Dave Mandel meanwhile lives in the San Francisco Bay Area and has just released his new original-compositions CD album, Realtime.
Together with albums by McKelvey's previous band Influence and Polydor label mates, Life, this author has been working with Canadian re-issue label Pacemaker over the last year to try and licence the tracks from Universal and it is hoped that Milkwood's album will finally gain a CD release this year. Watch this space!
Nick Warburton would like to thank Louis McKelvey, Mary Lou Gauthier, Malcolm Tomlinson, Ronnie Blackwell, Ron Frankel, Jack Geisinger, Dave Mandel, Rosemary White, Norman LoRusso, Jay Telfer, Carny Corbett, Bill Munson, Mike Paxman and Chris Bishop.
For more information about Jeff Curtis and The Flames, visit:
http://www.garagehangover.com/?q=JeffCurtisandTheFlames
To read about Malcolm Tomlinson's UK bands:
http://www.nickwarburton.com/wordpress/?cat=11
Dave Mandel's CD can be purchased at:
http://www.stonybrokemusic.com/
Nick Warburton is a UK-based freelance writer, who has written for Shindig, Record Collector, the Garage Hangover website, Vernon Joynson's book series and Richard Morton Jack's new book, Endless Trip.
Copyright © Nick Warburton, 2010, All Rights Reserved.
[GTranslate]