By Nick Warburton
Guitarist/violinist, Mike Piggott learned violin while he was at boarding school in Ramsgate, Kent during his early teens. After hearing guitarist Roger Dean on John Mayall's Bluesbreakers debut LP, he also took up the guitar.
When he was 18 years old, Piggott joined his first group, The Bone Idols, who were formed in his home town, Kingswood, Surrey. The group played at the Voom Voom Club in St. Tropez during the summer of 1966.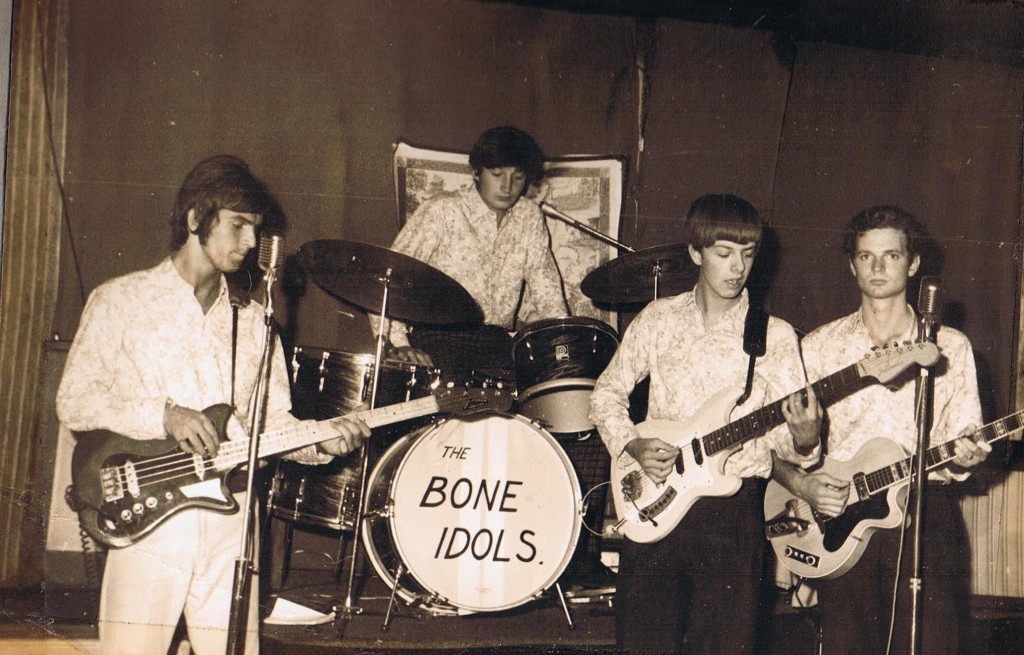 The Bone Idols
Back home, Piggott next joined Ashtead, Surrey band, The Sound of St James, which comprised Tony Chinnery, Paul Rogers, Ian Greenhill and John Littman. The guitarist's latest outfit gigged around Leatherhead, Ashtead and Epsom but he was soon enticed away with a spot in Ivan Sinclair & The System Soul Band.
"One of the guys in The System Soul Band liked my guitar playing and asked me to join," remembers Piggott.
"It turned out that there was a club in Leatherhead called the Chuck Wagon, also called the Bluesette Club. We used to play there and one night when I said I was joining The System Soul Band, The Sound of St James got the support job.
"I was on first with The Sound of St James and hadn't told them I had been asked to join the other band. I had been rehearsing with The System Soul Band and thinking, 'How am I going to tell them?' On the night, I just stayed on the stage while the band came off and the other band came on – cheek!"
Piggott adds that he used to go to the Bluesette a lot and remembers seeing Eric Clapton there with John Mayall's Bluesbreakers. "I remember being star struck when Clapton asked me to hand him his guitar case!"
The guitarist says that he joined Ivan Sinclair & The System Soul Band around January 1967, and the outfit hadn't been playing together very long before he joined. Unfortunately, the group never got the opportunity to record any material.
Ivan Sinclair & The System Soul Band:
Ivan Sinclair – lead vocals (calls himself Raggy Farmer)
Mike Piggott – lead guitar, violin
Bob Holt – bass (replaced by Kevin McCarthy not long before Mike left)
Jim Hawkins – keyboards (from Epsom)
Bill ? – saxophone (from Wandsworth)
Chas (Cheetham) – saxophone
Mike 'Shippy' Shopland – drums (from Ashtead)
The band played in Epsom at colleges, and later in the year all-nighters in Wardour Street, notably the Flamingo.
"The gigs started at 10 O'clock and you came out at dawn and we always got the last spot," remembers Piggott. "The other bands were like Georgie Fame and Geno Washington and they all wanted to get out of there by about 4 O'clock, so we ended up doing the graveyard spot. I think the fee for each of us in a seven piece band was about five quid."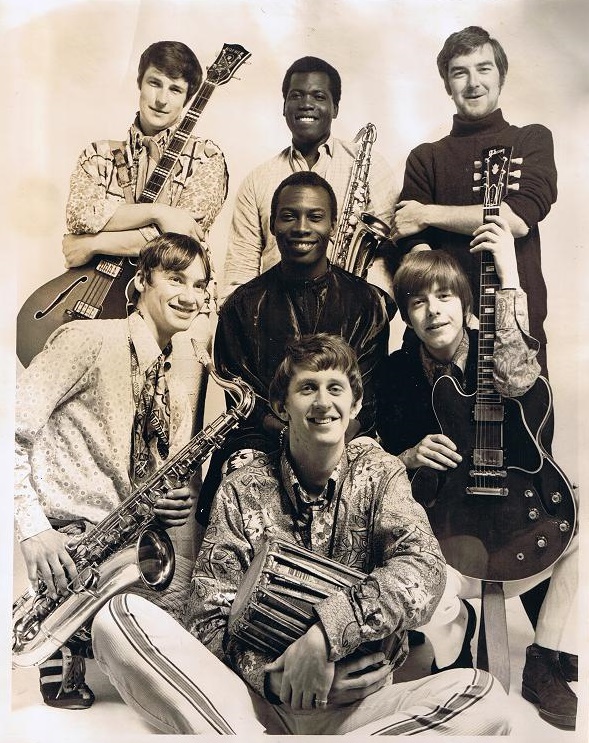 The System Soul Band (note: one of the guys wearing a roll-neck in the photo was the photographer. They didn't have enough people to make up the numbers so he put the camera on a timer and stood in the photo pretending to be a band member)
Notable gigs:
10 June 1967 – Nautilus Club, Lowestoft, Norfolk with Pink Floyd
30 September 1967 – Links Pavilion, Cromer, Norfolk with New Generation
7 October 1967 – Attic Club, Poole, Dorset
18 October 1967 – Pink Flamingo, Soho, London
28 October 1967 – Pink Flamingo, Soho, London
11 November 1967 – Northampton Hall, Northampton
9 December 1967 – Pink Flamingo, Soho, London
30 December 1967 – Pink Flamingo, Soho, London
"One of the really interesting ones was the Nautilus Club in Lowestoft," says Piggott. "Pink Floyd were just getting off the ground and had a gig that night at the UFO club in London, so they went on first and supported us! They had lava lamp projections. It was really crude. The audience wasn't really ready for all that because they wanted to dance, so when we came on they really enjoyed dancing to the soul music."
"About a month later it was the other way round," he continues. "We died a death and The Pink Floyd went down really well because everyone was lying around on the floor stoned and soul music was old hat."
The System Soul Band 
Piggott explains that when he left school, he had wanted to be a sound engineer at the BBC.
"I hadn't got any qualifications but a friend of mine went there and got a job in current recordings, which is where they file the tapes for the next day's broadcast," he says.
"I went there for a year. I thought that if I got in there, I might get trained up as an engineer. In the end, we were doing the all-nighters at the Flamingo club [with Ivan Sinclair] and I was coming in Monday morning completely wrecked, so my boss said, 'Are you going be a musician or are you going to work for us. You can't do both', so I left and haven't had a proper job since."
Around the summer of 1968, Piggott left The System Soul Band and joined Junior's Conquest with Junior Kerr, who had previously played with bass player Calvin Samuels in The Blue-Ace-Unit before spending time with Herbie Goins & The Nightimers.
Junior's Conquest:
Junior Kerr – keyboards, vocals
Mike Piggott – guitar
Pete Dobson – drums (later in Juicy Lucy)
+ several bass players
"Junior was called Junior Kerr and he played Hammond organ and sang," says Piggott.
"It was a quartet. It was a really good band. Junior was doing Stevie Winwood stuff like 'Coloured Rain' and a great version of 'Eleanor Rigby'. We were doing places like the Pheasantry in the King's Road."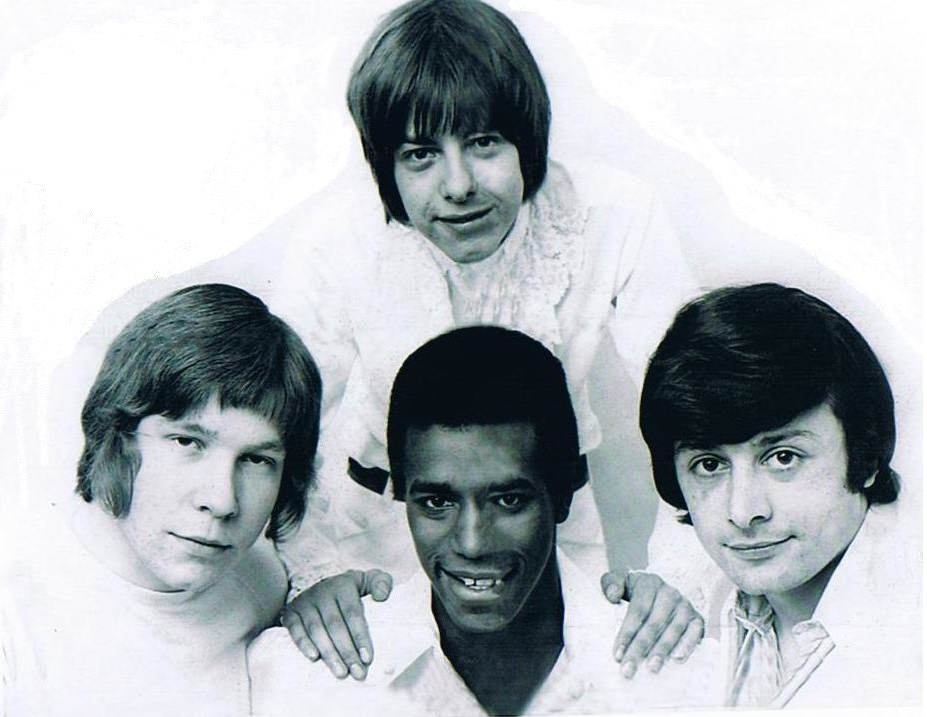 Junior's Conquest
Piggott adds: "Junior wanted to play guitar so I was showed him some guitar licks. Then he started to get really keen on the guitar and bought his own one. He started doing his own guitar and neglecting the Hammond organ."
After playing in Sweden, Kerr departed in 1969 to play in White Rabbit with Linda Lewis and then The Keef Hartley band. In late 1970s, he changed name to Junior Marvin and joined Bob Marley & The Wailers.
With Kerr out of the picture, Mike Piggott next hooked up with Gass.
Gass:
Bobby Tench – vocals
Mike Piggott – guitar/violin
Godfrey McLean – drums (a friend of Peter Green's)
Delisle Harper – bass (later joined Stealer's Wheel)
Derek Austen – keyboards
"From that Gass asked me to join them," remembers Piggott. "They were already formed and were a soul band. It was very funky and really good stuff. We were doing all these London nightclubs. We hardly ever went out of London. [However], we did go to Spain for a month."
While Piggott was with the band, Gass played top London clubs like Rasputin's, the Bag O'Nails, the Speakeasy, Sibyllas and the Revolution.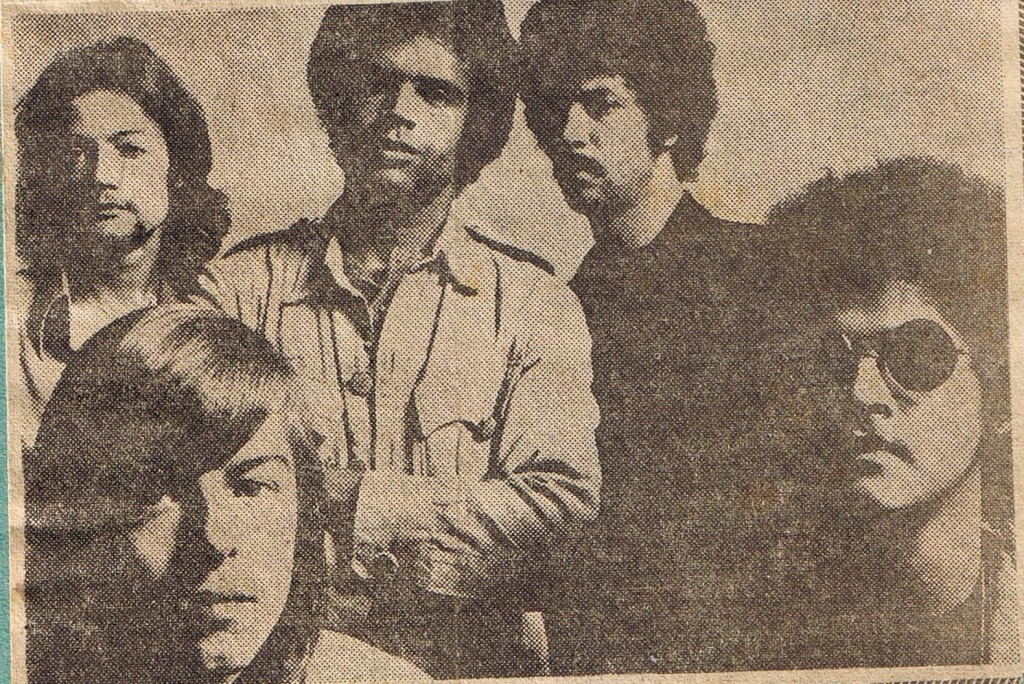 Gass
"At the time Bobby just sang but he was another one [like Junior Kerr] that kept asking me for guitar riffs," says Piggott.
"Peter Green used to come and sit in with us. Then Bobby would say to me, 'Mike can I borrow your guitar?' He and Peter would be playing away and I wouldn't have a guitar. In the end, Bobby got his own guitar and got really good in about three months. When the band folded, he went straight into the Jeff Beck Group."
Piggott remembers recording the band's album, his first professional recording. "We did it at Sound Techniques in Chelsea," he says. "We did two tracks at Trident Studios in St Anne's Walk off Wardour Street. Peter Green plays on two tracks."
"We sat in the manager's office, Mel Collins's office, and he said: 'I'd like to give you the advance now', which wasn't massive, 'but unfortunately among us we have someone who is under 21'. At the time, it meant that I couldn't sign a legal document without a guardian, so he couldn't dish out the money to everyone and they were really cheesed off that they couldn't get their hands on it. I had to send the contract off to my uncle to get it looked at and he went, 'Oh, I wouldn't sign that'. I did anyway!"
When Piggott left Gass, he changed musical direction completely. "I left the band because they went off to Lagos and I didn't want to do it," he explains. (Ed: Jack Good, who used to put on the first pop TV shows, wanted the group to go out to Nigeria and do a version of his production of Othello called 'Catch my soul').
Paul Brett approached him about six months later to join his band Paul Brett's Sage, which mainly involved playing violin and mandolin.
When that group folded, he and Paul went out as an acoustic duo playing mainly folk clubs. They also opened for Status Quo as an acoustic duo, including Floral Hall, Southport where there was a power cut and the Quo couldn't play so Mike and Paul played acoustic to a grateful audience.
Paul Brett and Mike Piggott did three albums together. Then, in the late 1970s, he joined Ralph McTell's band and played on six albums. Two years with the Denny Laine Band followed in the early 1980s, which included Steve Holley (drums) from Wings. While with Laine, Piggott appeared on his album "Japanese Tears".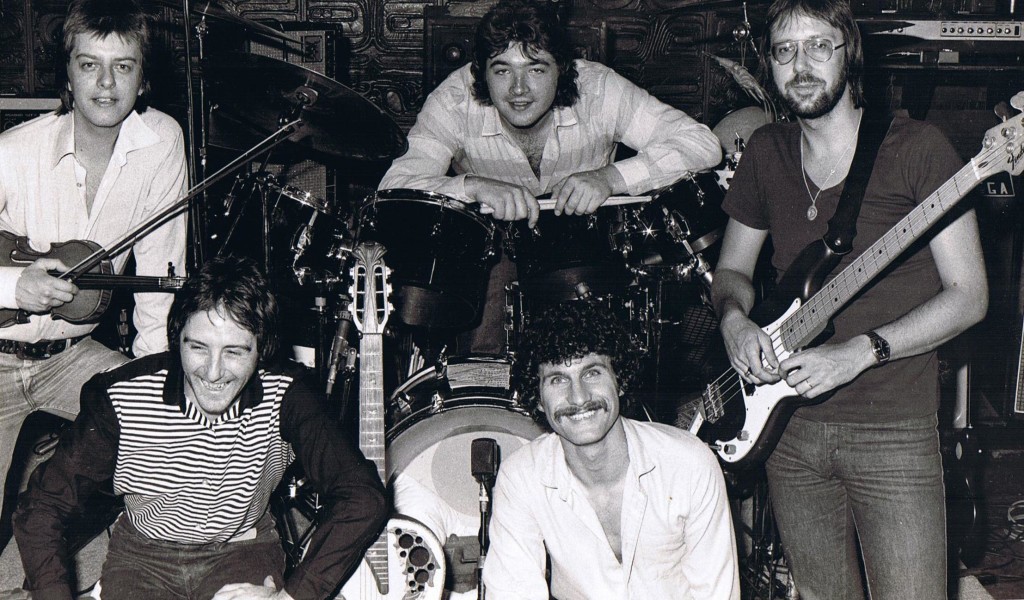 The Denny Laine band
The guitarist also spent three years with Pentangle in the mid-1980s, working largely out of the Half Moon in Putney. He also toured the USA with the band and made two albums with them. Piggott also played with Bert Jansch's "Conundrum" for several years.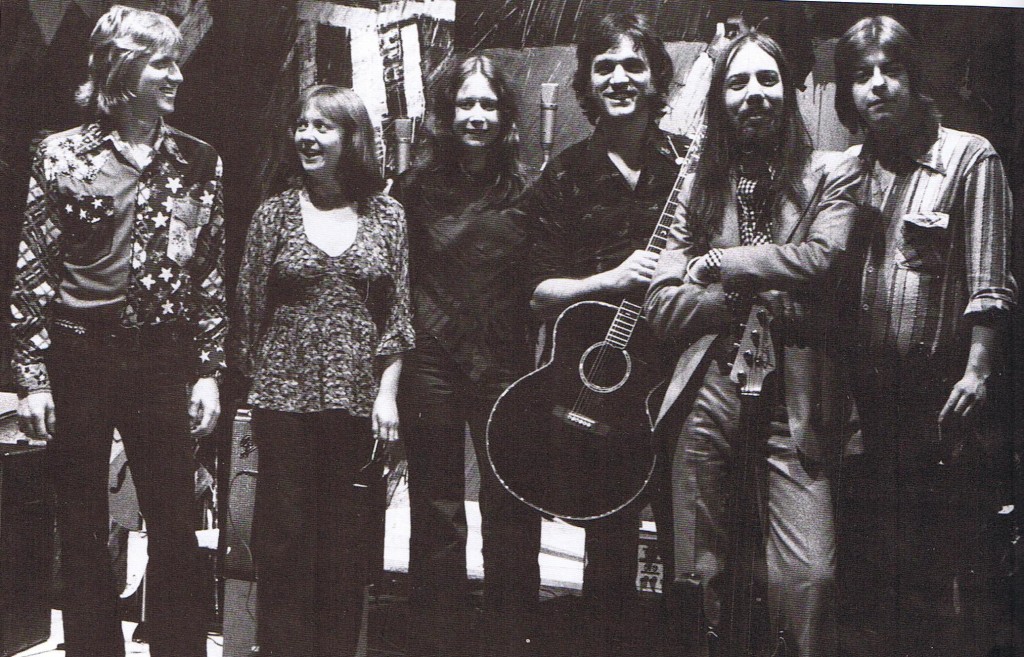 The Ralph McTell band
When he had a family, Mike supplemented this with jazz gigs and guesting at jazz festivals.
More recently, he's been doing some live work with Chris Spedding and Herbie Flowers. Piggott also added fiddle for John Lodge's new CD, which was completed in November 2014 and released this year as "10,000 Light Years Ago".
Many thanks to Mike Piggott for the photos and background information.
Copyright © Nick Warburton, 2015. All Rights Reserved. No part of this article may be reproduced or transmitted in any from or by any means, without prior permission from the author.