Mark Lofgren, co-founder of psych-rock stars The Luck of Eden Hall has helped produce a sensational string of releases for over 20 years. With co-founder Greg Curvey taking the lead for much of the band's output Mark has finally stepped to the front with his first solo project, The Past Perfect.
It has been gaining plaudits from across the globe so Jason Barnard speaks to Mark about his career and The Past Perfect.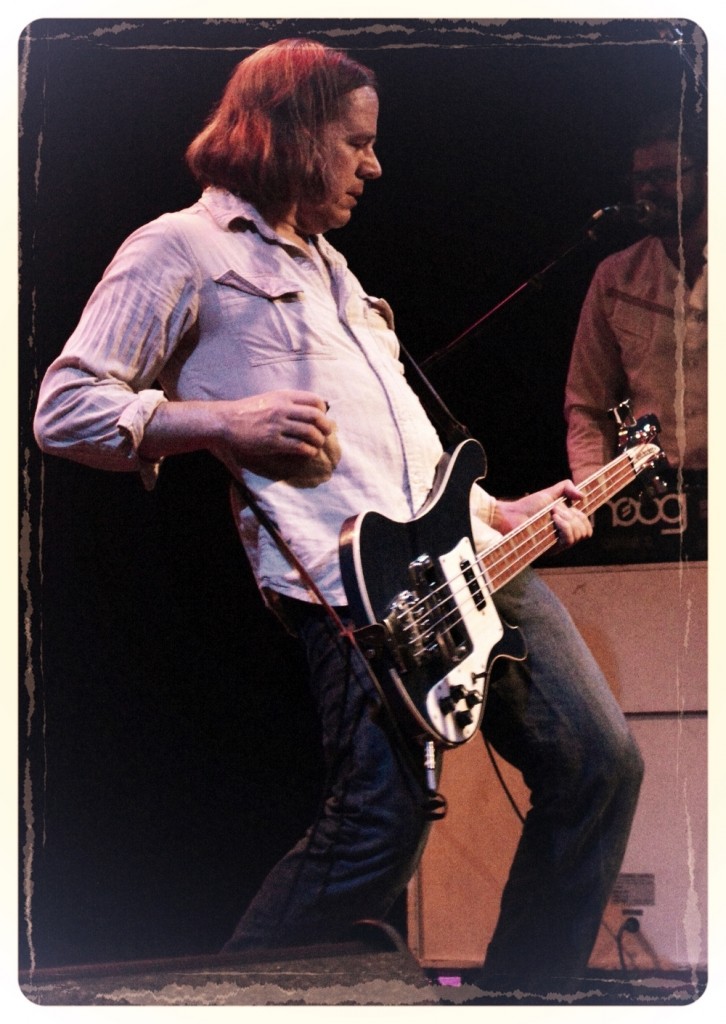 I want to say how much I enjoyed the album, Mark. Can you tell me about the record – the sound you aimed to capture and lyrical themes?
Thanks! I think every song originally started out on acoustic guitar and evolved from there. Several years back, I wrote a novel, Sweeter Than Never, which centered around a band on the verge of making it or breaking up and shopped it around through an agent, but it was never published. I had this idea to write some songs for the novel and release them at the same time.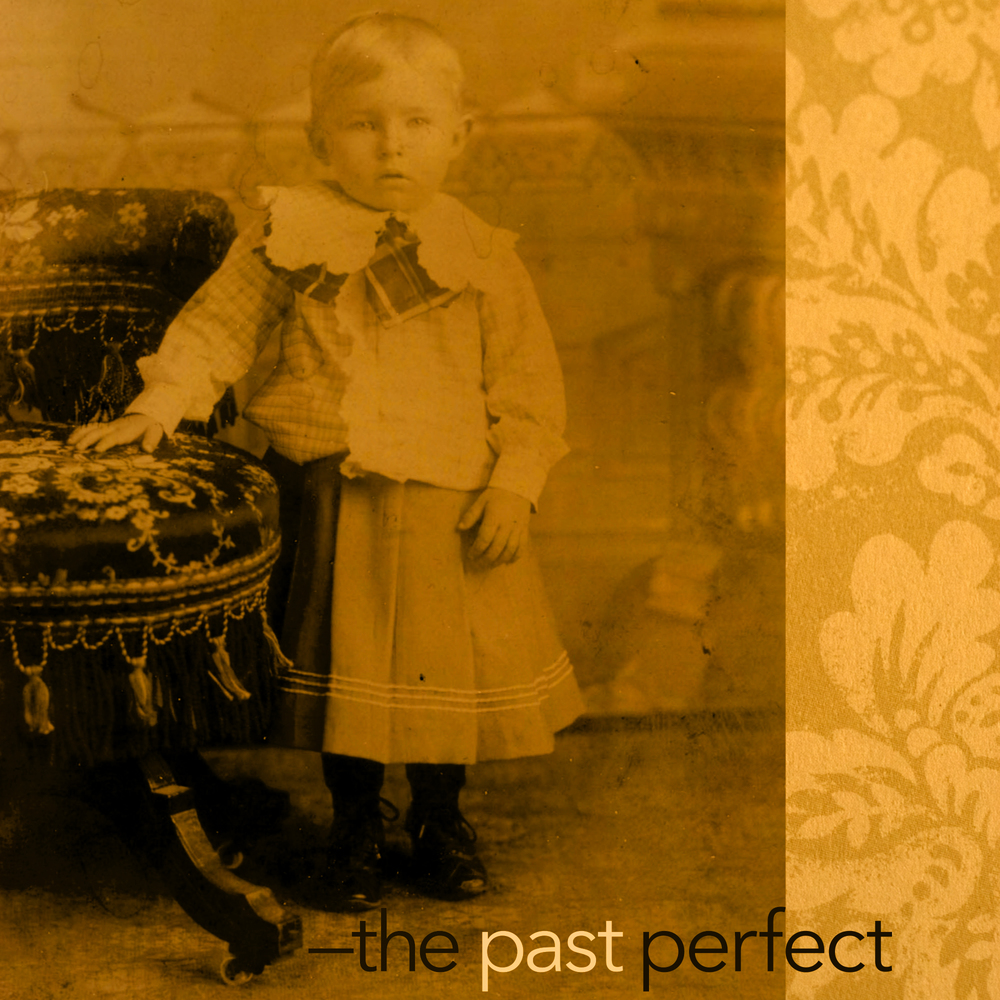 When the novel was shelved (so to say), I continued to work on music that fit in with the same themes: being at a crossroads, striking out on your own, love and loss and family. I'm interested in writing through characters who are lost and searching I suppose.
[soundcloud url="https://soundcloud.com/mark-lofgren/nearsighted-andy" params="show_comments=false&auto_play=false&show_playcount=false&show_artwork=true&color=cc6633″ width="100%" height="85″ ]
The Past Perfect as an album title and the artwork; what does it represent, where did it come from and why choose it?
It's funny, around the time I was mastering the album, I visited my family in Detroit and my mom gave me a photo album with all these amazing old pictures of her family from back in Poland, which is what I used for basis of the cover art. It seemed to fit with the title (which was originally an alternate title for the novel). There seemed to be some irony in the title as well, when juxtaposed with the photos: the seriousness of my grandmother's face and my grandfather's family all formally posed in the woods, suggesting perhaps the past wasn't so perfect after all!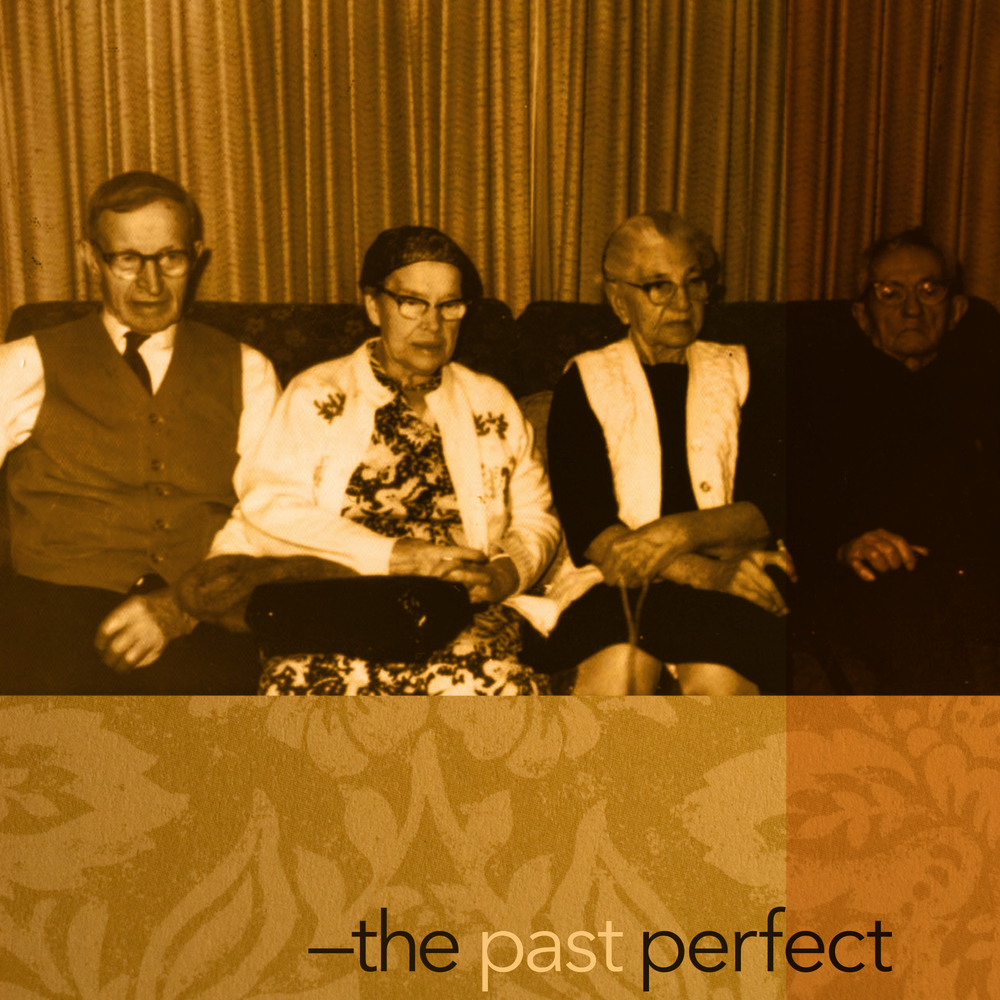 Of course it used to be a huge event to take a family photo, when these days we've got cameras attached to our glasses (well I don't, but some unfortunate soul does) and selfies and Instagram, so there's something about that too, how mediums evolve and change over time. Sure, I have a limited release CD for The Past Perfect, but much of the sales are online downloads these days. Of course I'd like to one day release it on vinyl and move ever backwards into musical time, but we'll see!
There are some great tunes like 'Never Coming Back'. What are your favourite tracks on the new album?
That's a tough one. I think some of the tracks that strayed the most from their acoustic roots, like "Andromeda" and "Nearsighted Andy," are my personal favs, though I also like some of the quieter ones like "A Life Electric."
[soundcloud url="https://soundcloud.com/mark-lofgren/andromeda" params="show_comments=false&auto_play=false&show_playcount=false&show_artwork=true&color=cc6633″ width="100%" height="85″ ]
Many of the tracks like 'One London Ontario Night' have a lighter and more reflective tone than your band The Luck of Eden Hall. Is this what you recognize?
Yeah, I agree. I was striving for something a little sparser, with some songs driven mainly by acoustic guitar or piano. A few tracks have an old Roland drum machine and/or drum samples on them instead of a drum kit, which opens them up even more. When I write I do it mostly on instinct; I start in one direction and add and subtract things until they hit me a certain and the song feels complete.
[soundcloud url="https://soundcloud.com/mark-lofgren/one-london-ontario-night" params="show_comments=false&auto_play=false&show_playcount=false&show_artwork=true&color=cc6633″ width="100%" height="85″ ]
"Citadel" started out as a sparse acoustic track and evolved into an almost New Order dance vibe thing, which I love. "One London Ontario Night" pretty much stayed the way I wrote it on acoustic until the guitar, bass, drums change up at the end.
[soundcloud url="https://soundcloud.com/mark-lofgren/citadel" params="show_comments=false&auto_play=false&show_playcount=false&show_artwork=true&color=cc6633″ width="100%" height="85″ ]
Was making this record as a solo artist easier or more challenging or than the collaborative effort of The Luck of Eden Hall?
Let's just say it was different… I'm used to bringing songs into a band and working them to make them fit a certain tone or range, depending on what direction Eden Hall is heading at the time. Without that, I found myself experimenting more with different instruments and sounds and not worrying so much about playing them live or if they fit with Eden Hall's psychedelic pop sound.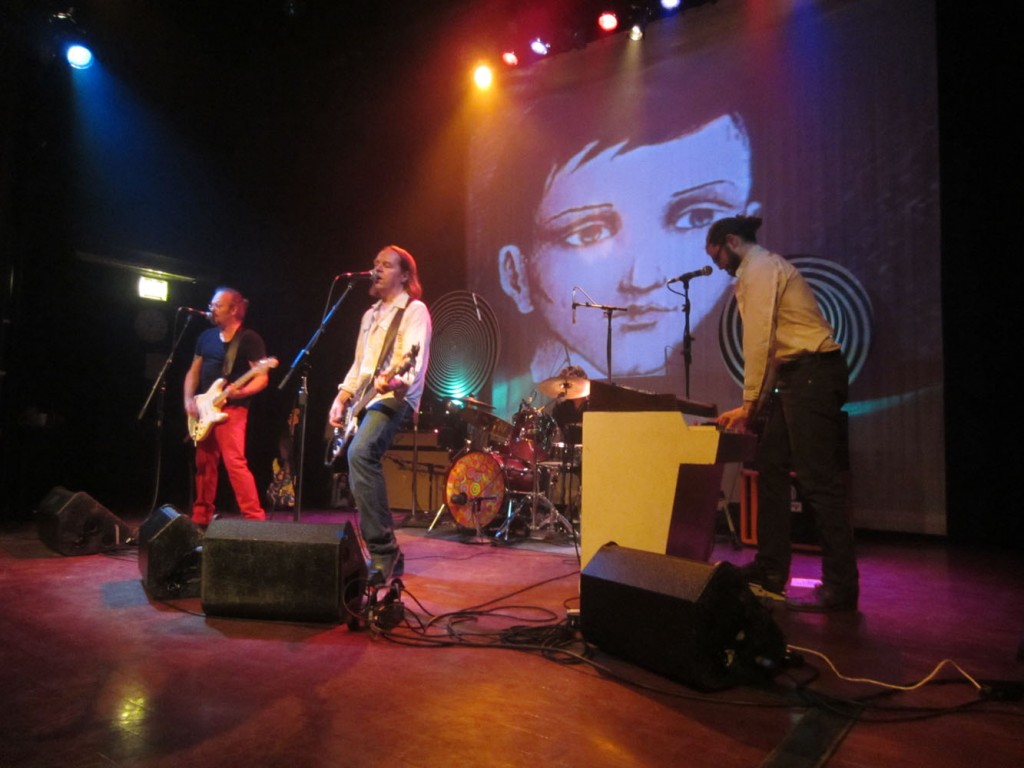 The Luck of Eden Hall, Victoria Moon Record Release Show, (from left to right: Greg Curvey, Mark Lofgren, Carlos Mendoza and Jim Licka)
Of course many songs didn't work out at all in the end (ideas that went nowhere, songs that were shelved) and in the end I tried to tie everything together with the song order and a cohesiveness of sound, so in that way it was much like an TLoEH album.
Where and how did you record the album?
Most of the tracks were recorded on my iMac at home in my bare bones bedroom studio. I have a couple decent mics and guitars and my bass of course and a keyboard etc. The drums were recorded at Rabbit Hole (our Eden Hall studio in Greg's basement), as well as a few stray electric and acoustic tracks.
I played everything myself, excepting the drums, which Mr. Curvey nailed in his inimitable way and the lead guitar on "Pocketful of Bliss" and an acoustic track on "One London Ontario Night" (also Curvey).
[soundcloud url="https://soundcloud.com/mark-lofgren/a-pocketful-of-bliss" params="show_comments=false&auto_play=false&show_playcount=false&show_artwork=true&color=cc6633″ width="100%" height="85″ ]
Can you tell me about your background, the music that shaped you in your formative years and what artists you admire today.
Like it does for so many, it all started by banging on pots and pans in the family kitchen, that most noble of savage noise. My parents steered my into piano lessons, mostly to save their ears from the torture, I suspect. In high school I took guitar lessons and wrote a few songs on keyboard, but college was when I really got the idea I could actually be in a band. I met this cool guy in the dorm, Mike Crimmins, and we started a band before we could properly play our instruments, which is really the way to do it if you want to write some interesting songs straight away.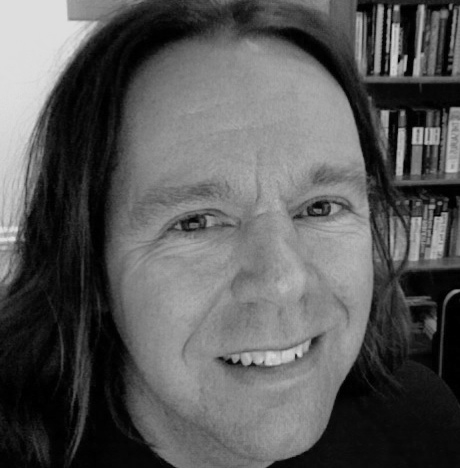 Formative years, I remember being blown away by the Beatles, of course, and then getting into the heavier mystic stuff of Zeppelin (especially Led Zeppelin 3, Physical Graffiti and Presence). I got into some new wave like the Cars and really loved those throwback psychedelic bands in the 80s and early 90s like Dream Syndicate, The Church and The Chameleons. These days I listen to mostly newer indie bands like Real Estate, Portugal, The Man, New Animal, Tame Impala, Atlas Sound, to name a few. I also like some singer/songwriter stuff like Aimee Mann and you can never go wrong with Doves or Elliott Smith or Elbow.
You write a little for The Luck of Eden Hall albeit Curvey is the main songwriter and front man. How did you meet and could tell me about your relationship with him?
It dates back to college. Greg was friends with one of my band mates and good friends, the brilliant scholar Steven Chamberlin. Greg (aka Curvey) was in a band in Chicago and we admired each others songs from afar until I graduated college and moved from Michigan to Chicago to join forces. We've remained friends through the thick and thin, bonding through music all these years.
[tubepress video=vg0m5o5k2_I]
When we broke up TLoEH in the late 90s I honestly thought I was done with music. But as much as I tried, I couldn't stop writing songs and gradually we started the machine up again in the mid 2000s. And honestly, we've written our best music in these past 7 years or so.
You've done some great videos for the band. Have you or do you plan to do any for The Past Perfect?
Thanks! I am planning to do a video for The Past Perfect. I have the idea, now I need to execute it. Look for it in early August.
The album is getting lots of good reviews across the globe just like TLOEH. What is next for you as well as the band?
I'm really pleased with the response so far. I may play a few small acoustic shows to support The Past Perfect, and I'll probably record another solo album eventually. TLoEH is on a short sabbatical as we regather our strength after a whirlwind set of Victoria Moon shows at home and abroad. We're planning a semi-concept album tentatively titled The Acceleration of Time, that should come out in 2015.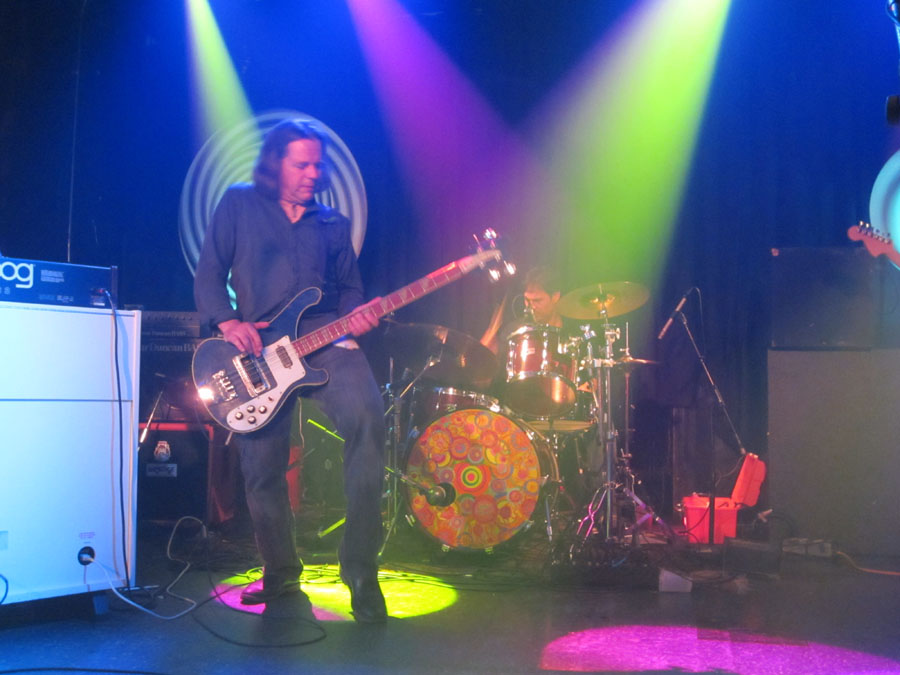 Mark, live 2012 (photo by Janet Attarian)
Finally, how do fans hear more about you and purchase your new record?
Visit my Bandcamp page or my website for more info, to purchase a limited release CD, listen to bonus tracks etc. The Past Perfect is also available to stream on Spotify, SoundCloud and as a download on iTunes or Amazon. Thanks again for the interview.
http://www.markalanlofgren.com
http://markalanlofgren.bandcamp.com/releases
https://itunes.apple.com/us/album/the-past-perfect/id882962788
Copyright © Mark Alan Lofgren and Jason Barnard, 2014. All Rights Reserved. No part of this article may be reproduced or transmitted in any form or by any means, without prior permission from the author.