Nick Warburton continues to uncover the story of Influence – one of the most exciting outfits to emerge from the Toronto rock scene.
Back in Toronto, Renewych used his contacts at ABC Paramount to pass on the group's demo to producer Dennis Minogue (aka Terry Cashman) in New York.
Minogue wasn't exactly blown away by the results but decided to take a chance and booked some studio time at Bell Studios during November.
However, when Influence proceeded to lay down tracks, Minogue was struck by the great diversity of the band, which by this point encapsulated blues, rock 'n' roll, jazz, chanson and classical influences.
While recording, Keiller remembers Joe Zeto, who years later provided the music for Chuck Norris's martial arts movies, approaching Influence with a management offer.
With the album in the can, ABC set up a launch at Steve Paul's The Scene in late December to coincide with its Christmas release. The launch at Steve Paul's famous New York club went well and Buddy Miles (now with The Electric Flag) joined Influence on stage. Reviews were encouraging.
"Best material for rock musical theatre we've heard yet," noted Hit Parader that same month, before going on to say: "Influence is a very strange and interesting collection of satire and putdowns. The music is vicious, almost maddening and Influence laughs at themselves as well as the drop out-tune in set."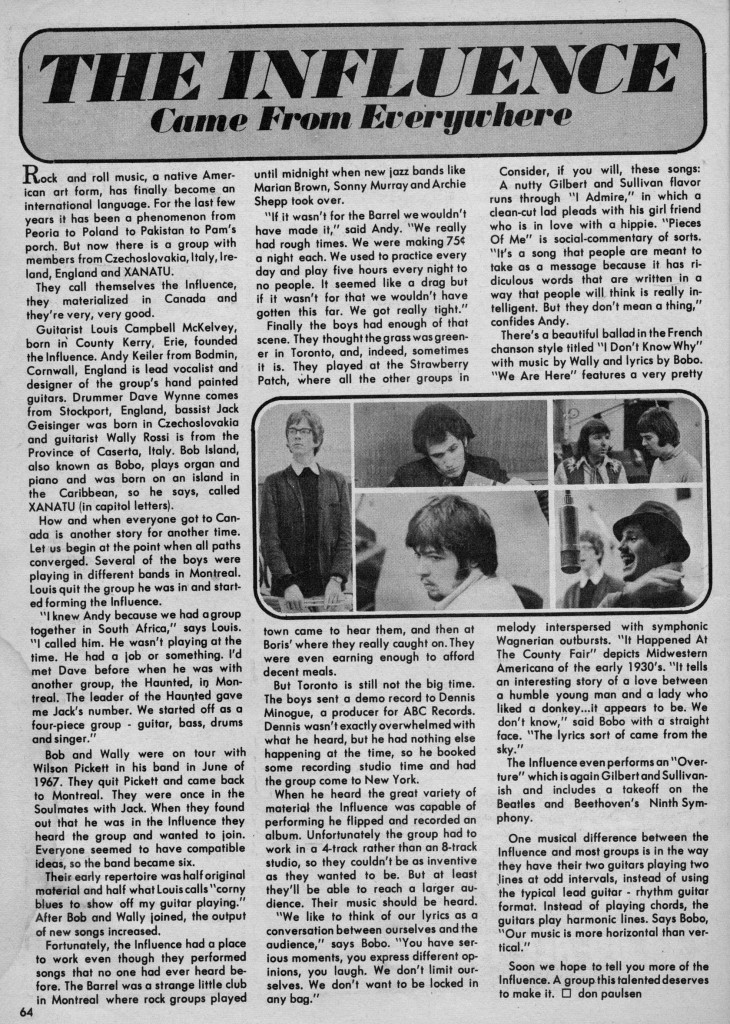 Cash Box, in its 20 January 1968 issue, commented: "Like many Canadian rock groups, Influence places heavy emphasis on comedy, the basic difference in this case is that the comedy is not only original but truly hilarious. Having seen and heard Influence, we can only anticipate with pleasure their debut waxing on ABC, which is scheduled for release sometime late in January."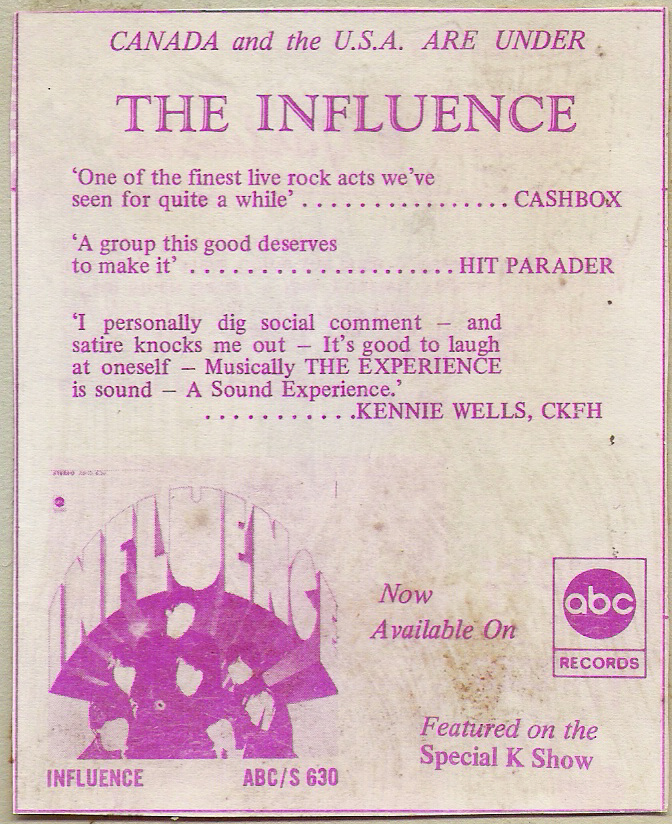 Influence Advert
Though only recorded on four-track (the group had anticipated using eight-track studio facilities), Influence demonstrates how special the group was. The opening bars of the atonal "I Admire", notable for its discordant riffs and unusual modulations, sets the tone for a record that smacks of musical ingenuity.
Similarities with The Mothers of Invention are striking, although according to Keiller it was really the "interplay between Louis and Bob's unusual sense of humour and the influence of jazz musicians Sonny Murray and Archie Shepp, who we supported at Montreal clubs" that affected the group's stylistic approach.
An example of this "unusual sense of humour" can be found on Parkins's "County Fair", an amusing story concerning the sexual relations between a circus girl and a donkey. Another "unusual" track is the group's mini opera, "Mad Birds of Prey", which allegedly impressed Pete Townsend.
McKelvey's "Pieces of Me" with its soaring organ, and the incisive "Natural Impulse", co-written with Keiller demonstrate the heavier side of the group's repertoire and are perfect vehicles for Andy's tortured vocals.
The latter is arguably one of the album's highlights and is notable for its dramatic shift in mood; a Caribbean-flavoured verse is brusquely pushed aside in the middle eight by some searing guitar work and angst-ridden vocals.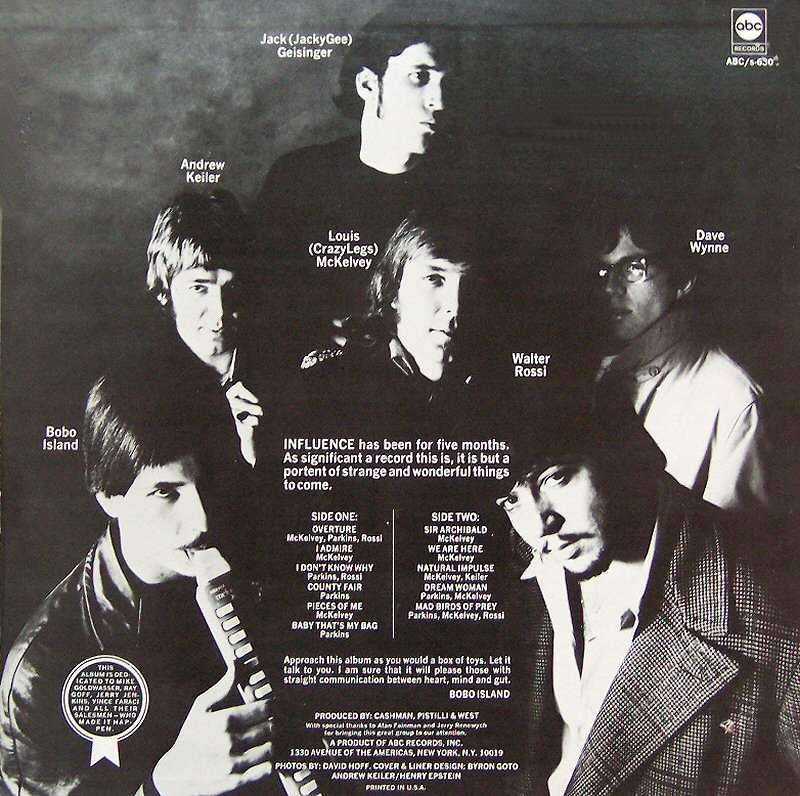 "Dream Woman" co-written by Parkins and McKelvey and the Parkins-Rossi chanson-styled masterpiece "I Don't Know Why" are examples of Influence's moodier side and are notable for some intricate guitar playing. Better still, Bob Parkins's heart-tingling voice weaves through the songs and holds it all together.
Despite positive reviews, Influence was too challenging to garner the success the group deserved and barely troubled the charts, peaking at #82 on the Billboard chart.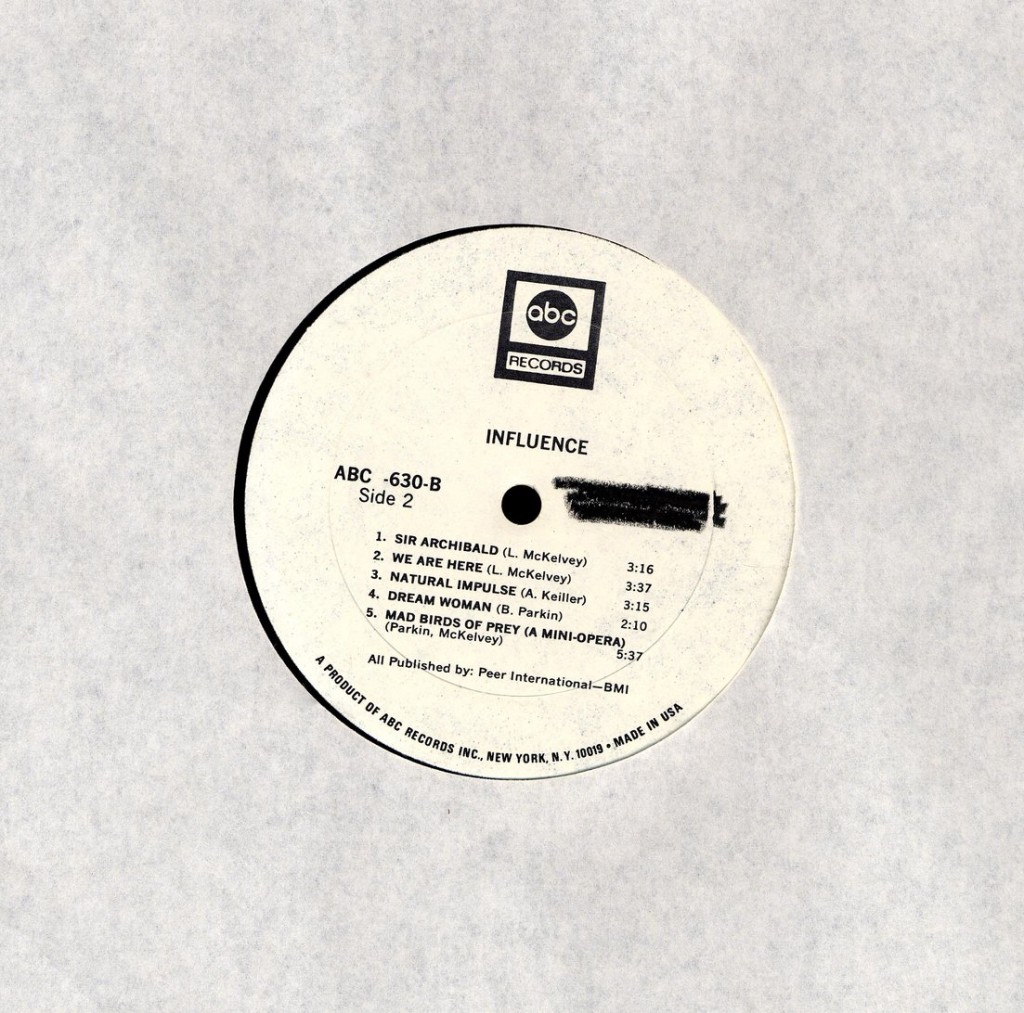 Readers may be interested to know that this author is currently working with Canadian re-issue label, Pacemaker, to licence the tapes from Universal and release the album on CD for the first time.
However, behind the scenes, the band was starting to unravel. First to jump ship was Dave Wynne, who returned to Montreal and his studies.
"I left the band in New York," says Wynne. "I had, through Lillian Roxon, met with John Kirland of Columbia Records and brought him to see the band at The Scene where we were playing while recording.
"Columbia offered to buy out ABC and reproduce us – the album was finished and had not really captured the band. McKelvey, however, had been brought into the booth in ABC and was tied into production and reluctant to move. I decided to leave at this point."
The late Frank LoRusso, affectionately known to the others as Yum Yum, took his place. LoRusso had also played with The Soul Mates and Bob and The Messengers.
The new line-up returned to the Toronto club scene in mid-February, appearing regularly at Boris' and also performing an extended series of engagements at the Penny Farthing from 4-9 March. The following month, on 20 April, the band joined a number of local acts at the Canadian National Exhibition Hall, opening for The Doors.
Influence next set out on a two-month US tour performing at the Chessmate [10-12 May] and The Grande Ballroom [17-19 May] in Detroit (opening for Procol Harum at the latter) before moving on to Chicago to play at the Electric Theatre [24-26 May] alongside Steppenwolf. A live album was recorded (on a non-professional machine) at the latter and allegedly captures the group's on-stage dynamics perfectly.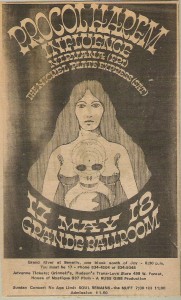 Influence at the Grande Ballroom
Internal dissension and financial difficulties, however, continued to dog the group, with Keiller next to leave.
The singer would subsequently quit the music industry and return to England briefly before moving to Melbourne, Australia in 1971, where he now makes a living building fibreglass-bodied racing cars. His sons Rupert and Zac, incidentally, are both successful music artists in Australia.
With Keiller gone and Parkins increasingly determining the band's direction, McKelvey soon began to lose interest and in June/July 1968, he left and returned to England, initially to try and form a new group back home.
"None of them were getting along very well," remembers Rosemary White, McKelvey's then partner, who witnessed the band's disintegration.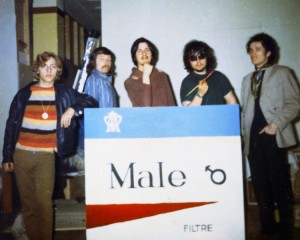 "They were such different personalities. They were all really good musicians and very independent guys. Except for the ones who were strung out, the others were quite driven, focused and ambitious. They wanted to work."
According to lead guitarist Walter Rossi, the group's manager Bernie Cugelman's decision not to share management with Steppenwolf's team in the USA was another major reason behind Influence's eventual break up.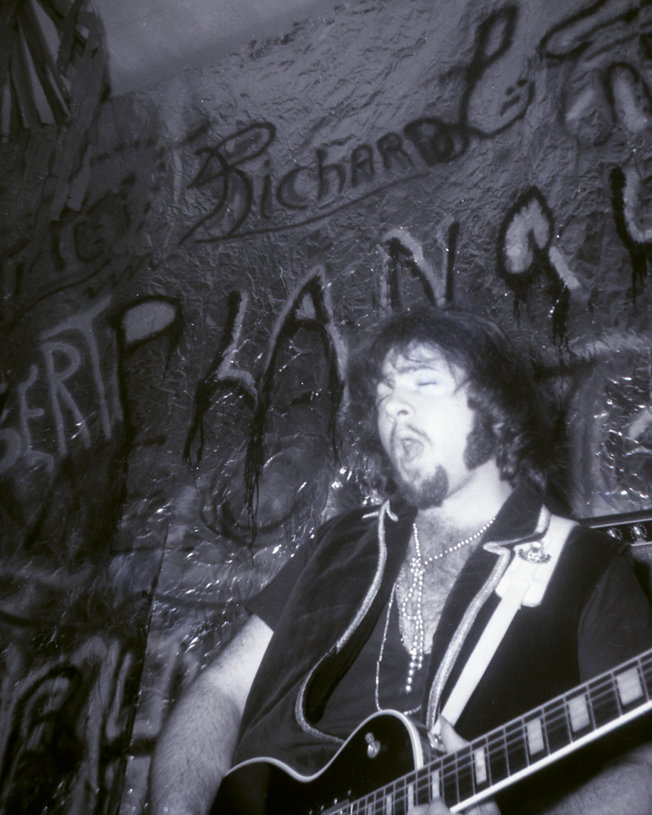 Influence did carry on briefly after McKelvey's departure but folded in mid-1969 when Rossi joined The Buddy Miles Express. Rossi and Geisinger reunited in late 1970 as members of Luke & The Apostles. The final incarnation of this group (with drummer Mike Driscoll) morphed into power trio Charlee.
[tubepress video="c7F6quVYKMY"]

This underrated band recorded a brilliant heavy rock album for RCA Records in Toronto, which landed Charlee a small tour with Joe Walsh's Barnstorm in the US Midwest.
Geisinger crossed over to the French-Canadian market and appeared on Michel Pagliano's hit single "Lovin' You Ain't Easy". He also recorded a couple of albums with Moonquake.
Rossi established a highly acclaimed solo career, releasing a string of excellent studio albums, including Six Strings Nine Lives. In 1979, he was awarded a Juno for "most promising vocalist" and has received a number of "Felix" nominations for "album of the year", "arranger of the year" and "song of the year". In 2004, Rossi released a new studio album, Secret Sins.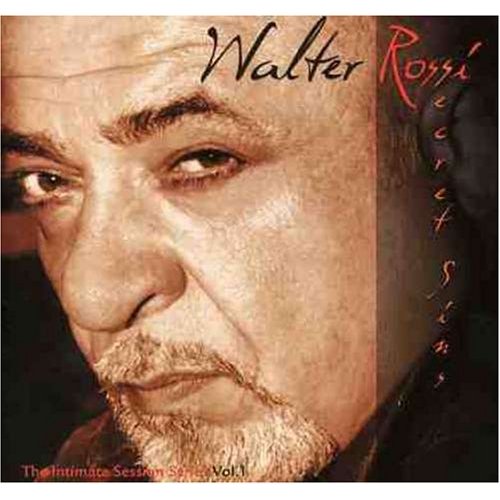 Wynne spent 20 years as a Canadian diplomat and is currently working as a businessman in Singapore.
On a sadder note, Parkins (who appeared on Buddy Miles's single "Them Changes" alongside Rossi, adding scintillating guitar) died tragically in late 1969 when he tried to walk across the 401 Highway under the influence of drugs, his great potential left unfulfilled.
McKelvey returned to Canada in early 1969 and formed the Anglo-Canadian rock band, Milkwood with future Celine Dion backing singer Mary Lou Gauthier and his former cohort from Jeff Curtis & The Flames – Malcolm Tomlinson.
Joined by Geisinger (in between leaving Influence and joining Luke & The Apostles), Milkwood recorded an album for Polydor with the legendary producer Jerry Ragavoy.
The album was later scrapped and this author is also working with Pacemaker to release it on CD for the first time later this year.
McKelvey, Tomlinson and Geisinger next launched the aptly titled Damage, a gritty hard rock band that was especially popular with local biker gangs. Damage played a few notable dates but crumbled soon afterwards.
The guitarist then reunited with former A-Cads member, the late Hank Squires during 1970, working as a songwriter and session guitarist for Marble Hall and appearing on the a-side of the lone single, "Marble Hall" (originally recorded as a demo with Influence).
[tubepress video="fJT3LVLFnYc"]
McKelvey also briefly played with rock group Powerhouse but soon lost interest and dropped out to pursue a non-musical career.
In 2004, however, he lent his guitar skills to The New Signals' debut album and continues to play at his club in Toronto.
Looking back, Wynne has this to say. "The strength of Influence was that all the musicians in the band had reputations as musicians.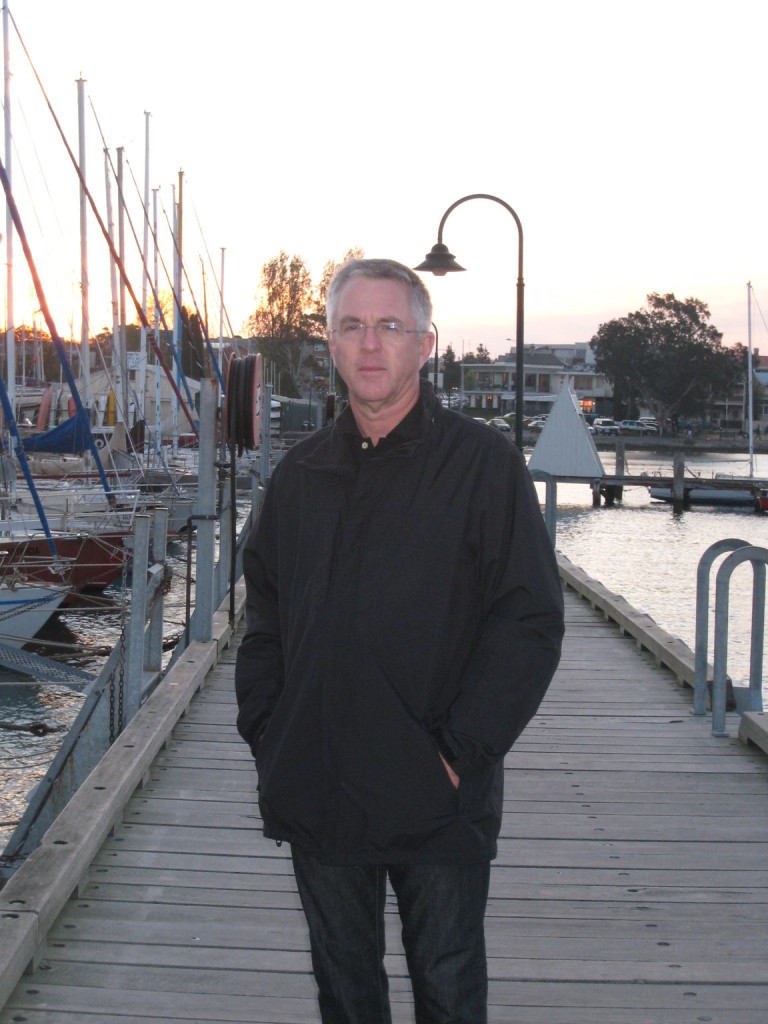 "You also can't do humour or satire convincingly in music unless you are very good and very confident. You can't function as a creative group unless there is a mutual respect in each other's playing."
That certainly comes across on this brilliant overlooked album.
A great big thank you goes to Louis McKelvey, Andy Keiller, Dave Wynne, Jack Geisinger, Walter Rossi, Edward Pickersgill, Rosemary White, Hank Squires, Tertius Louw, Carny Corbett, Mike Paxman and Chris Bishop. Thanks especially to Norman LoRusso and Tim Clark for some of the main photos.
For more information about Louis McKelvey's South African period: http://www.garagehangover.com/?q=ACads
To read about Andy Keiller's South African career, visit:
http://www.rock.co.za/files/upsetters_index.htm
To read about Our Generation:
http://www.garagehangover.com/?q=OurGeneration
Nick Warburton is a UK-based freelance writer, who has written for Shindig, Record Collector, the Garage Hangover website, Vernon Joynson's book series and Richard Morton Jack's new book, Endless Trip. Visit: www.nickwarburton.com
Copyright © Nick Warburton, 2010, All Rights Reserved.
2014 Update
The Influence album has been released on CD for the first time through Pacemaker Entertainment.