For a brief moment during 1967 and 1968, Influence was one of the most exciting outfits to emerge on the Toronto rock scene. No other Canadian band at the time could boast such an international flavour, and no other Canadian group, with the exception of The Band, could arguably embody such an eclectic mix of styles. 
Formed in May 1967, this fascinating, experimental band brought together the cream of Montreal's top players and added two expatriate British musicians who were recent arrivals to North American shores. Nick Warburton uncovers the story behind this long forgotten band.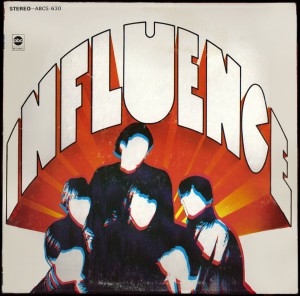 Influence LP
Montreal, in French-speaking Quebec, is not the obvious place you would find British musicians at the height of the 1960s rock explosion. But that's exactly where two expatriates reunited by chance in the spring of 1967 after first meeting in, of all places, South Africa nearly two years earlier.
The first of these was Irish-born lead guitarist Louis McKelvey, whose formative years were spent playing with Twickenham, West London band Johnny Eaton & The Pursuers and Jeff Curtis & The Flames, regulars at the famous Ealing Jazz club.
During the early 1960s (and before the group morphed into The Kool), Jeff Curtis & The Flames cut five tracks on an acetate with the late, legendary Joe Meek.
McKelvey, however, grew restless and around September 1965 he travelled to South Africa. There he met future Influence singer, Englishman Andy Keiller, who'd recorded a rare single, "Find My Baby", and an album, Round About Midnight, for Continental Records, after arriving in March 1964.
Together they formed The Upsetters and recorded another rare single, "Daddy Rolling Stone" c/w "Pain In My Heart". Then, when Keiller moved back to London in November 1965, McKelvey joined legendary South African R&B legends, The A-Cads.
This popular band released a single for RCA Victor, "Fool Fool Fool" c/w "Zip-A-Dee Doh Dah" and in May 1966 (after completing an album, featuring a picture of McKelvey on the cover) relocated to London to work with producer Mickie Most.
However, plans to get The A-Cads' singles issued in Europe remained just that and the band split. As restless as ever, McKelvey boarded the Empress of England in Liverpool in October 1966 and sailed to Montreal with only $10 in his pocket. On his arrival, he briefly hooked up with the French-speaking Les Sinners.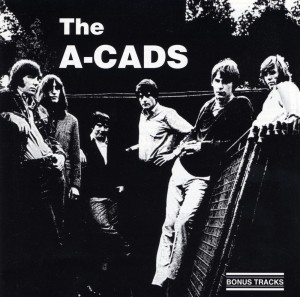 Two months later, he joined Our Generation, featuring former Haunted singer Bob Burgess. McKelvey's fiery lead guitar work is immediately distinguishable on the group's second (and possibly best) single, "Out To Get Light" c/w "Cool Summer", which was issued in May 1967.
By then, McKelvey had reunited with Keiller and joined forces with two excellent local musicians – drummer Dave Wynne and bass player Jack Geisinger, who were born in England and the Czech Republic respectively, but raised in Canada.
McKelvey knew about Wynne through his brief association with The Haunted, as the drummer had recently been a member of that group, after starting his career in The Rabble.
As a member of The Haunted, Wynne had added some superb drum work to the garage punk classic, "1-2-5" c/w "Eight O'Clock In The Morning", released on Quality, and a top thirty Canadian hit, as well as its follow up, a raucous version of Them's "I Can Only Give You Everything" c/w 'No More Lovin'". Before leaving The Rabble, he'd also defined some of the drum sounds on several tracks, most notably "Golden Girl".
[tubepress video="KZXkzao9KvA"]

Geisinger meanwhile had spent the early 1960s playing with Bob and The Messengers, who'd recorded a rare single, "Splash Down" c/w "Bob's Groove" for the Reo label in 1963. Most members of that group then took on a new identity as The Soul Mates.
[tubepress video="-T5K12rnFyk"]

The bass player had then spent three weeks playing with The Buddy Miles Quartet and had just missed out on an opportunity to play with Wilson Pickett, after the soul singer recruited Miles's entire band for his forthcoming US tour.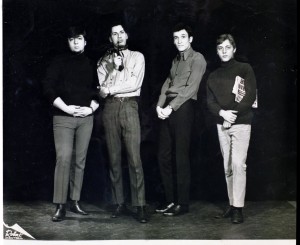 Bob and The Messengers, left to right: Walter Rossi, Bob Parkins, Jack Geisinger and Frank LoRusso (photo courtesy of Norman LoRusso)
The final thread in the original Influence was Andy Keiller, who amazingly had moved to Montreal from London in April 1966 and had tried to contact his former band mate from South Africa after catching Our Generation on the Barry Gordon TV show.
An abbreviated name, Influence were initially known as the Influence of Sadness Personified in Life but mercifully this mouthful was shortened before any gigs were played, as McKelvey told Ed Pickersgill, editor for Montreal weekly magazine, Music Trend in its 26 May issue.
"It might be a bit silly for people to say they're going to see Influence of Sadness Personified in Life when they can much more easily go to see Influence."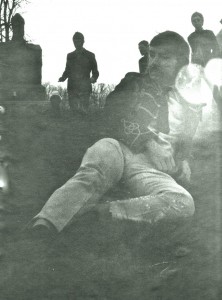 Original Influence line up, May 1967, Louis McKelvey in foreground (photo courtesy of Tim Clark)
The changes, however, did not stop there. As the quartet readied material to play their debut show, the band's musical direction was injected with a fresh and exciting new edge when vocalist/organist Bob Parkins, otherwise known as Bobo Island, and Italian-born guitarist Walter Rossi asked to join.
Parkins was an intriguing character. Blessed with a beautiful voice, slightly reminiscent of John Sebastian's in The Lovin' Spoonful, he added a mysterious bent to the band, claiming he had been born on the fictitious Caribbean island of XANATU. Unfortunately, his "eccentricity" would later become his undoing.
Walter Rossi brought a strident guitar sound to the band, which would draw favourable comparisons with his idol Steve Cropper. Together with McKelvey's more "British" blues approach, the two guitarists gave Influence a unique sound.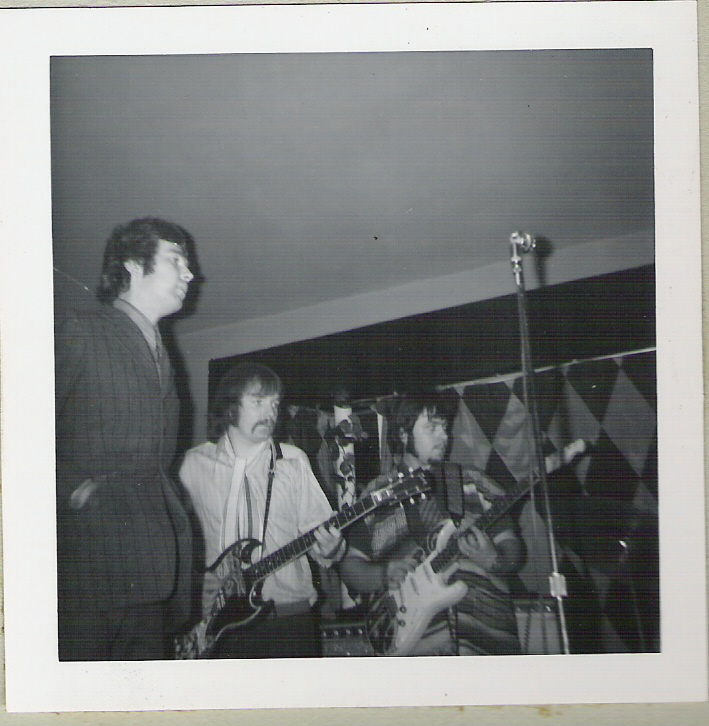 Influence, Toronto, September 1967, left to right: Andy, Louis and Walter (photo courtesy of Andy Keiller)
Both musicians had previously played alongside Geisinger from Bob and The Messengers through to The Buddy Miles Quartet. More importantly, they had participated in the Wilson Pickett tour, including the famous performance at Murray the K Show at the RKO Theater where English bands, Cream and The Who made their US debuts.
While Parkins only got to play with Pickett for several months, Rossi toured with the soul legend for about a year, after auditioning for Pickett at Toronto's Massey Hall in May 1966.
The revised line up prepared material at Parkins's parents' home and debuted at a small club on Mountain Street in Montreal known as The Barrel (Le Baril) on 1 June.
The club normally catered for the local punters' predilection for jazz, but before midnight, when the up and coming jazz bands came on, Influence got the opportunity to test out its revolutionary new music on the crowds.
"This was the year Coltrane had died and the bar owner Mike [Armstrong] brought in all of the band members who had played in his Ascension (Marion Brown, Rashied Ali et al) in quartets, quintets over the summer," says Wynne.
"Influence played the early evening and at midnight the jazz started. [It was] one of the highlights of my musical career."
Two days later, Influence got its first paying gig at the Bonaventure Curling Club dance before landing a long-standing run back at the Barrel through to early August.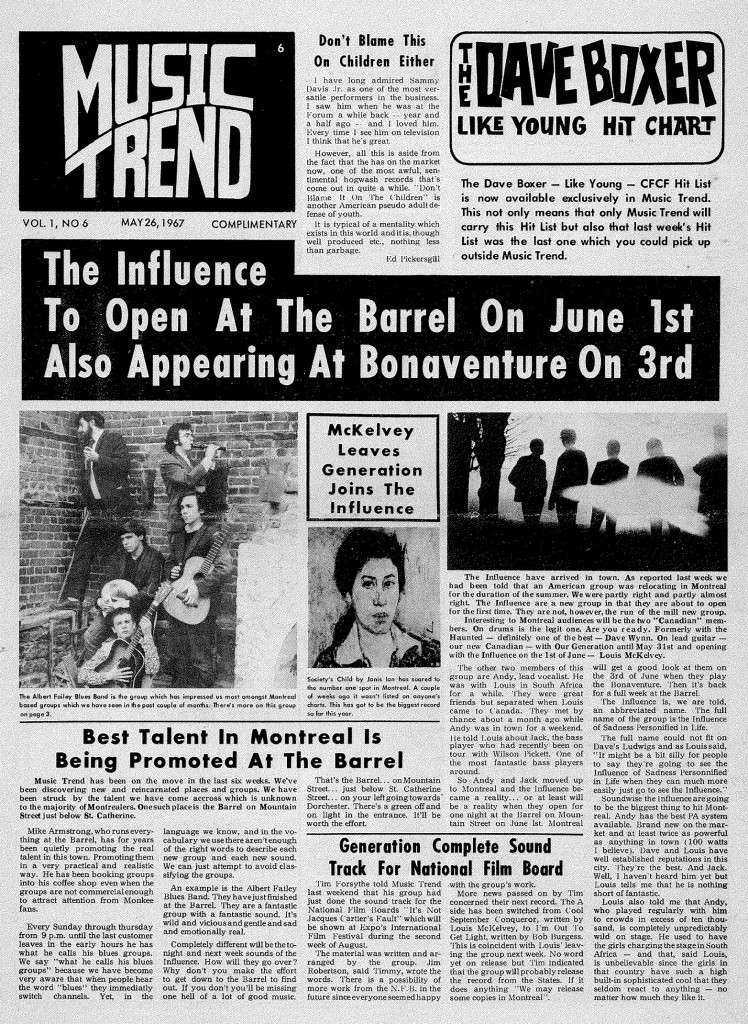 Music Trend, May 26, 1967
It was a hard period; Influence was making just under a dollar a night, but by playing five hours a night to an often near-empty house, they developed a unique stage performance and sound.
Music Trend reported on the group in late June, noting: "As most of you probably know by now, The Influence added two new members a month ago. Bob Parkins on organ and Wally, who is playing second lead guitar, have made a big change. The first and most obvious is the sound. It's big! Two lead guitarists and no rhythm player makes for an interesting change of pace, but the sound wouldn't come across except in material written for it. Influence has the material."
Music Trend ended its review by noting that "[Influence] is doing a lot of new things for Montreal and in a couple of months will be a big influence on other groups".
While events didn't quite work out that way, the future looked promising. Within a matter of weeks, the group attracted the attention of Jerry Renewych, the manager of a local music publishing office, who together with his associate Alan Fainman set up a demo session at a Montreal studio.
Two tracks – McKelvey's "Sir Archie" and "Marble Hall", the latter co-written with his friend, the late Roger Gomes aka Roger Gaylord Keene (singer Millie's road manager during the mid-1960s), were laid down at the session that summer.
The band then headed to Toronto in late August to play the city's vibrant club scene, debuting at Boris' Red Gas Room on 2 September.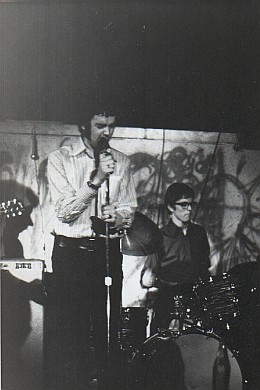 Influence, Toronto, September 1967: Andy and Dave (photo courtesy of Andy Keiller)
At first Influence struggled to attract much interest, but after appearances at Boris' Red Gas Room and the Strawberry Patch (run by the late Martin Robertson, another English expatriate), the group's reputation began to spread among the music cognoscenti.
Influence also ventured out into the smaller satellite towns around Toronto and Pickersgill remembers one hilarious incident at a school dance in Aurora, Ontario, which landed the band in deep trouble with the musicians' union.
"Bob pretended to have sex with a photo of the Queen during a rendition of 'Mad Birds of Prey' while 300-400 kids were screaming at Influence to play some R&B."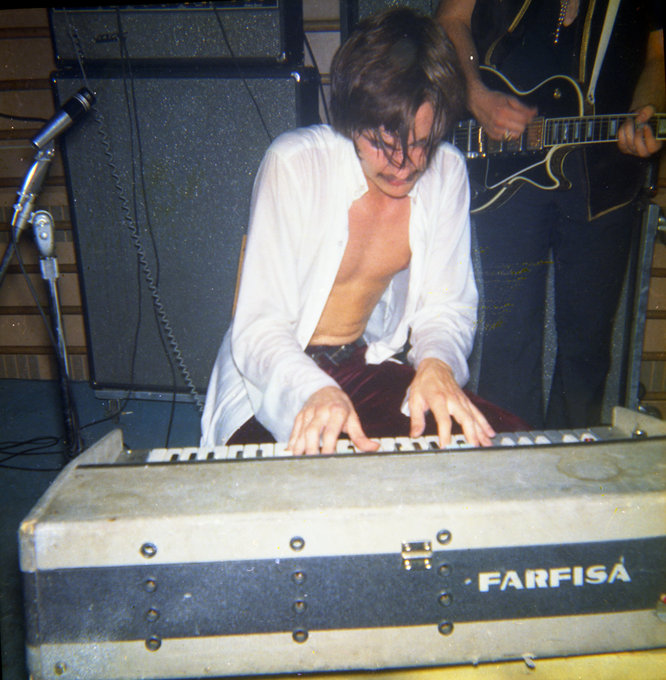 Bob Parkins (aka Bobo Island), Influence 1968 (photo courtesy of Norman LoRusso)
The second part of  Nick Warburton's Influence feature can be found here: