Hedgehoppers Anonymous – Part 2
By Nick Warburton
When Hedgehoppers Anonymous returned to England in late October 1967 after a brief Swedish tour, original lead singer Mick Tinsley left to resume his solo career.
With Hedgehoppers Anonymous seemingly dead and buried, drummer Glenn Martin accepted an offer to join Sandie Shaw's backing band, The Streamliners, replacing outgoing drummer Bill Honeyman.
Having gained permission to use the Hedgehoppers Anonymous name from Jonathan King in January 1967, when the original band split up, Martin continued to retain the rights after Tinsley's second departure.
Aside from Martin, the other Streamliners comprised a bunch of Staffordshire-based musicians – guitarist/singer Tony Kaye (Mould), bass player/singer John Askey and organist/singer David Birkenhead (nicknamed 'Smartie' on account of him always having a packet of Smarties chocolates to hand).
Older than the others, Kaye also had the longest pedigree, having previously fronted the Stoke-on-Trent band, The Huckleberries in the early-mid 1960s, and founding the original Streamliners in late 1965. His musical accomplishments extended further back than the others to the late 1950s.
"Tony lived in London for quite a while in the late 1950s/early 1960s doing numerous recordings and song-writing and had a flat with Jerry Lordan, the writer of 'Apache' and other Shadows' hits," recalls Birkenhead. "In fact, Tony wrote a song with him called 'Mustang', which was recorded by The Shadows."
Sandie Shaw's backing band was put on a retainer and when the singer wasn't touring or undertaking TV work, the musicians would go out on the road to earn some extra money.
"Glenn said we could use the name Hedgehoppers Anonymous as he was the remaining member and had the rights to it," argues Birkenhead.
"Sometimes we would go out as Sandie Shaw's backing group The Streamliners and sometimes we would go out as Hedgehoppers Anonymous. It all depended on which would bring the most money in.
"Usually, Sandie's name brought more clout with the working men's clubs and Hedgehoppers Anonymous brought more clout with the university and dancehall set."
Birkenhead's recollections are borne out by an advertisement in the Stoke Evening Sentinel, which shows that Hedgehoppers Anonymous opened the new Potters Club in Stoke-on-Trent on 22 December 1967.
One of Sandie Shaw & The Streamliners's most memorable gigs during Glenn Martin's stint with the band was a prestigious appearance at the MIDEM Festival in Cannes in January 1968.
Interestingly, Martin remembers flying out to the festival with Jonathan King, who remained a close friend of Sandie Shaw's throughout this period, even attending her 21st birthday bash at the Chamber of Horrors in Madame Tussaud's on 28 February. Martin was invited but did not attend.
On her return from the south of France, Sandie Shaw rehearsed two sax players – Eddie Pollatt and Roger Keay, the latter having previously played with David Birkenhead in the Cheshire bands, Phil Ryan & The Crescents and The Times before replacing future Traffic man Chris Wood in Locomotive in late 1966 – but the expanded group never took off.
[tubepress video="zATulq_9ofI"]
Not long after, Glenn Martin – the only connection to the original Hedgehoppers Anonymous – was sacked by Kaye and replaced for a brief Scottish tour by Roger Keay, who also happened to be an accomplished drummer.
Looking back on this brief episode in his musical career, Martin cannot remember the exact timing of his departure but does recall being a member of The Streamliners when Shaw married the fashion designer Jeff Banks on 6 March 1968.
"We were doing a week at the Castaways Club in Birmingham at the time and the marriage came as a complete surprise to all of us," he says.
According to the Birmingham Evening Mail, the week-long engagement at the Birmingham cabaret club took place from 4-10 February. A few weeks later, the Stoke Evening Sentinel advertised a gig by Hedgehoppers Anonymous at the Clayton Lodge Hotel in Newcastle Under Lyme on 25 February.
The next listing for the band in the local newspaper was for a show at the Bull's Head in Hanford on 10 April, which would suggest that Martin was given the elbow shortly after Shaw's wedding took place in mid-March.
Whatever the truth, the drummer is still angry about the band's decision to carry on with The Hedgehoppers Anonymous name after his departure.
"They knew I had the rights to the name Hedgehoppers [Anonymous] and I think they probably just seized the opportunity," he says.
"Not only did they sack me and replace me with someone else but then they had gone and taken advantage of the fact that I had been with Hedgehoppers Anonymous."
Perhaps not surprisingly, the other surviving members remember the circumstances surrounding Martin's exit somewhat differently.
"I picked up no indication that there was any problem with [us using] the name," says Birkenhead on the post Glenn Martin Hedgehoppers Anonymous. "We just used it and no one seemed to object to it."
"From what I understand, Tony [Kaye] acquired the rights to the name [from Glenn]," adds Askey, who, like Birkenhead, was not involved in any of the management decisions.
On this issue, Martin refutes that he ever gave Kaye the rights to the band's name. Unfortunately, we may never know what really happened because Kaye died over 10 years ago, leaving his own legacy on the music business – his three sons are all successful song-writers, most notably with Stoke-on-Trent's most famous pop star Robbie Williams!
As events soon transpired, the post-Glenn Martin Hedgehoppers Anonymous lasted only a month before it suffered its first casualty.
Roger Keay, who'd taken over the drum stool in mid-March 1968, soon lost interest and dropped out. In his view, there was little mileage in using the Hedgehoppers Anonymous name on the road.
"I don't think I quite saw the point of it really," he says, looking back. "They were never going to be a hit again. The band that was calling itself Hedgehoppers Anonymous was going nowhere as far as I could see."
Keay's exit made way for a returning Bill Honeyman – from fading pop stars, The Ivy League's backing band, The Kingpins.
The personnel changes did not stop with Honeyman's return. "When Tony Kaye was thinking about leaving [to go into management for the band], we brought Mick Matthews in," says Askey.
"When we were doing Hedgehoppers Anonymous gigs, Mick would play and when we were with Sandie, Tony would play. We did covers and new material – a little bit that Tony and Dave wrote and a little bit that Mick wrote."
One of the songs that Birkenhead and Kaye co-wrote during this period but never performed live with Hedgehoppers Anonymous was "Village", which was presented to Cliff Richard but turned down.
In the long run, however, it was the arrival of former Harvey's Team lead guitarist/singer Mick Matthews, a prolific songwriter with a strong melodic sensibility and a knack for banging out memorable tunes that proved the turning point artistically for the new Hedgehoppers Anonymous.
To complicate matters further, this new incarnation was reshuffled in December 1968 when lead singer Phil Tunstall joined as a charismatic frontman and Colin Turner from The Kingpins succeeded John Askey on bass, who left to join future Hedgehoppers singer Alan Avon's band, Toyshop.
In a further twist, Tunstall's former band, The Colour Supplement, had even played two dates on the same bill as Mick Tinsley and Glenn Martin's Hedgehoppers Anonymous during their Swedish tour in late 1967!
Still trading on the original band's reputation (although increasingly incorporating heavy rock, self-penned material), Hedgehoppers Anonymous' luck changed when Decca Records in South Africa re-released the three-year old "Don't Push Me" in January 1969.
The original, released in April 1966, had been a popular Springbok Radio hit, peaking at #15. The re-release not only prompted a flurry of record buyer interest, but more importantly stimulated demand for live and recording appearances from the revised Hedgehoppers Anonymous line up.
"I can remember very well that Tony Kaye got a phone call from somebody in South Africa," says Birkenhead. "Apparently, what had happened was a DJ started playing the single on the local stations and it had just taken off."
The selling point of the South African trip was a three-month stint at Durban's top nightspot, Tiles. Unfortunately, Birkenhead couldn't make the gig and stayed behind to join The Look Twice Band. "If we were going over there for a month and then coming back again, I would probably have done it," says the keyboard player. "[But] it did seem a long-term tour of duty."
Stripped down to a quartet, the remaining members – Mick Matthews and Bill Honeyman plus newcomers Phil Tunstall and Colin Turner – endured a whirlwind two-day flight to Durban, arriving on 26 February 1969, where they were feted as rock royalty at the airport.
It was the start of an exciting new chapter in the band's history. Away from the gruelling northern English club circuit and any potential fears of legal action, Hedgehoppers Anonymous found plenty of work in the tropical climate of their new home and forged a new musical identity.
Over the next 15 months the quartet establish a solid following among South African audiences, extending their stay at Tiles until August 1969 and then moving to Johannesburg to hold down a residency at the 19th Level nightclub and the Underground club below the Hotel Continental.
By early 1970 Hedgehoppers Anonymous had enough material to record two singles and signed to the Highveld label.
Linked with producer Tony Gibson, the musicians recorded an exciting new Matthews's composition – "Mary Mary" backed by a beat version of Eric Morris's "Humpty Dumpty", which in an inspired move, was blended with the Kwela sound. At the same session, Hedgehoppers Anonymous cut the Matthews-Tunstall-Turner collaboration, "The Man Upstairs".
[tubepress video="OycGljVU2t0″]
With the single readied for a May release date and a full list of bookings set up, the future looked bright. Then tragedy struck. On the eve of Hedgehoppers Anonymous' appearance at South Africa's "Woodstock", a stadium rock extravaganza held at Johannesburg's Ellis Park Stadium to mark Republic Day on Monday, 31 May 1970, Phil Tunstall was killed in a road accident.
In his yet-to-be published autobiography I Started Out To Write A Song, Matthews recounts the horrific events: "The car had gone out of control and rolled, and Phil lay unconscious, but alive on the roadside for hours until an ambulance came.
"When it arrived, the guys refused to help because he was the wrong fucking colour! The ambulance was for non-whites only and, as a result, they turned around and went back without Phil, saying they would send a white ambulance. Some two hours later the 'correct' ambulance arrived and took Phil away. He was only pronounced dead on 1 June, as nobody worked on Sundays and public holidays."
Devastated by the loss, the remaining members had no choice but to put their immediate plans on hold and return to the UK to reassess their futures.
In the meantime, the band's debut single had attracted some radio play and by July peaked at #15 on the South African LM radio chart, stimulating demand for a band to go out on the road to promote it.
With none of The Hedgehoppers Anonymous members in the country, Gibson's newly formed Tojo label issued a second single that August, the pre-recorded "The Man Upstairs" backed by an instrumental version of the song entitled "The Man Downstairs" but it did not chart.
Listening to both of the single's A-sides it is clear just how charismatic and gifted a singer Phil Tunstall was and we can only guess what might have been had he lived to fulfil his undoubted potential.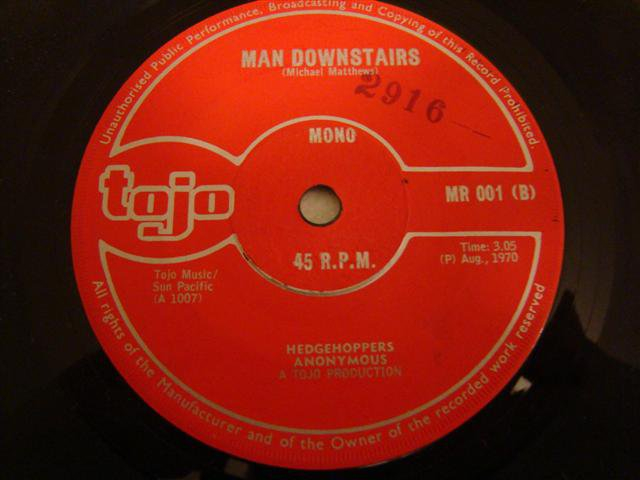 Not for the first time, however, Hedgehoppers Anonymous was about to return in yet another guise – this time as simply "Hedgehoppers".
Six months after Tunstall's tragic death, Mick Matthews received an unexpected phone call from Bill Honeyman informing him that there was more work to be had in South Africa. What's more, he'd found the ideal frontman to fill the shoes of their irreplaceable singer.
Honeyman wasn't wrong on either count. Demand for the group had grown after the success of "Mary Mary" and the new singer – Alan Dutton (aka Avon) proved in the long run to be a particularly inspired choice. With a powerful, soulful voice, Avon shared a long history with Hedgehoppers' drummer.
"I'd been involved with Bill from when I was about 14, we were in a band [called Alan Avon & The Presidents]," says Avon. "When he was in Hedgehoppers he contacted me to finish the contract in South Africa."
By the time Avon got the invite, he'd already recorded two highly collectable UK singles – "Say Goodbye To Yesterday" c/w "Send My Love To Lucy" on Polydor (as Toyshop) and "These Are The Reasons" c/w "A Night To Remember" on Concorde (attributed to Alan Avon & Toyshop). Best of Rubble Collection Vol 1
After returning to South Africa in February 1971, the new line up wasted little time in getting back in the studio with Tony Gibson, cutting two brilliant Matthews's compositions for a one-off single for the producer's Tojo label – "A Song For Pete", written in tribute to English expat guitarist Pete Clifford of The Bats (and a former member of Dusty Springfield's Echoes) and the infectious "Here's To The Morning", a rare non-album single cut.
Two months later, Hedgehoppers opened Samantha's, a new nightclub in Johannesburg and while there Gibson negotiated an album deal with CBS Records, which enabled the band to record the stupendous Hey!
[tubepress video="8Yqc-OrO-ZY"]
While sessions commenced during April 1971, "A Song For Pete" started to climb the charts and peaked at #5 on the LM radio chart. Finally, it looked like Hedgehoppers would achieve the success they deserved.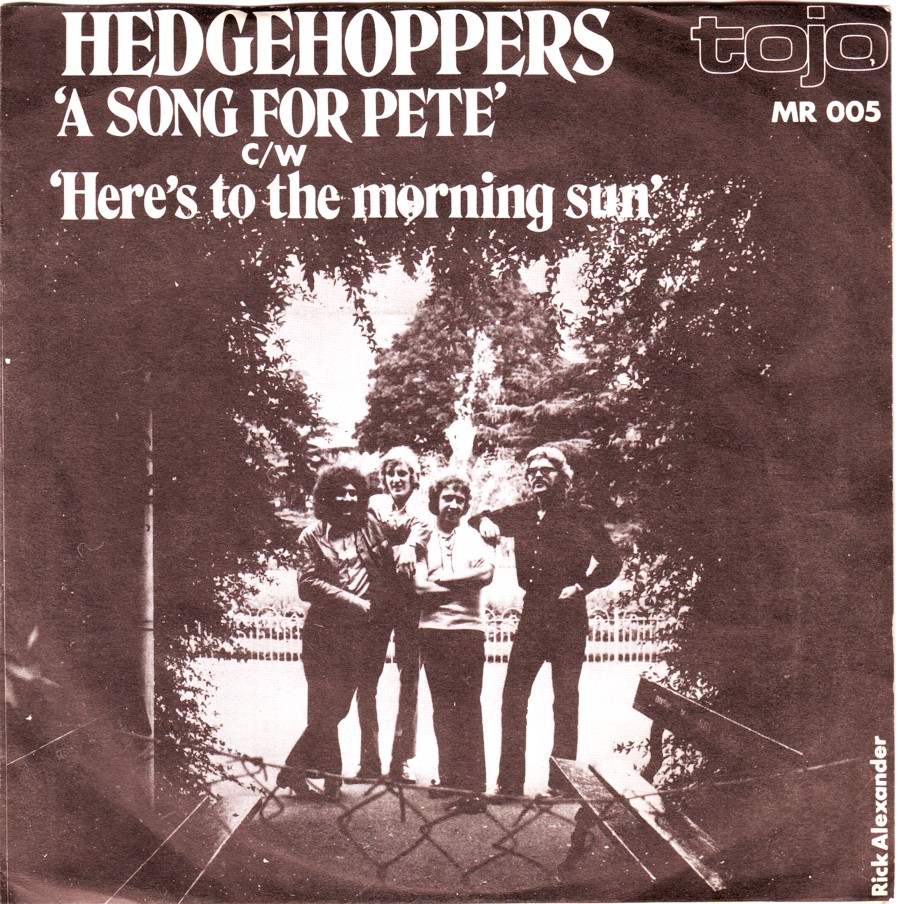 Unfortunately, Avon had only agreed to complete the band's six-month contract (which had not anticipated the recording of an album), and after sessions were wrapped up for Hey! Avon participated in a nationwide tour before heading back to the UK where he had a newly born baby waiting for him.
"I actually recorded a track before I came back to the UK with a Soweto choir," remembers Avon. "It was the Neil Diamond song, 'Brother Loves Travelling Salvation Show'.
"It was going to be released when I returned to Johannesburg as a solo single on RPM Records but I never went back so I don't know if ever got released. It was recorded in the same studio as the album."
In the immediate future Avon's departure wasn't a significant problem. With new singer, the late Andy Ionnides from Suck taking his place, Hedgehoppers travelled to Salisbury (in what was then Rhodesia) to hold down a three-month residency at the Coq D'Or.
Ionnides was a brilliant singer but he could never match Avon's soulful voice and that was what listeners were expecting when they bought Hey!
Far from being a lost masterpiece, Hedgehoppers' album is still a masterful collection. Comprised of soulful ballads and rock-orientated material, the album mixes unusual covers like Stephen Stills's "Rock & Roll Woman" and a frantic take on George Gershwin's "Summertime" with Matthews's strong originals.
The haunting title track – which was backed by Matthews's "My Friend John Carter The Kind Magician"; the guitarist's audition song for the band back in late 1968 – was issued as a single in August 1971 and hit #2 on the LM radio chart and topped the Rhodesian charts. The song also gifted Matthews a song-writing accolade when it won a SARI (South Africa's Grammy) for best single.
Other standouts on the album include Matthews's excellent rocker "Near Her" (also available on Fresh Music's Astral Daze Volume 2), the yearning "She's Been Hurt", a tale of lost love and eventual seclusion, and the beautiful ballad "Caroline".
With the album also a major South African chart success, the next challenge was to come up with new material that could sustain the band's recent chart success. This was no easy feat in the wake of Avon's departure – since it was his voice that had carried the songs.
Back in South Africa at the tail end of 1971, Hedgehoppers brought in keyboard player and singer Rupert Mellor (who took over from Ionnides) and while performing back at Samantha's recorded three new Matthews's songs for Parlophone Records – "I'm On My Way Ma", "Blue, Blue, Blue" and "Young Man On The Road". As with "My Friend John Carter The Kind Magician", Matthews handled lead vocals on all of the songs.
In November, Parlophone released "Blue, Blue, Blue" as a single but it failed to chart. Frustrated by the setback, Hedgehoppers started to unravel. Increasingly disillusioned, Matthews left the band he had guided for three years and returned to the UK in March 1972 to reassess his musical future.
His band mates continued as a trio and recorded a one off single, backing Wellington Count Judge on the Mojo single, "Noma Kunjalo" c/w "Salani" as The Cool Cats. Then tragedy struck again when Bill Honeyman died in another road accident.
"In them days if they had any road work diversions all they would get is a big 50 gallon oil drum, paint it red and white and stick it in the middle of the road," says Avon, who heard about the news back in the UK.
"Bill saw it last minute, swerved the van, fell out the door and the van rolled over him. I never went back. Bill was something special. He was like a big brother to me."
Honeyman's death signalled the end of The Hedgehoppers and soon after Turner also returned to the UK to pursue a non-musical career.
His former band mates, Alan Avon and Mick Matthews, however, have maintained a musical profile in the entertainment business.
In 1973, Avon recorded a rare lone single for Philips, "Before I Get Much Older", which was co-produced by Tony Hatch.
From his base in Stoke-on-Trent, the singer cut an inspired reggae version of the Judy Garland hit "Over The Rainbow" in 1994 and recently recorded an album, What's Around The Corner, with his friend Paul Marshall, which is due for a release in 2011. Besides his recorded output, he's also become a well-known actor, appearing in plays and popular TV series such as Coronation Street and Emmerdale. He was even the star of the KFC "Slaphead" commercial – voted one of the best 100 ads of all time!
[tubepress video="q-PXMA9mkfI"]
Matthews returned to South Africa in the mid-1970s and formed the rock band, Ballyhoo, which had significant chart and critical success throughout the decade before he left to launch a solo career. Today, he continues to work as a songwriter and has co-written an autobiography of his musical exploits during the 1960s and 1970s with Adrian English.
For most international record collectors that even care about Hedgehoppers Anonymous, the band's discography begins with "It's Good News Week" and ends with the final Decca release, "Stop Press" in late 1966.
It is only in South Africa that passionate collectors are aware that a second (entirely new) incarnation took over the mantle and recorded a handful of class singles and a brilliant, sadly overlooked album.
To mark the 40th anniversary of the release of Hedgehoppers' Hey! – Fresh Music is in the final stages of putting together an extensive and long overdue compilation, which will see the band's entire South African output released on CD for the very first time.
"There was an amazing response to the 'Hoppers' and it seemed to continue long after the band had broken up," says Matthews looking back.
"To see the book almost ready for publication along with the retro album is very rewarding and great tribute to everyone involved. I only wish Bill, Phil and Andy could be around to see it."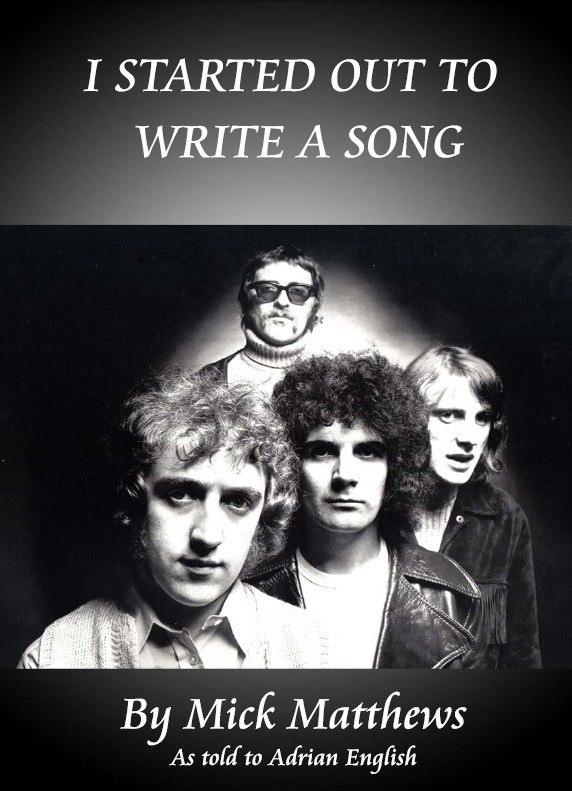 A huge thanks goes to Mick Matthews, Alan Avon, John Askey, David Birkenhead, Roger Keay, Glenn Martin, George Glover, Mike Nixon and Tertius Louw for helping with the story.
Thanks to Mick Matthews, Gavin Furlonger, Barry Oliver, Joe Toriati, Dave Birkenhead, Leek Post and Times, The Independent, Marq Vas and Tertius Louw for images.  The Stoke Evening Sentinel was also a useful resource.
Keep an eye out for Fresh's CD release, due in March/April 2011:
http://www.freshmusic.co.za/retrofresh.htm
Nick Warburton is a UK freelance writer, who has written for Shindig, Record Collector, the Garage Hangover website and Richard Morton Jack's new book, Endless Trip. Visit: www.nickwarburton.com
Copyright © Nick Warburton, 2011. All Rights Reserved.