By John Blaney
The best things in life are worth sharing, and for the last couple of years Fruits de Mer and Mega Dodo have been sharing bands as fast as our records have been flying out the door. When the respective label bosses began exchanging emails something bigger was bound to happen. Buoyed by the success of Fruits de Mer's Crabstock gigs, Keith Jones suggested putting on a gig. But not just any old gig, oh no, something special, a 'happening'!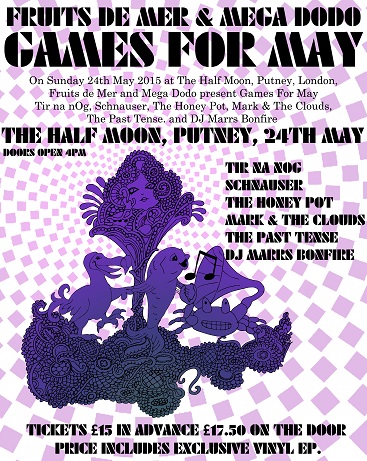 The result is 'Games For May', a kind of post-modern homage to the Pink Floyd that features Tír na nÓg; Schnauser; Crystal Jacqueline & The Honey Pot; Mark & The Clouds and The Past Tense at The Half Moon, Putney, London, on Sunday 24 May.
It promises to be a special event. Imagine two madcap, dysfunctional families coming together for the afternoon to see who can freak-out granny. And on top of that there's a special vinyl EP that features a mix of live, previously unreleased and specially-recorded songs by each of the bands and the legendary goodie bags, examples of which have sold on eBay for the best part of £300! Fruits de Mer label boss, Keith Jones, says the goodie bag for the 'Games For May' gig is already positively bulging with 5, 6 or more free CDs, pretty much all of them exclusives, plus a 'Games For May' game and more!
The times they are a changing and London's rock 'n' roll spaces are being threatened by developers and bulldozers. It's time to celebrate these places because without them what a barren, boring world it would be. It's something Duncan Gammon from Schanuser feels passionately about: "In the month that Earls Court is being scheduled for demolition to make way for yet more penthouse flats for millionaires, I think it's really important to appreciate the few culturally important venues that we have left."
Bands from both labels are coming together in a spirit of adventure, spontaneity and celebration to create something magical, just like in the 60s. "It feels to me that it's gonna be a great night as we all share Psychedelic roots," says Marco Magnani from Mark & The Clouds. Buzz from The Past Tense shares the same opinion: "There's a kind of camaraderie among psych tinged bands maybe because we share musical influences and as such avoid conformity."
To make it that bit more interesting all the bands have something special planned. Ken from The Past Tense says: "We are going to try and be a bit different to our normal live selves. Part of the fun of this gig is trying to experiment a bit. We don't usually get the chance to do this so wish us luck." The band's drummer, Nuts, adds: "I'm hoping to recreate John Bonham's famous drum solo, but I haven't told the rest of the band yet."
Schnauser on the other hand plan to: "Squeeze in the Yes/Soft Machine covers from the Fruits De Mer single," explained Duncan. "We are working on brand new material at the moment, I'm sure that will get an early airing." Not to be out done Crystal Jacqueline and The Honey Pot are hoping to preview some new material from their forthcoming album: "We may preview 'Inside The Whale', the eight minute title track of the new album," Icarus Peel explained.
So many great bands and we haven't even mentioned the head-liners yet. Tír na nÓg first played The Half Moon in 1970, and have performed there many times since. Leo O'Kelly, representing Tír na nÓg, says: "It's always had a very special "vibe" about it, from the people who've played there, to the people who regularly drank there e.g. Bert Jansch, Sandy Denny and myself included. It's always been one of our favourite venues, and has come through so many music phases integral and intact!"  Schnauser's Duncan Gammon speaks for everyone when he says: "Looking forward to Tir Na Nog as well, I wonder if they will do their cover of Nick Drake's Free Ride?" Who knows?"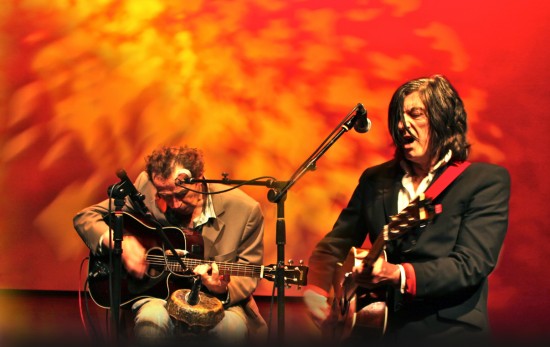 Tír na nÓg
Indeed, who knows? Not Tír na nÓg that's for sure. Leo: "We don't plan at all…" And that's part of the magic. Tír na nÓg have probably played more gigs than the rest of the bands combined, but it's the thrill of not knowing what's coming next that makes live music exciting for performers and audience alike. "Playing to people, when you're sounding good and performing well it is very uplifting …and we are privileged to have that chance. I even enjoy packing up…with my consoling mantra "Everything must go!" We mostly play solo in Ireland, but there's always magic involved when the two of us play together. We never rehearse, but it always sounds remarkably together, so it's always new to us.…. we have a special bond."
Tír na nÓg have been making music for a long time, but new music from the duo has been thin on the ground. That is until last year when they released an EP on the Fruits de Mer label which prompted them to record their first album of new studio recordings in forty years. "Yes, we are working on a new album. We will include the four songs which came out on the FdM 'I Have Known Love' EP, because we love them so much, and half  a dozen more songs. We've already recorded a few and are very pleased with them. The album will be ready for our Half Moon gig," says Leo. With a new album released in time for the gig there's a good chance that Tír na nÓg will play something new along side old favourites. Maybe Duncan will get to hear 'Free Ride', who knows?
And for those attending there's the added attraction of  the 'Games For May' EP and goodie bag. The Games For May EP features live, previously unreleased and specially-recorded songs and has been pressed up by Fruits de Mer and Mega Dodo for this unique occasion. It's only available to ticket holders at the gig who will also receive a very special goodie bag. The EP features one song from each of the bands. Leo says of  Tír na nÓg's contribution: "The song is a live recording of 'Time Is Like A Promise'. It's a straightforward love song and it's choice was inspired by FdM's suggestion!"
Marco from Mark & The Clouds explains his contribution: "It's called 'Any Part of Town' and it has a folk/ballad feel to it. It talks about a timeless feeling of remaining the person I am, at least on a musical creative level, in whatever place I am, in this case any part of the town I'm in, London. It's basically me telling someone 'leave me anywhere you like and I'll be fine'".
While keeping the pop-psych vibe going, The Honey Pot have a very different sound and approach. For their contribution they decided to re-record an old Icarus Peel song. "We recorded 'Three Sisters Of Silence' because the original version by Icarus Peel was like a Lenny Kravitz master-class, with the three sisters being groupies! The words were changed for Jacqui to sing."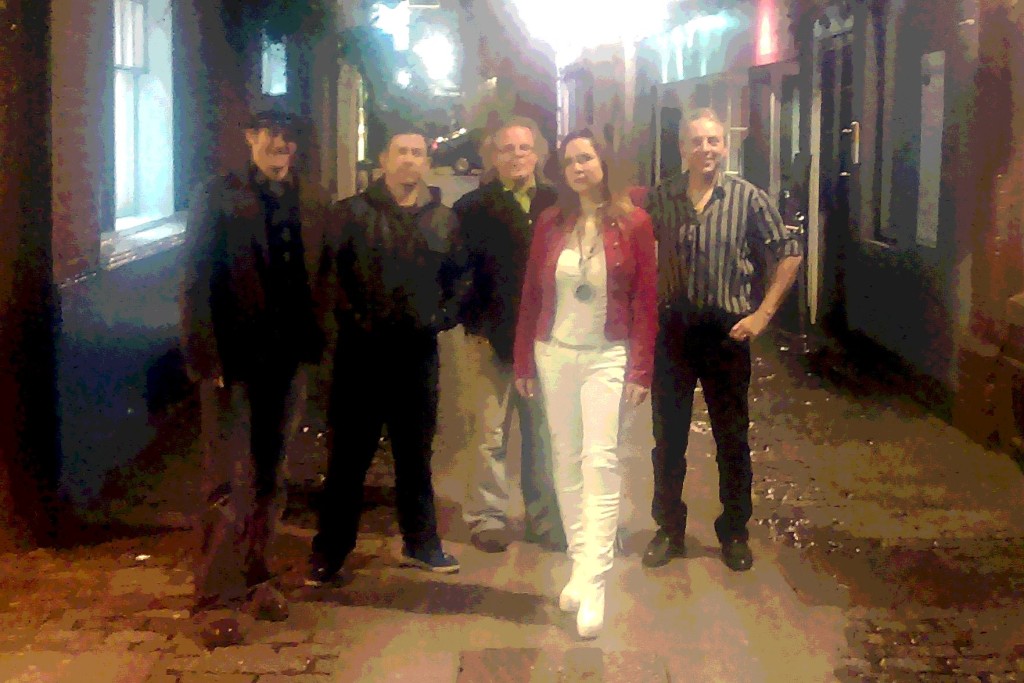 The Honey Pot
Schnauser's contribution 'Henry And His Magic Horse' was written for Duncan's 6 year-old daughter: "she's really into music, particularly XTC, Cardiacs and Blur," he explained. "It was supposed to be a theme tune for an imaginary 1970s Eastern Bloc kids cartoon. She didn't like it… "It gets stuck in my head all the time Dad…."
Also on the Fruits de Mer side of the EP The Past Tense offer 'Vision'. Andy says: "Our song is a psyched up edit of a track from our forthcoming album. What we really like about Fruit De Mer is that we can really go to town and throw everything at it and they seem to like what we do. Personally I feel our work with Fruits let us experiment a bit like XTC did with Dukes Of Stratosphere."
An afternoon and evening of new and classic psychedelia, acid-folk and prog rock, records stalls, band signing sessions, DJ Marrs Bonfire playing classic psychedelic and garage sounds from 4pm, great beer, tasty food and, of course, those exclusive goodie bags, a very limited Fruits de Mer/Mega Dodo five track vinyl EP, if that doesn't get your pulse racing I don't know what will. A splendid time is guaranteed for all.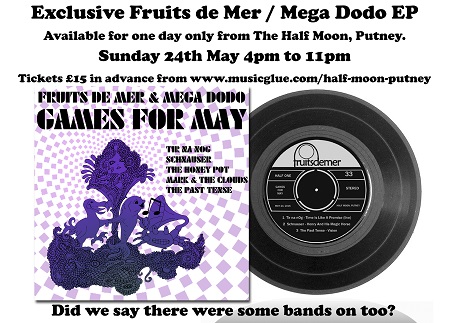 Tickets are £15 in advance. This includes a very limited Fruits de Mer/Mega Dodo 5 track EP featuring exclusive songs from each of the bands and goodie bag.
Buy your tickets here: http://goo.gl/duT6QW
See you there.