Dennis Dunaway, bassist, songwriter, visionary for the Alice Cooper group speaks to Jason Barnard to talk about his definitive book on the band 'Snakes! Guillotines! Electric Chairs!' Subtitled 'My Adventures in the Alice Cooper Group', 'Snakes' is receiving rave reviews and is the must read rock autobiography of 2015.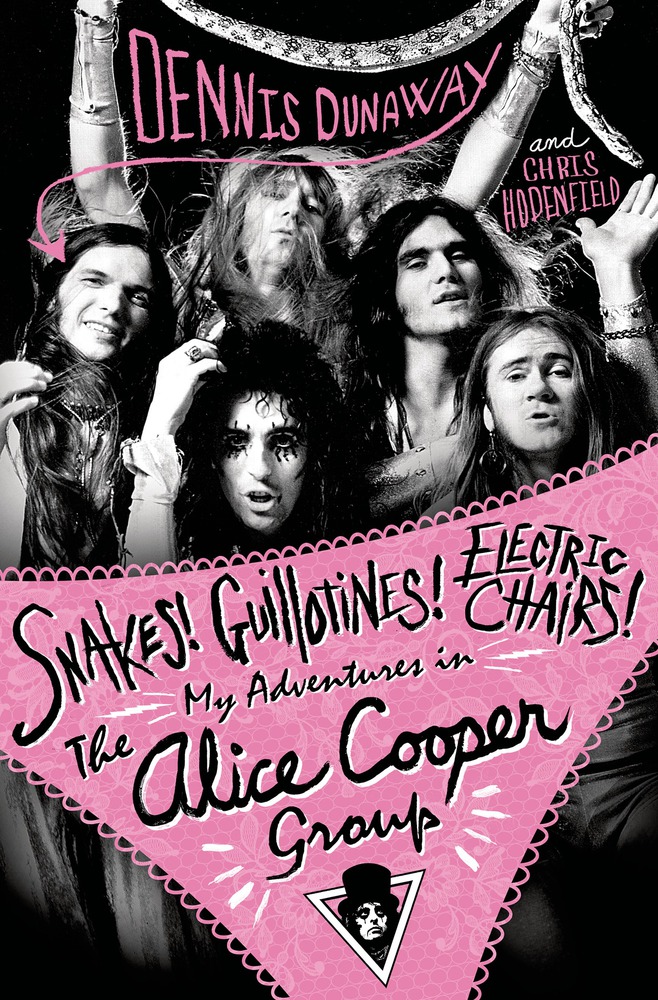 Your book shows the on-going bond between you and Alice Cooper, formerly known as Vincent Furnier. You were best mates growing up and jointly responsible for shaping the path that the Alice Cooper group took.
We got the initial idea being art students in high school when we were 16 years old. Being friends before we decided to join a group we got the idea of incorporating surrealistic dada art type things into a band. We talked our other band mates into believing into the same vision. So it was all five of us together, Michael Bruce, Glenn Buxton, Neal Smith, Alice Cooper and myself that got this idea and followed it through thick and thin until we finally made it happen.
The band that eventually became the Alice Cooper group were The Spiders. You released a few singles back in the mid 60s. 'Why Don't You Love Me?' for example is a piece of searing garage rock.
The movie 'Ferry Cross The Mersey' came out and the British invasion was gigantic at the time. We went to see it in the theatre and it was Gerry Marsden. There was another band that played a song in the movie, The Blackwells. It was 'Why Don't You Love Me?' and we liked that song so we decided to record it. It was actually the flip side of another song we had done called 'Hitch Hike'.
Marvin Gaye?
Yes, but we actually copied the Stones version.
It feels like there's was quite a bit of British influence. A year later in 1966 you and The Spiders released 'Don't Blow Your Mind'.  It sounds like you were influenced by The Yardbirds.
Definitely. By then we had discovered The Yardbirds. In fact that year The Yardbirds came to Phoenix, Arizona and played at the local club where we had become the house band. We didn't know much about them. All we knew was that we had this new album of this band that we thought was the next big thing. We were very young, we thought in tribute we would open for them by doing an all Yardbirds set. We came on before them and played all their songs before they came on!
How did they take to that?
Well, I've talked to Jeff Beck in more recent years and Alice told me he had too. Jeff said that they remembered that because they were flying into the middle of the desert and had never even seen a cactus before. They thought "Nobody's going to have a clue who we are." Then the opening band does their songs. (laughs) It spurred them on to an incredible set though.
You started writing a few songs in this period.
Yes, actually 'Don't Blow Your Mind' was the very first song that Alice and I wrote. That was through the encouragement of our new band member Michael Bruce who wrote songs. He said "You guys are in a cover band. Why don't you start writing songs?" We were like "Oh, we never thought of that."
In 1967, The Spiders changed their name to The Nazz and released 'Lay Down and Die Goodbye'. Was that the period you went to Los Angeles?
Yes, we were starting to migrate to Los Angeles. We had been to the Sunset Strip and it was like going to the land of Oz, seeing all this excitement going on. We were pretty big as The Spiders in Arizona and the whole South West. We were an up and coming garage band with songs on the radio. But another band came out with the name Spiders so we had to change our name and start all over. At that point we were getting a lot more progressive with incorporating our art into our original music. We were searching for a new style that had never been done before. The Yardbirds influence was very big at this point, but this was the turning point. We re-recorded 'Lay Down And Die Goodbye' much later as Alice Cooper but this was a completely different version and very Yardbirds.
'Snakes and Guillotines' vividly describes the LA scene. You were friends with The Doors and knew some of the bands that came over like Pink Floyd and Jimi Hendrix.
We got to meet all of those people. Musicians tended to hang out together back in those days; there was a lot more camaraderie. Pink Floyd stayed at our house during their first tour. Syd Barrett wasn't doing well and were kind of deciding what they should do about it. David Gilmour was along with them. Syd wasn't functioning and they were going through a big transition. They had to cancel the tour and go back to England and restructure the group.
The Doors were another LA band coming up. As The Nazz we became the house band at a big club out on a pier over the ocean. It had a big giant ballroom that Lawrence Welk made famous with radio shows back in the 30s. Now it had become more of a psychedelic club and we opened for The Doors and did three or four shows in one day. Jimi Hendrix used to hang out at the Landmark Hotel where our managers lived. Janice Joplin and The Chambers Brothers were there a lot. We got to know them well.
It seems incredible looking back.
It does now that it's known what they went on to do. Back then it was just newly happening for everybody. It hadn't sung in the level of fame that they were all going to have.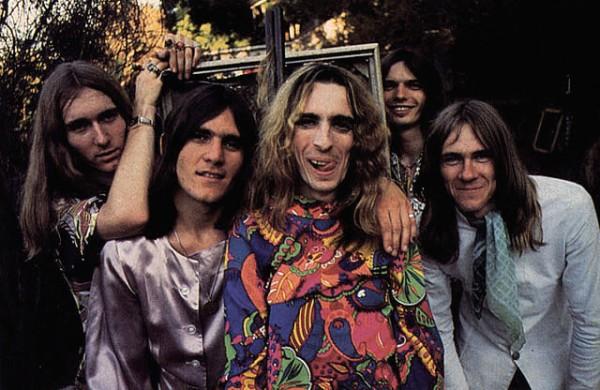 There seems to be a few misconceptions about how the name Alive Cooper came about. You seem to set the record straight in your book.
I told it the way I remember it, which is different to everybody else's stories. There's many misconceptions and even different versions within the band. I remember that we had already changed our name at a pivotal point, from The Spiders to The Nazz. We picked The Nazz as we figured that nobody would think of that. Then another band came out with The Nazz in America, with Todd Rundgren. So now we were really determined to come up with something that nobody would ever come up with. We were kicking around so many names, a hundred names a day probably. Then Vince said "Alice Cooper. It's like an American name that's real common. It's like Lizzie Borden. It's like that innocent girl next door that has a hatchet behind her back." We were like "Urrr I don't know."
At that point we were really into shocking audiences with our shows but we were in the South West for the most part. Cowboys were always out to beat us up. We discussed it one night at a friend's house in these three girls who had a band called The Weeds of Idleness. We thought "I don't know if we want to go there." I drove home to my parents house in Phoenix, Arizona and they said "What are you doing?" I said "We have a new name for the band.", they said "What is it?". When I said Alice Cooper they both looked completely shocked. The next night I came back and Alice had back-up for his idea. I was convinced, we got to do this. If we were trying to shock audiences this would shock them before they even come through the door.
You signed to Frank Zappa's label.
We signed to Bizarre Records. When we landed in Los Angeles there was all kinds of things going on in the streets. It was a total zoo. We were walking down Sunset Boulevard during the day. In broad daylight comes these six girls, the GTOs who looked like the circus had just come to town. We decided that they were kindred spirits and walked over to them. They took us to a party and next thing we knew was we were hanging out with the GTOs. They lived in Frank Zappa's basement and when we heard that he had a new record label we talked Miss Christine into letting us come over. Frank didn't even know about it, she hadn't even asked him. So we showed up early in the morning, barged into the house and set up all our equipment, our amplifiers, drums and everything in the hallway outside the bedroom where Frank and his wife Gail were sleeping. We started playing. The door opened and Frank's hand came out motioning us to stop and we stopped. His head stuck out and said "Let me have some coffee and then I'll listen." That's how we got our first record deal.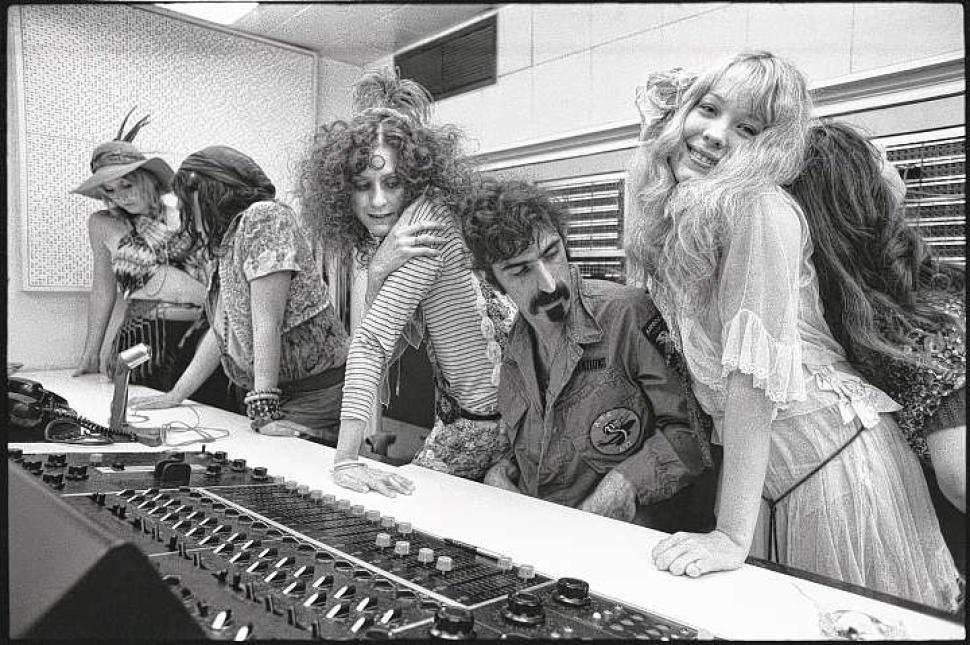 Frank Zappa and The GTOs (from NY Daily News)
'Fields of Regret' is a standout track from your first album 'Pretties For You'.
Most people don't realise that that was that song that planted the seeds of the character Alice Cooper. Each song on 'Pretties For You' had a different character. 'Fields of Regret' had the dark character. The audience liked that better than anything else we did. I told Alice "We can't drop that song and drop that character. We are going to have to write more dark songs. In fact that character worked so well we should try to make you become that character for the whole set." Alice came up with the character but I'm the one who kind of focused that that was the direction we should go. It took us a few years to learn how to write and develop the character, give Alice the music. But that song was where it started.
'Nobody Likes Me' is a highlight of the Alice Cooper album 'Live At The Whiskey A-Go-Go' recorded in 1969.
Actually that's a song that should have been on 'Pretties For You' but we ran out of time. We only had midnight to sunrise, two nights to record the album and somehow it didn't end up on the album. I sort of equate it to 'Strawberry Fields' not being on Sgt Pepper although we certainly weren't The Beatles. That version of 'Nobody Likes Me' was recorded live. We opened for The Mothers of Invention at the Whiskey A-Go-Go.
The owner of the Whiskey A-Go-Go, Elmer Valentine, did an interview with Vanity Fair years ago. He said that his favourite night ever there was when we opened for Led Zeppelin. It was supposed to be six nights but they only played one and they bailed on it as they were not feeling well.
It's a really high quality recording.
Wally Heider had the first mobile recording studio that we knew of and Frank Zappa brought him in. They parked the truck in the street outside the Whiskey and ran all the cords in and recorded it that way. It was cutting edge for its time.
Yes, it's much better than some of the other live recordings from that period.
Better than 'Pretties For You' I might say! (laughs) Now during 'Nobody Likes Me' Alice was another character, he was a little kid that was in his room. So we got a screen door and we knocked the screen out so there was just an empty window. It had a curtain and Alice would be inside leaning out the window singing 'Nobody likes me. It's all my fault.' We would be his friends and sing 'Oh yes, we all like you. We like you a lot.' It was designed because we had alienated our audiences so much with this androgynous look that just wasn't what was happening back then, even in Hollywood. I wrote that song to break down the barrier between us and the audience.
You backed up Gene Vincent at the Toronto Rock and Roll Revival. That's now a legendary gig because John Lennon played but I think that was the gig where there was some mishaps with a chicken.
Yes, they call it the chicken incident. That chicken was mistaken as something collectible by our fans and they were fighting over it. Alice tossed it out to the crowd and it didn't fare well. The demise of the chicken and John Lennon was what everybody talked about after the show.
We got to back up the great Gene Vincent. Oh, what an honour that was. It was the Rock and Roll Revival so the old rock and roll acts, Gene Vincent, Jerry Lee Lewis, Chuck Berry and Little Richard, everybody was on the bill. John Lennon was on the bill as a surprise but played his rock and roll songs. Other bands like The Doors favoured their rock and roll songs. What we were doing was totally avant-garde so in order to give us reason to be on that bill our managers helped the guy who was promoting the show. Things kind of got out of hand, he felt overwhelmed, especially when John Lennon announced he was going to be there.
Our manager said 'Ok, we'll take over for you. We'll make this thing happen but you've got to let our band be on the bill. But in order to make it look like validation they had us also back up Gene Vincent. We met Gene at a hotel and had a few amplifiers. He was very nervous and we had heard that he even had stage fright back, even in his heyday. And now he hadn't done any shows in a lot of years and had never played in front of 70,000 people. He was very nervous and didn't know us.
We wore jeans and t-shirts and when he showed up we told him we loved 'Woman Love' and 'Be Bop A-Lula'. We plugged his microphone into an amplifier and got all of this echo on it. Then was happy and we said 'Ok, what song do you want to start with?' and he just went 'Well……' We knew what song it was! (laughs) Chills shoot up my spine even telling you about it now. It was wonderful.
The follow up to 'Pretties For You', 'Easy Action', didn't break through in 1970 but you continued to play a lot of live shows. In your book you talk about meeting Bob Ezrin after one of your shows and that he thought Alice was singing 'I'm edgy' as opposed to 'I'm Eighteen'.
That's right, that was at Max's Kansas City in New York City and we were not happy about the lack of people for the show. We were very upset, we thought nobody advertised and were kind of scraping rock bottom at that time. We were trying to get a producer who could get us a hit single. That's all we needed. We had a reputation with Zappa and the chicken, we had kind of become legendary. But one major thing was missing, a hit single. So we were after Jack Richardson who produced The Guess Who up in Canada. We were hounding him so much that he decided to send this young guy who had never produced an album to hear us. He thought he could say 'We listened to you and we are gonna pass' and then hopefully we would stop hounding him.
Bob Ezrin was there and we did a very edgy set. I'm not surprised the he thought it was called 'I'm Edgy' because we were not happy and we put all of that unhappiness into that show. He came up to us afterwards and said "You guys really got something. We've just got to figure out how to get it into the grooves of a record." That's what we didn't now how to do. We knew how to write songs. We were actually pretty good musicians but we did really know how to write a song that would be a big hit single. Bob Ezrin ended up being the person who taught us how to do that.
I've read that Joey Ramone wrote his first song for The Ramones based on the chords for 'I'm 18' and a few years later in London, Johnny Rotten auditioned for The Sex Pistols to it. With that song alone you have a case that you helped to form punk rock.
Everybody has their influences. John Lydon is always very open about raving about The Alice Cooper group. He says the scariest song that he heard was a song that I wrote called 'Luney Tune'. I think that he put a coin in the jukebox and chose 'I'm Eighteen' and sang along with it. That's how he got the gig as the lead singer of The Sex Pistols. This is all good, influences are good. You take what somebody else did that you like, we took The Yardbirds and many other British invasion groups, then you try and make it new, make it your own. It's complementary of course.
'Dead Babies' from the wonderful Killer album, resonates with something that you've said before. You've talked about Alice Cooper symbolising and reflecting society, you also glued mirrors on your bass to kind of symbolise that. 'Dead Babies' seems to have that kind of link.
Yes, well it was also to do with us trying to be shocking without being censored. Back then the censors were very heavy, breathing down your neck and if you did anything that seen to cross the line they would simply censor you and nobody would hear it. So 'Dead Babies' was a way to do something that was shocking. When it came right down to it, if they're saying "Well you can't do that song with those lyrics" then we would say, "Oh well, the song, if you listen to the lyrics closely are about parental neglect. They weren't there watching their babies, the baby got the pills off the shelf."
So we had loopholes like that specifically put in to keep the censors from being able to stop us. They said "Why are you chopping up a baby doll on stage". You know, well that's how we would push beyond. We kept trying to push it just a little bit further. 'Dead Babies' was actually two different songs, one had a great chorus and a lousy verse and the other song had the opposite. So both songs were going to fall by the wayside like so many had in those days, we were moving forward at a fast pace.
At the time we lived in Pontiac Michigan on a farm. On a nice day, which was rare, we would open these giant garage doors. There was a prison farm across the field and when these guys liked something we played, we would hear them all cheering. But it not on every song only stuff they liked. So anyway I talked to the band and said "Let's take the good verse out of that song and take the good chorus out of that song and put them together." I wrote this baseline to tie it together. We had a rule that you had to try everybody's idea before you gave it the boot. I got them to try it and the prison farm let out a big cheer and that's why we've pursued that song. That's why it became to fruition.
I understand that your wife Cindy was integral to the band's stage look.
Absolutely, Cindy moved to Los Angeles when she heard that her brother, who was in a band, didn't have any food. She got a job in Hollywood at a place called Inside Outside boutique and she used the money to buy food for the band. We weren't an item then, we became an item shortly after but she didn't like me in their early days. She ran into me a couple times in Arizona and I did not make a very good impression, but finally I did. We have our 41st anniversary coming up soon. She started not only sewing our street clothes, which were pretty outrageous in those days, but she started finding needs fabrics that were shiny. Us reflecting society was the thing. So we had sequins and stretch lamé fabrics and everything. Pretty much every album cover that the Alice Cooper group did we were wearing Cindy's designs.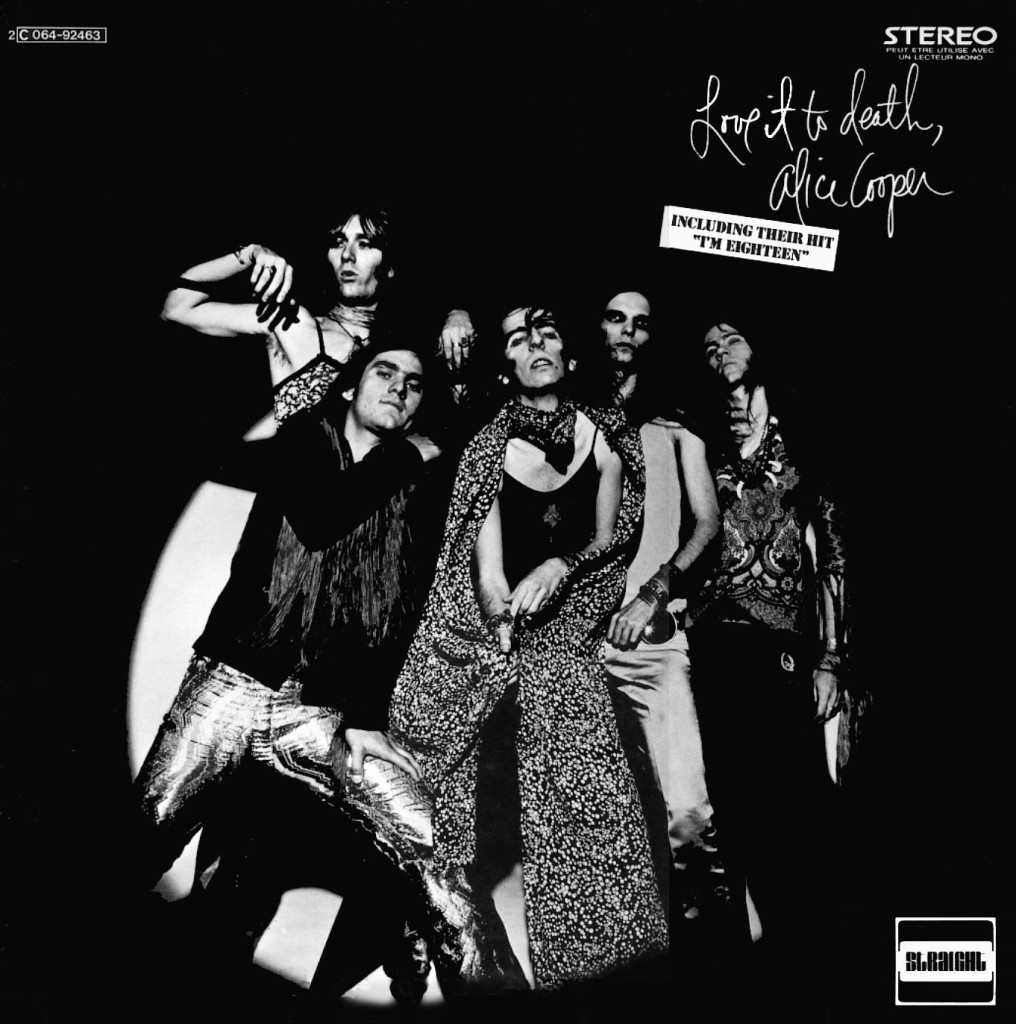 As you say, things came quick and fast in this period.  I've read that Glen Buxton was the one who created 'School's Out's' wonderful riff?
Glen came up with the riff, yes. He plays it the best of anybody I've ever heard and I've heard a lot of really top notch musicians play it. We went to high school together and he was the guy in the back of the class cutting wisecracks, low enough that the teacher couldn't hear him but he could hear the fellow students laughing. That's the feel that we wanted to get in 'School's Out' and when he plays it, he sounds like the kid at the back of the class. Other guitar players tend to sound like the kid at the front of the class that it's a little too slick but we wanted a song. 'I'm Eighteen' was designed to be relatable by the record buying public. If you were eighteen years old, you were living at home, you were buying records because you had the money.
You weren't paying for rent or anything.  Now the other songs 'Under My Wheels' and 'Be My Lover' were pretty decent hits but they didn't hit home like 'I'm Eighteen' did. So we decided "Ok, we got to write another song that targets specifically that audience. We were all on the same wavelength because we all went to school at the same time in the same town. So we all could revert right back to school kids like on, you know, a snap of a finger. That's what we did, we went back and we all came up with all of the ideas that went into 'School's Out'. It kind of fell together effortlessly.  And that's the only song we ever recorded I think that we all knew was a guaranteed hit while we were writing it.
It is quite rightly one of the top rock tracks of all time, up there with 'Satisfaction' and 'Stairway'.
Well it was inducted into the Grammy Hall of Fame this year.
In this period you became one of the biggest bands in the world.
We had just come back from England where we were still promoting 'Under My Wheels'. So we went to England, did one show; then as soon as we got back to America we went into a whole different show with a difference set list that included 'School's Out'. We played the Hollywood Bowl, that's when I finally said "You know we've made it". You can't play the Hollywood Bowl unless you've made it.
Another big single was 'Elected' and that has a real Who feel to it.
Absolutely. 'School's Out' works well as a seasonal hit. Every time school would be out, it would be played again. So now we thought "Ok, there's an election coming up. Why don't we write a song that will play every time there's an election."  Now, we searched around and we said "Well how about if we update 'Reflected'". It was on 'Pretties For You', Neal and I said "It's got to be a lot more exciting to be a single." The most exciting band that we liked was The Who and we definitely let their influence shine through on that song.
You could almost hear The Who playing on that one.
That's right, that and no more Mr. Nice Guy.
Reflecting on what you were talking about in 'Snakes', after this the band started to such fragment.
It was heading in that direction. We had gone up to Toronto to Nimbus Nine Studios where Jack Richardson and Bob Ezrin worked out of. We were doing a rehearsal, coming up with songs for our next album 'Muscle of Love'. We decided to go way back to our early years as The Spiders where we had written a song 'Woman Machine' that we never finished. The idea of this album was us getting back to our roots so we chose this song and worked it up. We were all excited about it, Bob Ezrin showed up and we said "Hey, yeah cool just in time. We've got this new song." We started the intro and he stopped us and said that he wanted to make some changes.
We took offence, especially Michael Bruce. We were like "You didn't even hear the song. How about if we play the song before we start changing it you know? You haven't even heard the first verse yet." So Bob took it as that we thought that we didn't need him anymore. That's not what was intended at all. He got upset and left. That wasn't that unusual, we had people that would get mad and walk out. But they'd always come back, it was what you instead of blowing up. You would go and cool down a bit and then come back. But we didn't know that he was not coming back.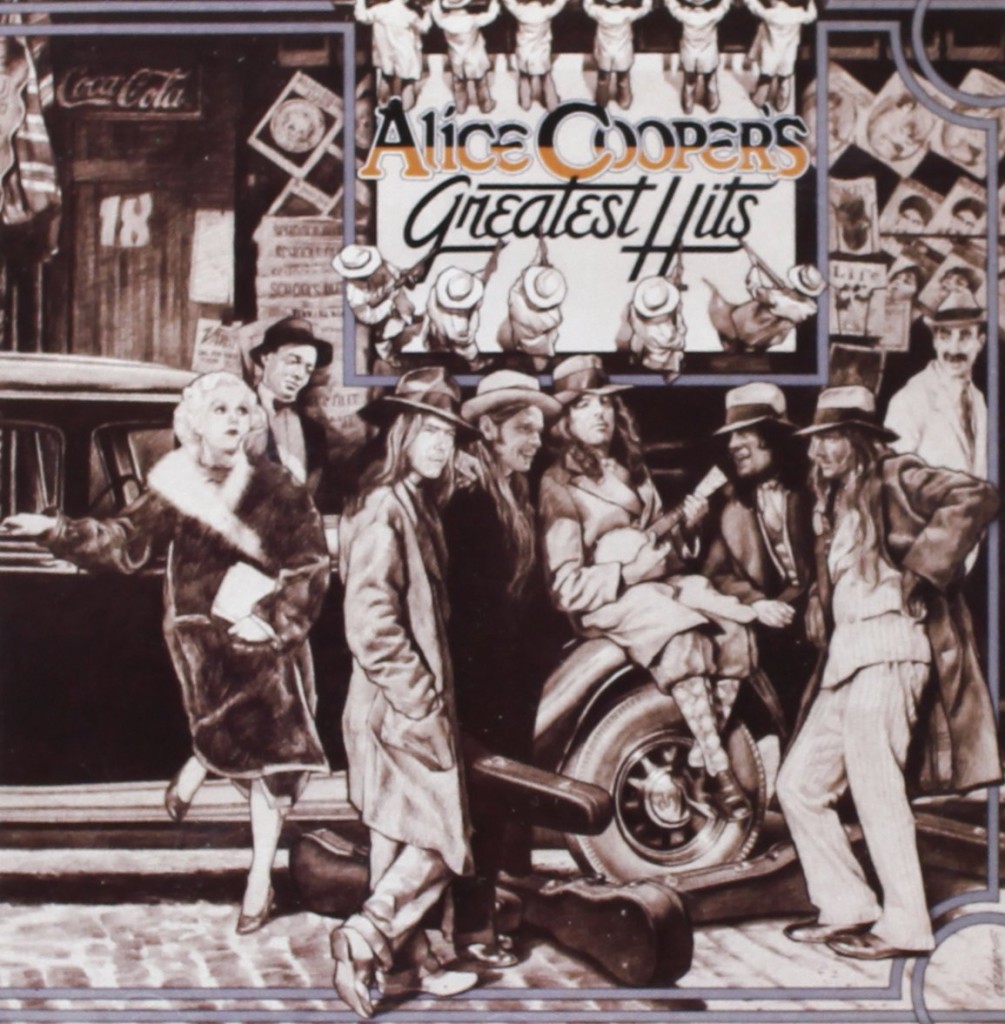 A Greatest Hits album was then released. Around this period many of you went on to solo projects, however Alice's solo project 'Welcome To My Nightmare" kind of became a permanent thing.
Yes that's what happened but we didn't know. I think we, Michael Bruce, Glen Buxton, Neal Smith and I were the last to know that was the plan.  After the Billion Dollar Baby Tour it got to a point where we were so exhausted. We needed a break, at least Michael and Neal felt that and I had to agree. I was the one that thought we had to keep the band going but, they thought that we needed a break. I had to agree on the basis that Alice and Glen were drinking so heavily that I thought that a break would give them a chance to get their health back and then we could come back stronger than never. Now during this break, Michael decided he wanted to record some of the songs he had that he thought were really good, so since he decided to do that Neal decided "I might as well record some songs too" and he asked me to play on his album. Of course if anybody in the Alice Cooper group asked me to help them out I'll be there.
So then after that we started writing the music for the next Alice Cooper album as we had all agreed. The majority of members of the band decided everything and we had decided to take a break and then come back and do our next album. That's what we were doing. I think that Battle Axe would have been our best show ever.  It got derailed because all of a sudden lawsuits started coming our way on all kinds of things and we weren't ready for it. I think we were on hold in case Alice was rejected as a solo entertainer and then they would need us again. So you know that may not be correct but that's how it seems. Anyway we went ahead and did Billion Dollar Babies and unfortunately, without Warner Brother's involvement the bill had to be paid out of our pockets. So between that and then finding out that Alice did a solo album and wasn't planning to come back for this proved to be emotionally and financially devastating.
The music on Battle Axe is really strong.
It could have been a lot stronger had we not had so many legal defences that were a force to be reckoned with.
However whatever the reasons for Alice going solo you remain good friends and there is real bond between the band.  You all reunited, except Glen who passed away, on one of Alice's most recent albums 'Welcome 2 My Nightmare'.
We got together and recorded three songs. Michael wrote 'When Hell Comes Home', Neil did 'I'll Bite Your Face Of' and I did 'A Runaway Train'. Alice collaborated on those songs with us and we knocked them out in two days in New York City. I think we were all so excited and having so much fun that we could have done a whole album in a week.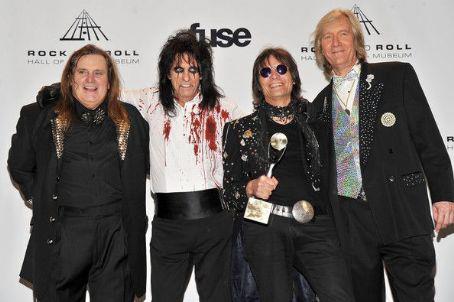 Flipping things around is that Alice has recorded with your band Blue Coupe on 'Hallow's Grave'.
This song was written when I decided to gather some creative ideas.  I walked from Central Park in New York City all the way down to Fifth Avenue. All the way to the end of Fifth Avenue is Washington Square Park. When I got home I had three songs in my head from what I had seen. I went online and researched Washington Square Park. Lo and behold to my surprise Washington Square Park at one time was out of the city limits of New York City. It's still in Manhattan but back then it was out of the city and it was their potter's field. During the yellow fever outbreak in New York, they turned it into a mass burial ground to try to stop the spread of yellow fever. To this day there are twenty thousand bodies buried beneath Washington Square Park.
There was also a hanging tree there so I incorporated these ideas into a song about walking into the park at night, alone. All of a sudden there's a girl swinging from the limb of a tree and she's warning me to be careful because up from the ground comes this hallowed sound. Skeletons jump up and start dancing around, poking me with their fingers all bony and bare. It's a tricky melody, it's in three four, then to four four. Joe and Albert Bouchard from the original Blue Oyster Cult are in Blue Coupe, it's a trio. We presented the song to Alice and he loved it, he did an excellent job singing it.
When I mentioned on social media that I was speaking to you I got a fantastic response. A friend of The Strange Brew, George Cannon, said that he saw you and the Alice Cooper group at the Three Rivers Stadium in Pittsburgh and the show changed his life.  He's got two questions for you. The first one is what is your most memorable gig?
There were a few that I really liked so I'll just pick one. I love the one that we did right after Varsity Stadium right after the chicken incident. There was a club in town called the Rockpile in Toronto who knew that there wasn't any way they'd be able to draw a crowd while the festival was on. So they announced that it was ok for anybody after the festival to crash if they needed a place, 'Bring your sleeping bag over to the Rockpile and you can sleep on the floor in a club and we'll have mellow music playing'.  The club owner didn't know who we were and like a lot of gigs we got he hired because they thought we were like a girl folk singer or something with our name. So when we came walking in the guy said "Oh no" we said "No, we promise we'll mellow it out".
Of course we did the feathers and everything and I just remember played to a room full of sleeping people. When we started you would see one head pop up you know and then you'd see another had pop up. By the time we were halfway through the show we were throwing chicken feathers and spraying those CO2 tanks and everything. People were waking up like they were having a nightmare. I talked to one guy many years later who was in the audience. He said that's exactly what it was like when he woke up, he didn't know if the was dreaming or not.  I love that gig.
George's final question is what Alice Cooper record is your personal favourite and why?
Well there's two. 'Pretties For You', my heart's with that because I love the avant-garde and that's the direction I wanted the band to go. But then that album didn't set the world on fire like we thought it would.  Easy Action didn't really do it for us so when we went into the studio for 'Love It To Death'.  We weren't sure that would work until 'I'm Eighteen' became a big hit.  Then when we walked into the studio to do the 'Killer' album. We were all playing our best and we were all at our top confidence. The band was a unit and it was still the band making all of the decisions, therefore I'd also say the 'Killer' album.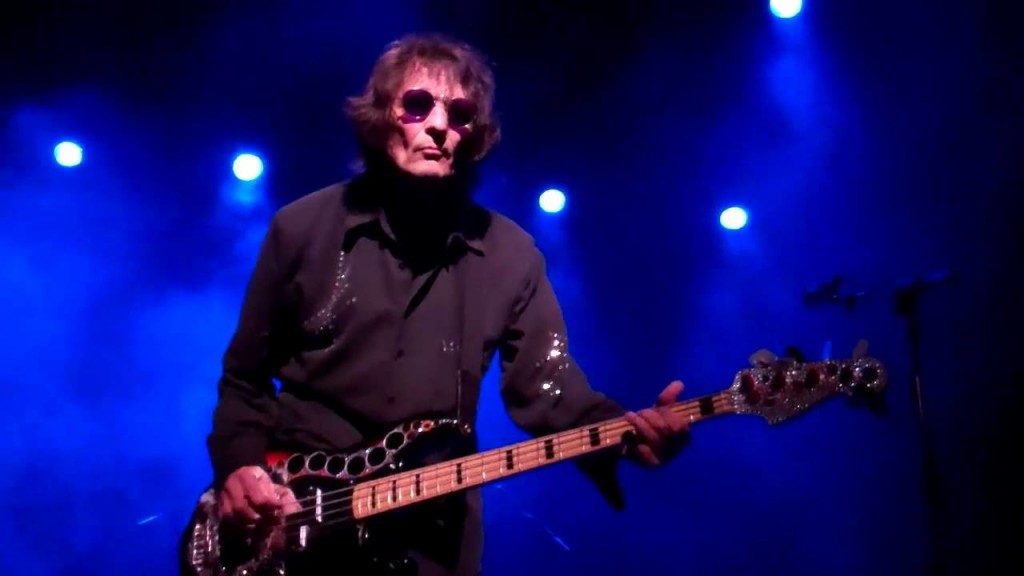 You're on the new Hollywood Vampires album that Alice is leading.
Yes, I have been sworn to secrecy but now it's out.  Neal Smith and I play on 'School's Out/Another Brick In The Wall'. There are other musicians on the album of course, Alice, Brian Johnson from ACDC, Slash, Joe Perry and Johnny Depp.
Not bad!
Now it is very exciting.  Neal and I have played 'School's Out' a gazillion times but we went in the studio and we've nailed it on the first try. Then we went into the control room and Bob Ezrin said "Wow, you guys got it one take, you guys got it!", his assistant was saying "Wow this song sounds better than it ever did you know". I'm like, good because I couldn't hear the bass in the headphones and they're like "Oh, we have to do it again".  I'm like "You just said we got it!". We did it again and I think we nailed it again.
I went in and they said "Ok, well, now we have two takes of it." I said "Ok, should I tell you that the bass went out half way through?" Then they said "Oh no, we've got to do it again". So we went into the studio and this time we decided that we would just play it differently than we ever have. This take had a whole different feel and and we got more aggressive about it which was perfect because Neil and I were an aggressive mood by then and in a good way. So we did a lot of experimentation and actually that one turned out to be the final take.
This brings us pretty much up today. Before I go, what's next for you, how can people get in touch and also get their hands on this wonderful book of yours.
It's easy as they say, it's sold everywhere where books are sold. You can go the http://www.dennisdunaway.com, you can go to Dennis Dunaway on Facebook. It's me there, say, "Hi". You can get it through Strand Books, Bookends, Amazon, Barnes and Noble, and iBooks. Hopefully I'll be able to make it over to your side of the pond in the near future and you can come and say "Hi" to me. I'll sign your copy.
I'll definitely be there. Thanks very much Dennis. It's been absolutely honour to speak to you.
Thanks Jason, I really enjoyed it.
An audio version of this interview playing many of these tracks is available here: http://thestrangebrew.co.uk/http:/thestrangebrew.co.uk/dennisdunaway-alicecooper
Copyright © Jason Barnard and Dennis Dunaway, 2015. All Rights Reserved. No part of this article may be reproduced or transmitted in any from or by any means, without prior permission from the author.
This post does not allow comments