By Jason Barnard
The Zombies and Colin Blunstone are responsible for producing some of the best tracks ever made – from 'She's Not There', 'Time of the Season', to 'Say You Don't Mind' and 'I Don't Believe In Miracles'. Their albums are equally memorable from the mighty 'Odessey and Oracle' to Colin's orchestral epic 'One Year'.
However Colin and the band are more active than ever and are currently embarking on an precedented assault on the US Charts, thanks to their universally acclaimed new album  'Still Got That Hunger'. With The Zombies at their most popular for over 45 years, Jason Barnard speaks to Colin about his favourite tracks; old and new, rare and legendary.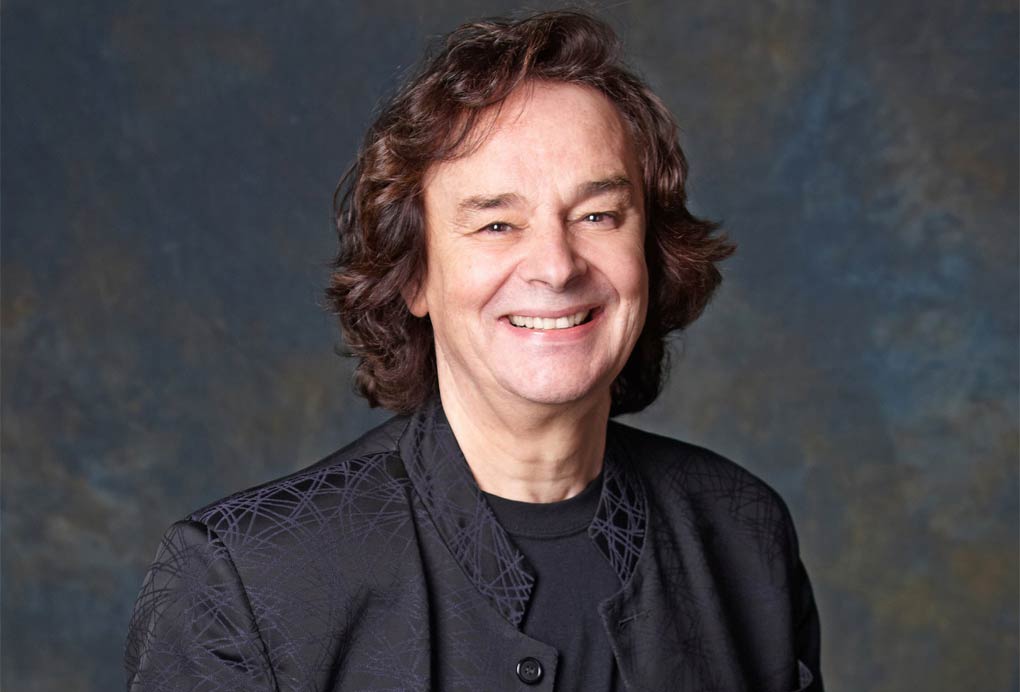 I met you briefly outside Bridgewater Hall at one of the Odessey and Oracle concerts, so I am a big fan of course.
Brilliant, I remember that. The whole tour was really good fun.
You've got a new album out, 'Still Got That Hunger'. 'Chasing The Past was played on 6Music a few months back and it's got that 'Odessey and Oracle' feel. There was a real buzz on social media about that track.
I remember doing the show and everyone seems to be very enthusiastic when they hear that track. Actually, it is one of my favourites. There's a certain link to 'Odessey and Oracle' in that the principle writer from the original Zombies wrote the song and I was the lead singer. So I think there are resonances of the original Zombies in whatever we do.
'Moving On' has also been played in advance of the album release, it's bluesy.
That's certainly been played more in America, again it's a favourite song of mine. It's the first song we played lived in concert from the album and it's done incredibly well. 'Moving On' is a very exciting song to sing, it works very well live.
'Edge of the Rainbow' is another highlight from 'Still Got That Hunger'.
Again it's a song that works incredibly well live. Rod wrote the melody with my voice in mind. I've got quite a good range so it gives me a chance to really go for some top notes. It's a good song for me to sing.
It's over fifty years since 'She's Not There'. One of the reasons it doesn't date is the more sophisticated edge that The Zombies brought, the jazz and classical influences. Is that something you recognise?
Well I do honestly think that some of The Zombies repertoire does have a timeless feel to it, in particular with 'She's Not There'. I know that because it's still being played all the time on radio all around the world. Last year Chanel chose it for a worldwide commercial featuring Keira Knightley. It is interesting of all the songs they can chose it's The Zombies playing 'She's Not There' which was recorded, as you rightly said, over fifty years ago. I think that kind of proves that it is a timeless piece.
Your second hit, 'Tell Her No', was only a minor hit in the UK. But that was a big hit over in the States and you were known at the time as being bigger in the States. I spoke recently to Mike Pender of The Searchers. I understand you toured with them over there.
Oh yeah, we did and in fact we did toured with them on a couple of big tours in the UK as well. I think that the reason that we toured with them so much was that we both had the same manager and agent. He often would pair his artists up when they were touring. Of course The Searchers were a huge band. They were a very good band live so it was a pleasure for us to tour. We really enjoyed all the fun backstage and enjoyed watching them play.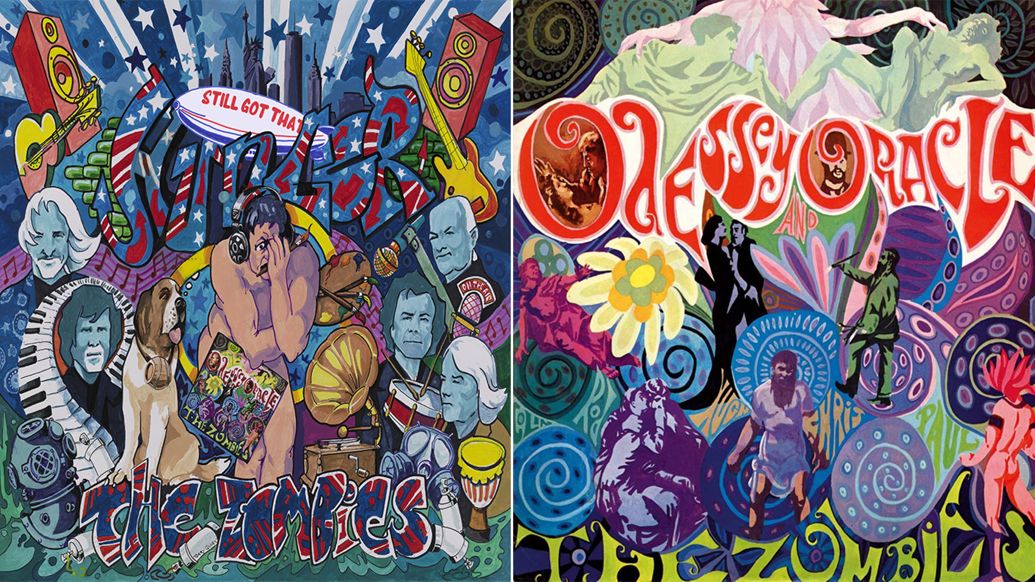 Fantastic. As you know 'Still Got That Hunger's' art work was created by Terry Quirk, the original artist of 'Odessey and Oracle'. That is quite a tie in. Obviously the album is just a seminal record. I went down to Shepherd's Bush for one of the 'Odessey and Oracle' live shows in 2008. It was fantastic to see Al Kooper introducing the band. He mentioned at the time that he had a pivotal role in reactivating 'Time of the Season', helping it to be a massive hit.
Absolutely, he did. When we finished recording 'Odessey and Oracle' the American part of CBS wasn't even going to release the record. But at that time Al Kooper was a producer working at CBS. He'd been to England and bought a copy of 'Odessey and Oracle' in a record shop. He absolutely loved it and went to Clive Davis, the head of CBS, and said "We must release this album". Al didn't know that CBS already owned it. Clive said "Yes, you know we already own it but I don't think they we're going to release it." It is because of the pressure that Al Kooper brought on Clive and CBS that the album was even released later on.
There was a single taken from the album called 'Time of the Season' which went to number one in Cashbox and number two on Billboard. But 'Time of the Season' was never a hit in the UK, strange how different songs can be big hits in different countries. It took a long time for 'Odessey and Oracle' to get any kind of recognition in this country. But gradually, it maybe even have been ten years after it released that it started to sell in substantial numbers. It still sells incredibly well now, far more than when it was first released nearly fifty years ago.
And there are so many highlights from that album, including 'Care of Cell 44' and 'Friends of Mine'. Tracks like that are just wonderful.
I didn't write any of the songs, but I think they are some exceptional songs on there. 'Care of Cell 44' is a particular favourite of mine. Musically it's very clever but lyrically it's just inspired. It's a love song between a guy who's waiting for his girlfriend to come out of prison. I don't think anyone's ever written a song like that before and especially because it's quite a sad tale. It's so unusual but it's quite its jaunty melody. I think the relationship between the quite sad lyric and the jaunty melody really makes it an exceptional song.
Chris White and his songwriting was pivotal on that album as well.
We're going to play 'Odessey and Oracle' in the States and I have been looking at 'Odessey and Oracle' again in detail. I was quite surprised to realize that Chris White wrote more of the songs on that album than what Rod Argent did. I didn't realize that until quite recently. But he wrote some beautiful songs on there, 'Friends of Mine' is a great song, 'This Will Be Our Year' is an absolute classic.
'This Will Be Our Year' was covered a few years back by, arguably the world's biggest band, The Foo Fighters. That must have been a real tribute to you and the group.
Absolutely. I am a big fan of The Foo Fighters, it's always a thrill when a band that you really respect covers a song that you have been involved in. People like Tom Petty, Santana and as you mentioned The Foo Fighters, have covered our songs. It helps to present us to younger generations as well. We find that as we travel around the world, quite a large proportion of our audience is very young. They probably have come to know our music through the covers that other huge artists have done.
I guess the lack of commercial success and around the period after 'Odessey and Oracle' meant that you guys split up. You went solo and you released some records as Neil MacArthur.
Well, I did but let's just say that it's quite an intriguing thing. With regard to the end of The Zombies, I think we perceive ourselves as being unsuccessful but basically we only really knew about the UK chart and possibly the American chart. There was no internet then and we got news about chart success in other countries much later. It's unbelievable to think of this but you didn't know whether you have had success until about a year afterwards. It wasn't until the band was finished and we got a chance to just think things through that we realised we had always had a hit record somewhere in the world. So although we hadn't for some time hits in the UK and in America, we actually were quite a successful chart band, if you think in terms of the music industry worldwide.
Anyway that was probably the main reason why the band finished. I think we felt we'd done all we could, it was time to move on to fresh projects. For a long time I wasn't sure I was going to get back into the music business because I felt very sad and disappointed that the band was finished. But eventually I was approached by a producer called Mike Hurst who had just produced the early Cat Stevens records. They were absolute classics, 'Matthew and Son', "I'm Gonna Get Me a Gun" and so on. He asked if I'd be interested in recording. I wasn't sure if I wanted to get back into it, but we agreed that I would go into the studio, in the evenings and just put vocals on some tracks that he recorded.
Gradually I got more and more interested. He suggested I change my name, I didn't really think about it seriously because I wasn't sure if I was going to get back into the business or not. And I became Neil MacArthur and had a little bit of chart success. Then I changed my name back to Colin Blunstone and started my solo career properly with my first solo album, 'One Year'.
The big hit of that was the wonderful track 'Say You Don't Mind'. I mean the Denny Laine original is fantastic but the production that you did, the orchestral edge, on that song is phenomenal.
The original Zombies loved 'Say You Don't Mind'. We didn't record it but we used to play it in concert and used to close the show with it. When I started recording my solo album I was produced by Rod Argent and Chris White from The Zombies. We remembered that song and thought it would be a great twist to do it in a very different way. We were introduced to Chris Gunning, an absolutely brilliant arranger, who suggested that we did it in that very avant garde way with a 21 string orchestra. I just think it is so original, to think of that song being done in that way. I have to be honest and say I didn't see it as a commercial project. I was incredibly pleasantly surprised that it was really quite a big hit.
You also achieved commercial success with 'I Don't Believe In Miracles'. That's interesting because it was written by fellow member of Argent, Russ Ballard; so the ties between you and Argent seem quite strong.
It is quite strong and in fact the guys in Argent, Russ Ballard, Jim Rodford, Bob Henrit and Rod Argent, played on about half my first album, 'One Year', and about half of my second album 'Ennismore'. After that it became more difficult because Argent became incredibly successful, they were such a great band. They weren't able to commit the time to working on my albums as well. And it's probably a bit inappropriate that a huge hit band like Argent should be working on my album. I was very fortunate to work with them on those two albums and have the songs from Russ Ballard, Rod Argent and Chris White, three stunning writers. So I was in a very fortunate position.
Not forgetting that you are, in your own right, a superb songwriter. A version of your songs that I really like is Dusty Springfield's version of 'Exclusively For Me'.
I love it too. It's not a well-known track but I think it she is one of the all-time best female vocalists in the world. It is a stunning performance. Yes it was a great, I have heard it and I think it is a really brilliant song.
I think it is a perfect fit for her voice. It is amazing how it wasn't released at the time.
I don't think it was. It's on her box set. I absolutely love her voice of that song.
I was privileged to receive a recent re-release release of a couple of the albums that you made in the seventies related to the Rocket label, 'Planes' and 'Never Even Thought'. I particularly like 'Planes', which is a cover of a kind of lost Elton John song.
Yes I was recording with Gus Dudgeon, who was the producer for Elton, and he told me that there was a demo of that song playing around. So I actually recorded that song as a master before Elton did. I was just lucky to be in the right place at the right time. I was on Rocket Records, Elton's label, and I was being produced by just Gus Dudgeon who was Elton's producer, and so I got access to that song. It is a beautiful song, I play it in my solo concerts. It is a real favourite of mine.
After that you had a few collaborations, like Mike Batt and 'Losing Your Way in the Rain' and another one that is even more well-known, 'Old and Wise' with the Alan Parsons Project.
It's always great to work with real masters of their craft. Mike Batt is an exceptional writer, arranger and producer. It was an absolute pleasure to work with him; and in the same way, the Alan Parsons Project. I met Alan when he was an engineer to Abbey Road. It is a really interesting idea of the producer being the central point in a project, so you put a band together and get guest vocalists in but the producer is the name of the artist. That was the first time it had ever been done. I was very lucky that Alan asked me to do five or six vocal on different Alan Parsons Project albums.
About fifteen years ago you reactivated The Zombies. I think some of the songs off those albums are some of your best work, like 'I Want to Fly'.
I love that song. I'm always asking Rod to put it into the set. I really don't understand his reluctance to do it. But I think it's a very special song. Rod and I got back together in 1999, originally just to play six concerts. It was never our intention to reform The Zombies, or ever to play many Zombies songs. We were going to play songs from our solo career. We were just really pleasantly surprised to find that there was such an interest in The Zombies and people encouraged us to play more Zombies tunes. And also, even though promoters contractually weren't supposed to do it, they used to bill us as The Zombies.
This went on for six or seven years and it just seemed to be a little bit out of our hands, the interest in The Zombies was gathering all the time. We talked it through with the other surviving original members and they gave us their blessing. We thought "Well, OK, we'll call it officially The Zombies; as we were already being billed as The Zombies and we were playing so many songs from The Zombies records. It was never our intention to reform The Zombies. It's just something that gradually evolved very naturally.
In this period you developed your parallel solo career. Another song that I'm particularly fond of is 'For You', from your 'On The Air Tonight' record.
Yes that is an absolutely brilliant song. It was written by Christian Phillips and he is a phenomenal writer. It's another favourite of mine; I think we've got the same taste in music. It's a beautiful song. I wish I had a little more time to consider my performance on that. I hope it's worthy of the song. I would have liked a little more time to have worked on it but nothing can diminish the beauty of the actual composition. It's stunning.
Are there any particular songs that you are particularly fond of from your solo or group career in The Zombies?
Actually we have mentioned quite a few of them. There are some great songs on this new album. 'Chasing the Past' is a really good track, 'Moving On', 'Edge of the Rainbow', 'And We Were Young Again', really lovely songs. From my past, a song that intrigues me is a song called 'Miles Away'. It's a song I did as a session for a couple of producers, rather than it being my own. But it was such a surprise when we went to the Far East in the Philippines. It had been a huge hit and it took me so much by surprise. I had absolutely no idea. It is always a thrill when an unexpected thing like that happens, it is absolutely brilliant.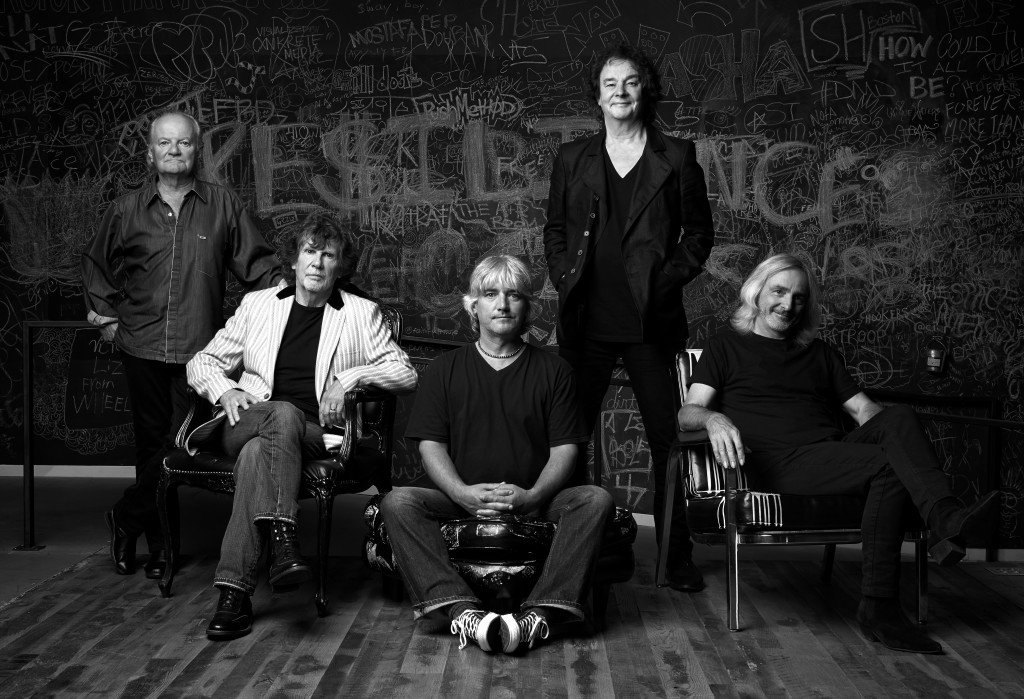 The Zombies, 2015, photo by Andrew Eccles
That's fantastic Colin. Thank you so much for your time. I wish you all the very best with 'Still Got That Hunger'. From what I have heard, it sounds like an absolutely fabulous album and such a welcome addition to The Zombies and your canon.
Thank you so much. I do hope you enjoy it. I feel fairly optimistic that you will you having said the songs you like 'Chasing the Past'. I think that this will fit in really well so happy listening and it's been great talking to you.
Absolute pleasure Colin, thank you so much.
The Zombies outstanding new album 'Still Got That Hunger' is out now. More information can be found at www.thezombies.net and www.colinblunstone.co.uk
An audio podcast version, with the tracks featured is available here: http://thestrangebrew.co.uk/http:/thestrangebrew.co.uk/colin-blunstone-of-the-zombies
With special thanks to Nigel Davis for his help.
Copyright © Jason Barnard and Colin Blunstone, 2015. All Rights Reserved. No part of this article may be reproduced or transmitted in any form or by any means, without prior permission from the author.
This post does not allow comments