By Jason Barnard
After hearing the opening chords of Chris Devotion and The Expectations new album 'Break Out' I knew I was in for something special. It's eleven strident tracks capture your heart but importantly they're just great pop/rock songs.  I had to instantly find out who was making such an exciting racket and speak to their lead singer/songwriter Chris Devotion. 
All hail the new Costello/ Springsteen and let's take back the charts!
Hi Chris, firstly who is Chris Devotion and what of The Expectations?
Chris Devotion is me, a singer/songwriter and guitar slinger. The Expectations are these three gentlemen: Colin Reid on Guitar, Graham Christie on Drums and Michael Wright on Bass.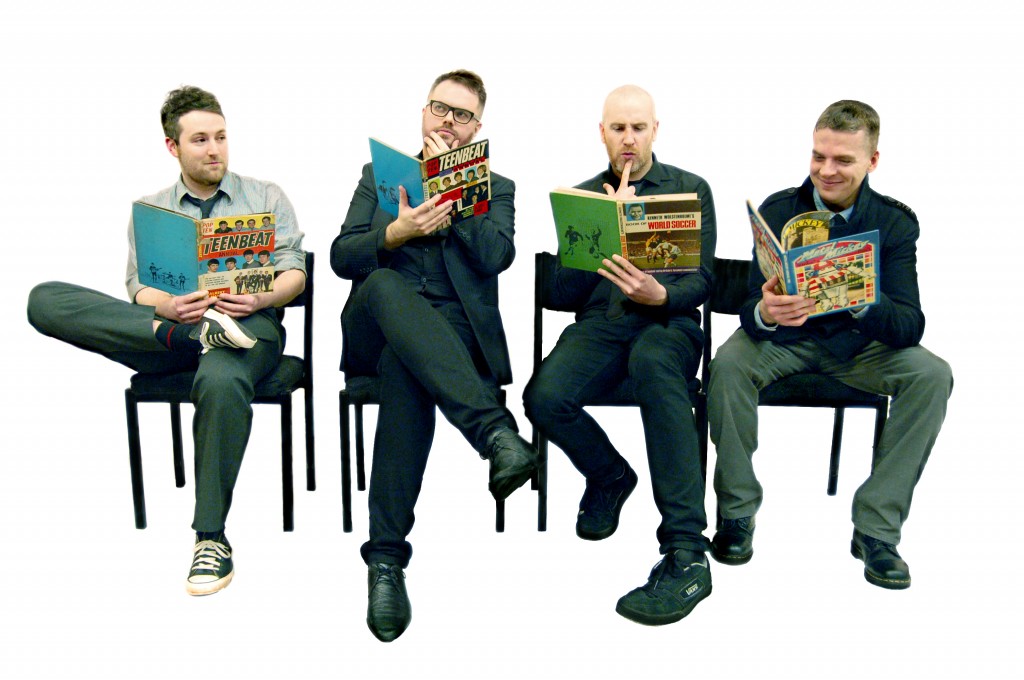 To some of our readers who may not be familiar with the band can you sell yourself in three words?
Rock and Roll.
You're about to release your second album, Break Out, following on from 2012s debut, Amalgamation and Capital. Tell us a bit about the new record. How does it progress and/or contrast with the first one? Did you suffer from difficult second-album syndrome?
Well, I wanted the new record to have more of a uniformity of sound and purpose than the first one and be very much of a whole.  Also, we hadn't been going for that long when we made the first album so on this record I think I had more of an idea of what The Expectations can give to the songs so I geared the track listing and my songwriting towards that.  I also wanted every song to sound like it could have been a single.  As I am an egotistical monster (or as we are known in the business 'a singer') I think we've achieved that.
You've teased the new album out first with 'Don't You Call On Me' and now 'When The Girl Comes To Town'. Was there any particular reason why those two were chosen as forerunners for the album?
I think those two together give a fair representation of the sound of this album. Don't You Call On Me seemed like a natural progression, it's a rocker but it's also really tuneful.  I think if you dug what we were doing on Amalgamation and Capital then you'd dig that song but also appreciate that it wasn't a straight retread of the last album.
[tubepress video=KkSOdbvp_X8]
As for When The Girl Comes To Town, it's probably the most poppy thing we've done, so it would have been silly not to let people hear that and it points to less aggressive songs on the album.
[soundcloud url="https://soundcloud.com/armellodie/chris-devotion-when-the-girl-comes-to-town?in=armellodie/sets/chris-devotion-the-expectations-break-out" params="show_comments=false&auto_play=false&show_playcount=false&show_artwork=true&color=cc6633″ width="100%" height="85″ ]
Thematically the songs on Break Out appear to ruminate on relationships, and – perhaps especially so on opener 'Saddest Thing' and closer, 'On The Line' – the demise of relationships. Was this a deliberate arc or just how it panned out?
I had a couple of the songs on the record for a few years and some were written while we were touring Amalgamation and Capital. As a big Country music fan, I really like lyrics about relationships and all that stuff, so lots of my songs touch on that. Once I had a few songs that were earmarked for the album, I realised that for the most part it was going to be about people being honest with themselves and in their interpersonal relationships. Obviously the richest seam there is in the breakdown in relationships, so I then wrote the opener to specifically set up that idea and the closer to put a capper on it.  Saddest Thing is about people who couldn't be honest with themselves, or know themselves and as such end up hurt and angry.  The character in On The Line realises that the relationship is over already and so they should just be honest with each other. In my head that character has more chance of living a good life because he can learn from his mistakes.
[soundcloud url="https://soundcloud.com/armellodie/sets/chris-devotion-the-expectations-break-out" params="show_comments=false&auto_play=false&show_playcount=false&show_artwork=true&color=cc6633″ width="100%" height="85″ ]
The cover art to the new album feels like a nod to Bruce Springsteen, was this intentional? Are you a fan of the Boss?
I never thought of that.  You'd have to ask David Turbitt, the graphic designer and Jennifer Kilgour the photographer, the brief for David was something brash and confident. That said I am a huge fan of the Boss, so maybe that's what appealed to my subconscious when I approved the artwork.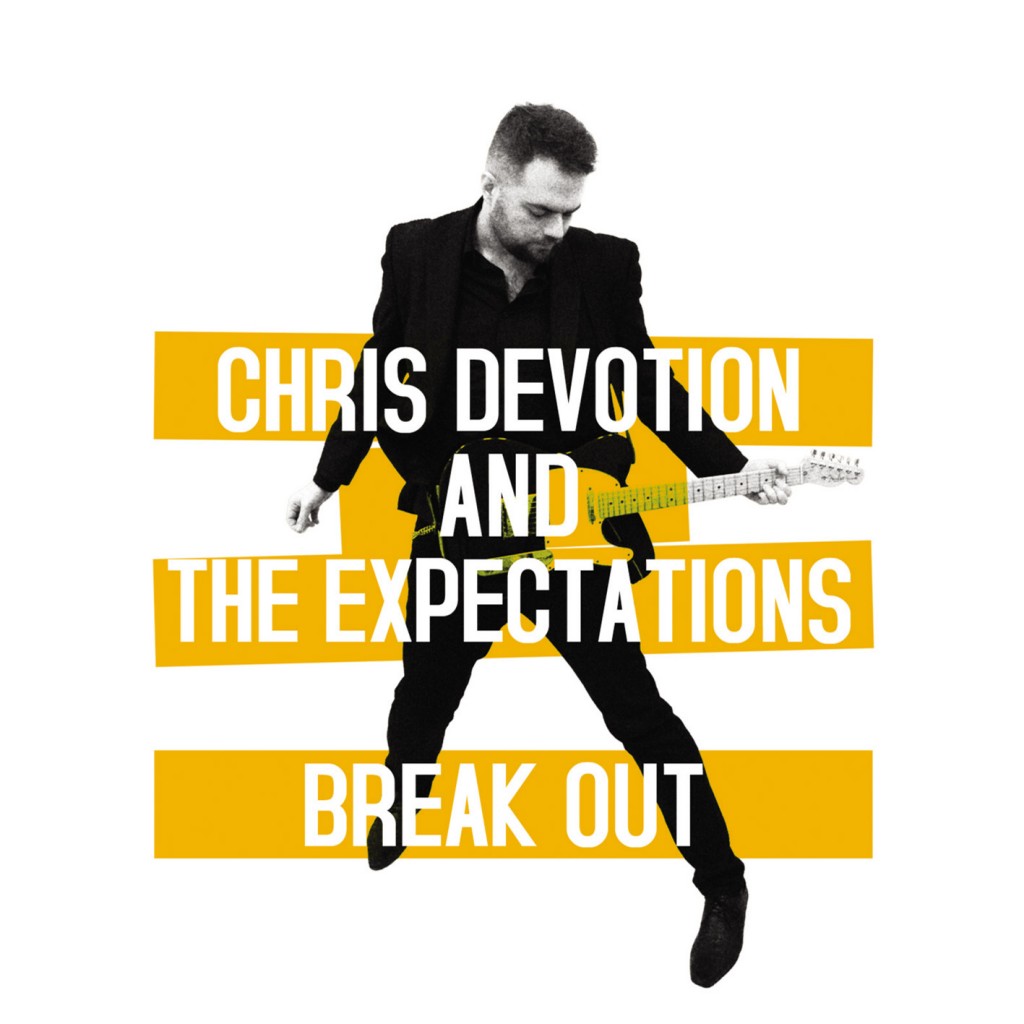 I hear musical influences aplenty across the album, a bit of Tom Petty ('From Your Lips'), a bit of The Ramones ('She is the One') and even Oasis, ('I Won't Believe You'). How do you feel about those comparisons and what other musical influences do you feel are present on the new record?
I'm actually pretty happy with all of those (though I don't see the comparison myself I genuinely love Oasis, those first three records and the b-sides from that period are fantastic).  I would say my biggest influences songwriting wise are The Clash, Pixies, Dylan and Springsteen. Sonically the approach I was going for was something akin to a modern version of that big guitar sound the college rock guys in the 80's had when they went into a big studio for the first time (for example The Replacements on Sire, Husker Du's or REM's Warners period, or Tommy Keene on Geffen)
I appreciate it's not an easy question but what's your pick of the bunch on Break Out and why? Any choice cuts!? Well, of course I think every song is great, but the two singles we mentioned before were picked cause we love them and they represent us fairly,  I'm also really pleased with how Looking For Another Girl turned out, it has a wonderful Hammond line from a great musician called Greg Barnes which gives it a different dimension from some other tracks and On The Line has a lovely keyboard part from Andrew Mitchell (from our label mates the Hazey Janes) which also sets it apart from our other songs.
[soundcloud url="https://soundcloud.com/armellodie/chris-devotion-looking-for-another-girl?in=armellodie/sets/chris-devotion-the-expectations-break-out" params="show_comments=false&auto_play=false&show_playcount=false&show_artwork=true&color=cc6633″ width="100%" height="85″ ]
'Song For A Girl' is to my ears, the most epic the band have got on record to date. It's absolutely rip-roaring. The production is also really interesting, the vocal in a different space to many of the tracks on the album. Can you tell us a bit about the writing and recording of that track?
That was one of the songs I have had kicking around for a few years (before I formed CD/EX) at first it was more of an atmospheric song, then I retooled it to be more of a kicking rock and roll song.  We all enjoyed playing it but I felt like it was missing something to take it to the next level, at this point it didn't have the long noisy guitar section at the end, once I came up with that idea and the structure of that section it was just a case of letting the Expectations work their magic on it. The production was again a case of Andy Miller getting what I was looking for and adding his own ideas, we layered guitar upon guitar on it to give it that epic feel and straight away Andy wanted the vocals to have the quality you are hearing with the distinct low and high parts prominent in the mix. I'm glad you like it. As most of our songs are very short it's nice to have the odd longer one where we can stretch out.
[soundcloud url="https://soundcloud.com/armellodie/chris-devotion-song-for-a-girl?in=armellodie/sets/chris-devotion-the-expectations-break-out" params="show_comments=false&auto_play=false&show_playcount=false&show_artwork=true&color=cc6633″ width="100%" height="85″ ]
So you're Chris Devotion. You've got The Expectations, who are as tight a band as one could wish for. A quick glance at the liner notes for Amalgamation and Capital and Break Out reveals that on both occasions the artwork has been provided by David Turbitt,  both have been engineered and recorded by Andy Miller at Gargleblast Studios, and both have been released on Glasgow's Armellodie Records. It would appear that you've got a good team of people around you. Can you tell us about how it all came together?
Well, the Expectations were all friends I had seen in other bands (readers au fait with the Scottish music scene may have heard of Cuddly Shark and the now defunct Data Panik) and when I was getting the band together I thought, "I'll be having some of that". Andy Miller was recommended by our friends Le Reno Amps when they worked with him.  Once we got into the studio with him we realised why, he is very easy to work with, enthusiastic and has a great technical knowledge – he's great. As for Dave Turbit I've known him since we were teenagers, he's a graphic designer, comic book illustrator and all round visual wiz. Luckily despite having worked for some of the biggest companies in TV he also likes to do cool stuff on the side. Last but not least, the label Armellodie are Al and Scott from the aforementioned Le Reno Amps, who we met playing gigs around Glasgow, they started the label to release their own stuff and it's now grown to be a veritable production line of excellent music. They are like Motown if Motown was two pasty guys from the North of Scotland. As you can see the Scottish indie scene is a small and incestuous pond. Though imagine a pond with black rimmed specs, wacky facial hair and a blog.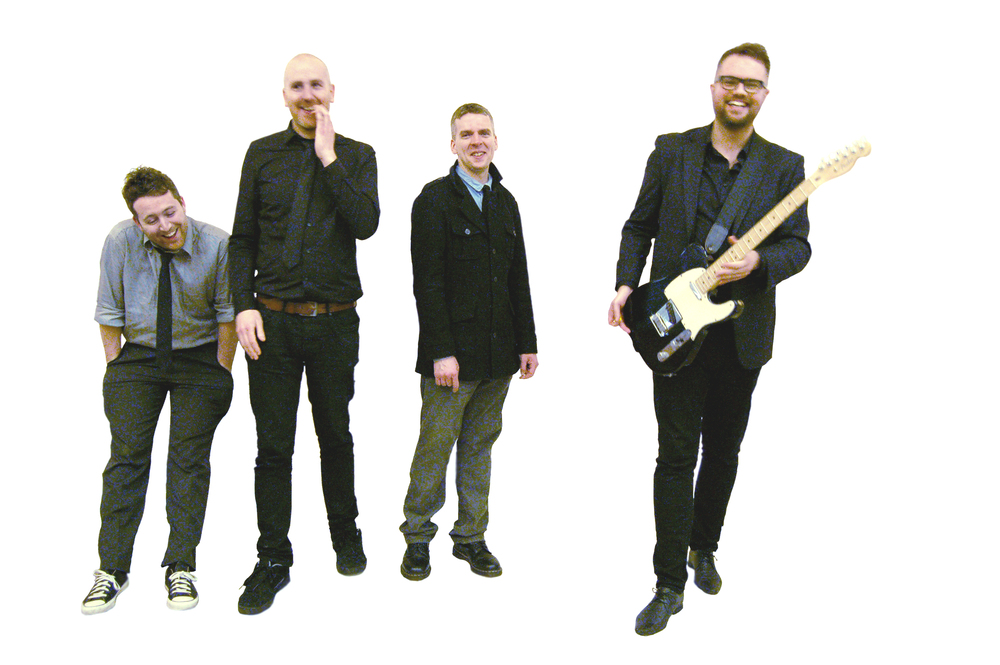 Perhaps more so on Amalgamation and Capital but your songs often touch on the political albeit shrouded in metaphor, I'm thinking of 'A Modest Refusal' here ("Let me tell you that you should know better, when they say that we're in this together"). Is this something that's important to you? And where do you stand on Scottish independence, yay or nae?
Politics is absolutely important to me, the personal is political and vice versa, even if politics is a nasty, slow and boring process, someone is making decisions that affect you. The line you quote was really about the Conservative party saying "we are in this together", while cutting spending on welfare and social programs that will hit the poor and not the wealthy Etonians and the like that make up the Conservative cabinet. As for Scottish Independence, who the fuck cares what a musician thinks? However if asked a direct question I will always try to answer so here it goes… Firstly I don't like nationalism in general, pride in something you had no control in is pretty fucking stupid.  Also this is one of the few debates where I think there is merit to both sides of the argument but I think I will be voting 'Yes' for one reason- in my lifetime Scotland's voting patterns have been more to the left than England's. I myself am broadly left wing on economics and liberal on social issues. If those voting patterns hold then I'll live in a fairer society. If they don't then we will have no one to blame but ourselves and we certainly wont be able to pretend we are better than anyone else.
Finally, any shows coming up/plans afoot for the rest of 2014? As I write this we have just played Dundee and Inveraray, we then launch the album at Broadcast Glasgow Fri May 30th, Citrus Club Edinburgh  Sat 31st, Madhatters Inverness Fri June 6th and Twa Tams Perth Sat June 7th. We then take a break to watch some of the World Cup then we play the wonderfully named Shet-fest in Shetland 6th July and we have also booked the Joctoberfest in Inverness (which is actually on the 6th September).  We are also planning on playing more shows around Sept/Oct. So if you want us in your home town, go hassle your local promoters. 
Spread the word on this great artist, band and album:
http://chrisdevotion.armellodie.com/album/break-out
More information:
https://www.facebook.com/chrisdevotionmusic
https://twitter.com/CDandtheEX
Special thanks to Alan Souter at Armellodie Records for his support.
Photos courtesy of Jen Kilgour.
Copyright © Jason Barnard, Chris Devotion, Alan Souter 2014. All Rights Reserved. No part of this article may be reproduced without the permission of the authors.