Nick Warburton continues the Cat Stevens and Zeus story:
By the close of '67, however, Stevens had become increasingly disillusioned with the trappings of pop stardom and the pressure to come up with more hits.
He'd been upset by Mike Hurst's production of his second LP New Masters. Zeus's backing provided a counterpoint to his pop image and allowed him to explore record production further.
"He'd be writing songs; he was quite prolific, and he gave us a cassette of him singing with an acoustic guitar and said, 'See what you can do with that'. We'd lock ourselves in a rehearsal room and see what we could come out with," remembers Clarkson.
"He left three songs that he'd just written and wanted to come back in a couple of hours and see what we'd do with them," chips in Ed Pilling. "We re-arranged these tunes and worked them to our style."
Guitarist Mick Hopkins remembers the band recording two songs composed by Stevens.
"He decided that he wanted us to do a couple of his songs," says the guitarist. "I can't remember what they were [but] he was quite happy with the way they turned out. We recorded at Pye studios [and] he was the producer. They must still be in the archives of whoever's got Pye now."
Alan O'Duffy, who was an engineer at Pye studios and worked with The Kinks among others, remembers that Ray Prickett engineered the session. Castle Communications later bought the entire Pye catalogue, which was sold on to Universal Music about 15 years ago.
Why the tracks were never released at the time remains a mystery. One possible explanation might have been the singer's hectic workload, which probably would have meant that they were never completed.
Stevens hinted as much in an interview with Jonathan Wingate for Record Collector #313: "It was just that kind of life where you exhaust yourself without thinking there are any limits. It's work, work, work."
The tracks may also have been put aside because the relationship was unravelling. While the association with Cat Stevens landed Zeus an important high profile support slot at the Marquee, opening for The Nice on 18 December 1967, it proved to be one of the few gigs on offer.
"It wasn't working," stresses Clarkson. "We were getting paid and being fed by his dad. He'd got a Greek restaurant. [But] we were just sitting around, fiddling about with bits and pieces of his songs. It all got a bit frustrating."
Stevens meanwhile was back in the studio working on new material sans Zeus, which suggests that he never considered the quintet as anything but a support band on the road.
Drummer Chris Hunt, who would go on to play with future Manfred Mann's Earth Band guitarist Mick Rogers in Procession among others, was one of the musicians hired for sessions around this time.
"I did play on a few demo sessions in '67 and early '68. I have a feeling the studio was off Tottenham Court Road," remembers Hunt.
"The sessions were produced by Mike Hurst and I think we recorded with a guy called Peter Janes (Ed: This could be the single mentioned earlier). 'Lovely City' was definitely one of the songs although I am not sure if the final version is the one I'm on."
Hunt also remembers playing drums on a track called 'Molotov Molotov' by Burmese singer Sasha Caro (real name: Caro Minas). The session was produced by Cat Stevens, who, according to Vernon Joynson, provided the Russian spoken introduction and penned the single's B-side. The recording is mentioned in Record Mirror's 13 January 1968 issue.
Behind the scenes, however, the excessive rock 'n' roll lifestyle was catching up on Cat Stevens. In its 9 March issue, NME reported that the singer had pneumonia. He soon fell seriously ill with TB and spent months recuperating in hospital and a year away from music.
Released from his contract by Decca, the singer signed to Island Records in late 1969 and after nearly two years out of the public eye, he emerged transformed as a folk-rock troubadour with the genre defining Mona Bone Jakon. The rest, as they say, is history.
But for his protégés, the dream had ended prematurely. "We couldn't go back to Birmingham," sighs Ed Pilling, who maintains that the band turned down a year's worth of bookings to work with Stevens.
"We were disillusioned over the whole issue. He wasn't calling and he wasn't saying what were doing next. It didn't work. When you're in a band and you're 20 years old, what you want to do is play. You were just dying if you weren't playing."
With poor prospects in England, the Pilling brothers returned to Toronto in late January 1968 and the following year formed the Anglo-Canadian glam-rockers, Fludd, scoring a string of Canadian hits, including 'Turned 21' and 'Cousin Mary' and recording several brilliant yet sadly overlooked albums before Brian Pilling tragically died of leukaemia in 1978. He was only 29 years old!
Back in the UK, Tony Clarkson answered an advert in NME and joined The World of Oz, appearing on the psyche/pop 45, 'The Muffin Man' c/w 'Peter's Birthday', which was released on Deram on 14 August 1968.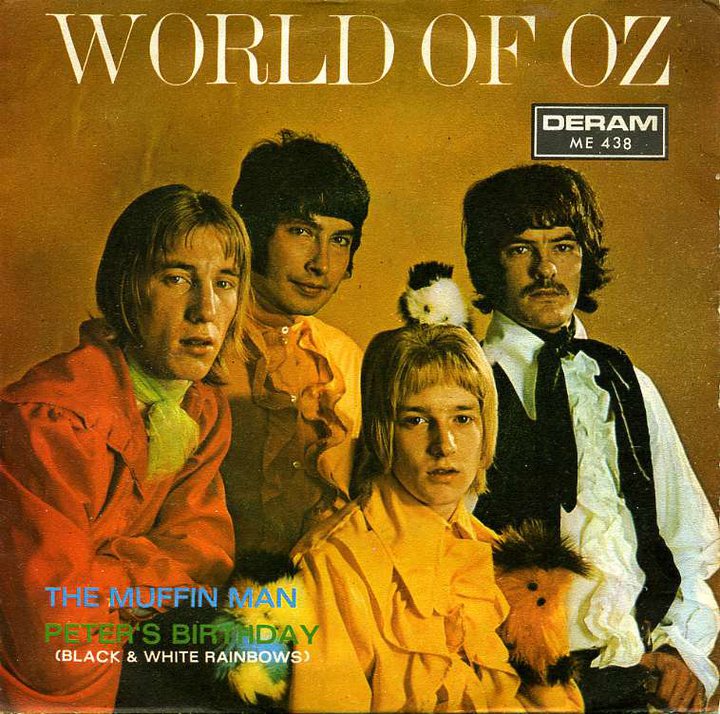 World Of Oz, Muffin Man, Spanish Picture Sleeve, Tony Clarkson (far right)
The bass player stuck with the band for two more UK singles, a lone Dutch-only single, plus a self-titled album, released in 1969, before later abandoning a performing career to work as a roadie on The Moody Blues' 1971 world tour.
Jimmy Skidmore briefly reunited with his former band leader, joining The Norman Haines Band and appearing on the highly acclaimed album, Den of Iniquity but since then has vanished off the face of the earth.
The only other band member to maintain a notable musical profile was lead guitarist Mick Hopkins. In June 1968, he joined Birmingham band The Lemon Tree, appearing on their second single, "It's So Nice To Come Home", which was produced by Andy Fairweather-Low.
When that band fell apart, Hopkins co-formed Copperfield and helped record two singles – "Any Old Time' (featuring Kenny Jones of The Small Faces on drums) and "I'll Hold Out My Hand".
Then, in January 1971, his old friend Roy Wood put his name forward for The Idle Race to replace Jeff Lynne and the guitarist duly appeared on the band's final single, 'Dancing Flower' plus a lone album, Time Is.
That December, he received a package from the Pilling brothers and an invitation to join Fludd in Toronto.
"It was a parcel with a letter in and a single ['Turned 21'] that they'd put out, which was in the charts over in Canada," remembers Hopkins. "[They said] do you fancy coming over and playing in Canada? I decided to go and they were like stars over there."
Hopkins spent six months in Canada and added some superb guitar work to Fludd's Canadian Top 40 hit, 'Get Up, Get Out and Move On' before returning home to the UK and later founding heavy metal band, Quartz.
It was with this band that Hopkins and Cat Stevens' paths crossed again. Sometime during the 1970s, Quartz were supporting AC/DC in Copenhagen when someone from the road crew remarked that Cat Stevens had been recording at 'Sweet Silence Recording Studio' and could still be there. The band decided to pay Stevens a visit but it was not a happy reunion for Mick Hopkins.
Turning up at the studio, the guitarist introduced himself and at first was mistaken for the top session pianist Nicky Hopkins. When Stevens realised who the guitarist was and recalled the Zeus chapter in his career, the meeting was terminated abruptly.
The Wages of Sin/Yellow Rainbow/Zeus are one of those 'what if' rock music stories. While the opportunity to work with Cat Stevens promised to take the band to an entirely new level, ironically it merely served to prematurely derail the band's blossoming career.
"What has struck me is that they weren't around that long before they went off to London to join Cat, maybe a year at most?" says close friend Sheri Wykes.
"Back then, bands were around a lot longer than that before they were whisked away. That tells you something about just how popular they were in Birmingham at the time, they had a terrific following. It was sad that they became 'just a backing band' as all their flair and personality died."
Thanks to Mick Hopkins, Tony Clarkson, Ed Pilling, Terry Shand, Chris Hunt, Sheri Wykes and Alan O'Duffy.
A shorter, modified version of this article appeared in Record Collector, May 2011.
In late May, you can also hear a podcast featuring tracks related to this feature exclusively at The Strange Brew.
Disclaimer: Concert adverts have been sourced from a number of music magazines and regional newspapers listed below. They have been reproduced fairly for research purposes and are not to be copied for any other use. Poster/adverts and reviews from Melody Maker and the Birmingham Evening Mail.
For more information on the band:
http://www.marmalade-skies.co.uk/wagesofsin.htm
Nick Warburton is a UK freelance writer, who has written for Shindig, Record Collector, the Garage Hangover website and Richard Morton Jack's new book, Endless Trip. Visit: www.nickwarburton.com
Copyright © Nick Warburton, 2011. All Rights Reserved.
[GTranslate]