By Nick Warburton
Forty years ago this summer, Pye Records issued Carl Douglas's disco anthem "Kung Fu Fighting" to an unsuspecting public. Shipped just as the chopsocky film craze was taking hold, the Jamaican singer's best known recording initially struggled for airplay. However, by the tail end of 1974, the single had stormed to the top of the UK and US charts, eventually selling over 11 million copies worldwide. 
To mark the 40th anniversary of his global chart topper, Carl Douglas is preparing a new CD, for release this September, his first collection of new material since 2008's Return of the Fighter, which includes a re-recording of "Kung Fu Fighting".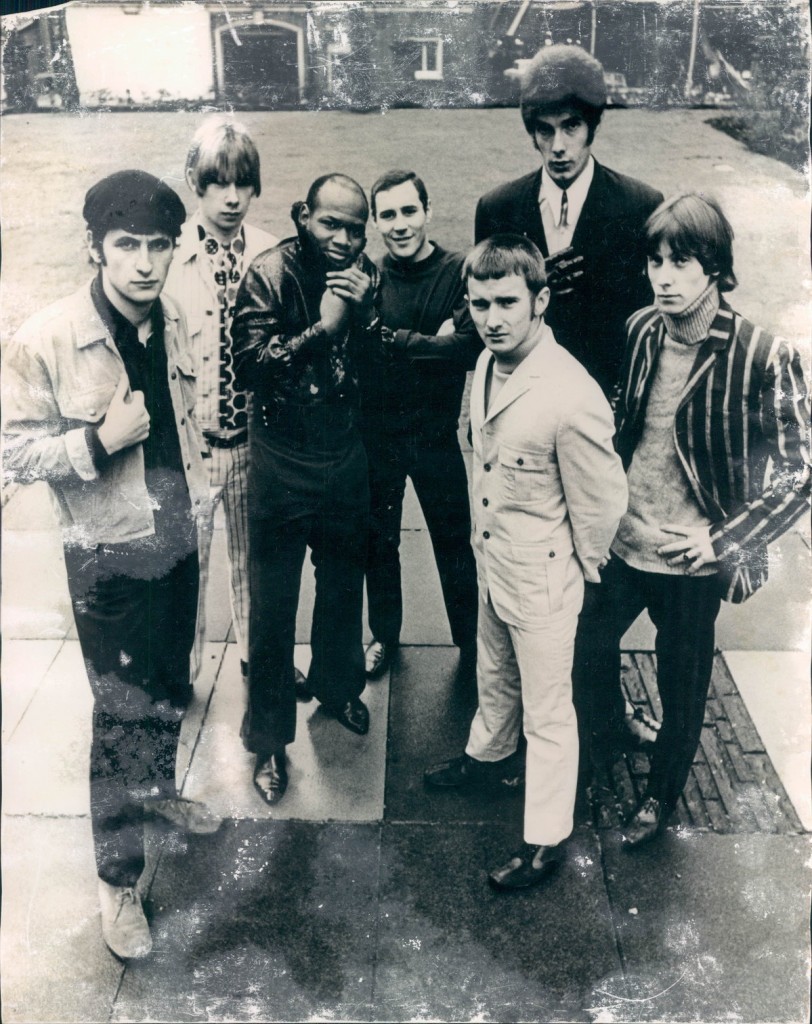 Carl Douglas and The Big Stampede, 1967 (from left to right: Dave Brooks, Mike Manners, Carl Douglas, Verdi Stewart, Del Coverley, Del Grace and Tony Webb)
The long awaited release follows hot on the heels of a superb new compilation LP from revered collectors' label Acid Jazz, issued on 30 June. Pulling together much of Carl Douglas's recorded work during the mid-late 1960s, including a number of previously unreleased tracks, the album finally throws a light on the singer's little known, formative years.  Nick Warburton continues the story of Carl Douglas's rise to fame.
With sax player Dave Brooks departing in mid-April 1967, The Big Stampede's trumpeter Verdi Stewart suggested West Londoner Mel Wayne, who'd recently left Hamilton & The Hamilton Movement after the band's Bill Wyman-produced single, "I'm Not the Marrying Kind", had failed to bother the charts.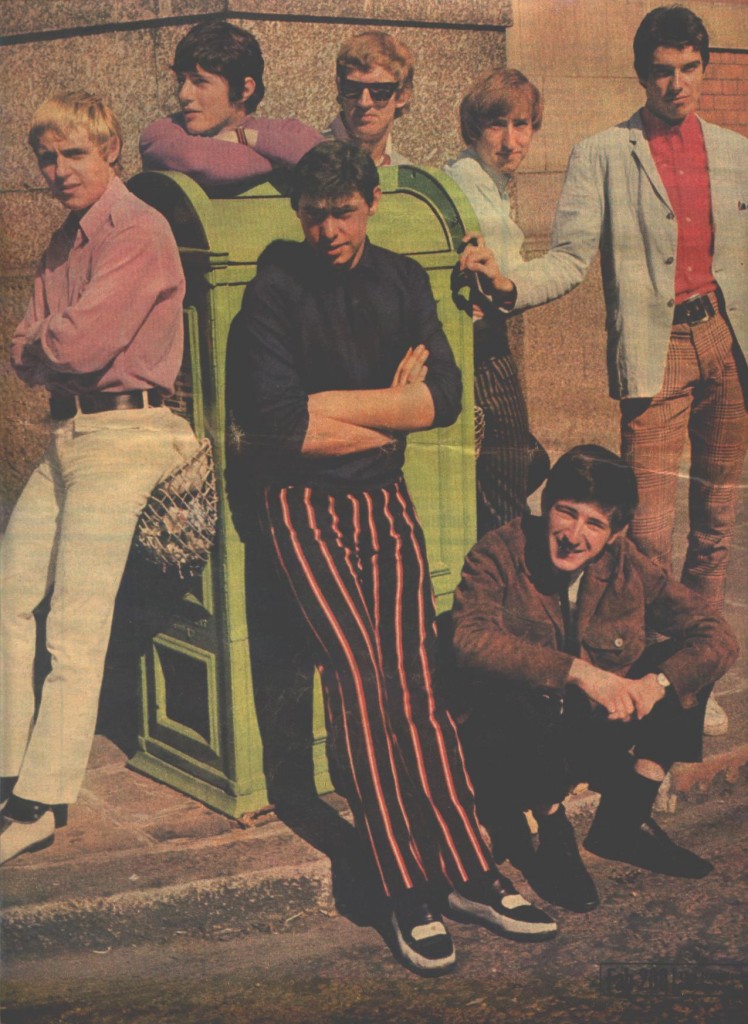 Hamilton & The Hamilton Movement from November 1966. Mel Wayne is second right at the back with the white shirt
Originally from Twickenham, Wayne had an impressive pedigree, having started out with local outfit, The Shannons in 1962/1963. Progressing on to Mike Dee & The Prophets and then Simon Scott & The All Nite Workers (cutting a lone single, "Tell Him I'm Not Home" and an unreleased album), Wayne next found himself working with future Sweet producer Phil Wainman in a short-lived band at the tail end of 1965.
By early 1966, the renamed Sound System was backing soul acts Jackie Edwards, Millie and Owen Grey before future Island Records founder Chris Blackwell linked Wainman's band with Jimmy Cliff and they became The New Generation. The partnership lasted six months before the musicians next hooked up with singer Gary Hamilton.
Debuting at Klook's Kleek in Hampstead (ironically Dave Brooks's home patch) on 13 April, Wayne had barely learnt the group's repertoire when he landed a cameo appearance (alongside guitarist Del Grace, bassist Tony Webb and manager Ken Baxter) in the Desmond Davis produced movie Smashing Time, starring Rita Tushingham, Lynn Redgrave and Jeremy Lloyd.
As Mel Wayne recalls, road manager Nick Baxter was working as a film extra and it was through this association that several members got the opportunity to star in the studio recording scene, which features Ken Baxter and Mel Wayne miming on drums and guitar, alongside Del Grace and Tony Webb on their usual instruments.
Later that same month, on 23 April, Go Records finally brought out a second Carl Douglas & The Big Stampede single, once again recorded with the cream of London's session players – Douglas's "Let The Birds Sing" coupled with "Something for Nothing" (credited to Tubbs but in fact a co-write with Douglas).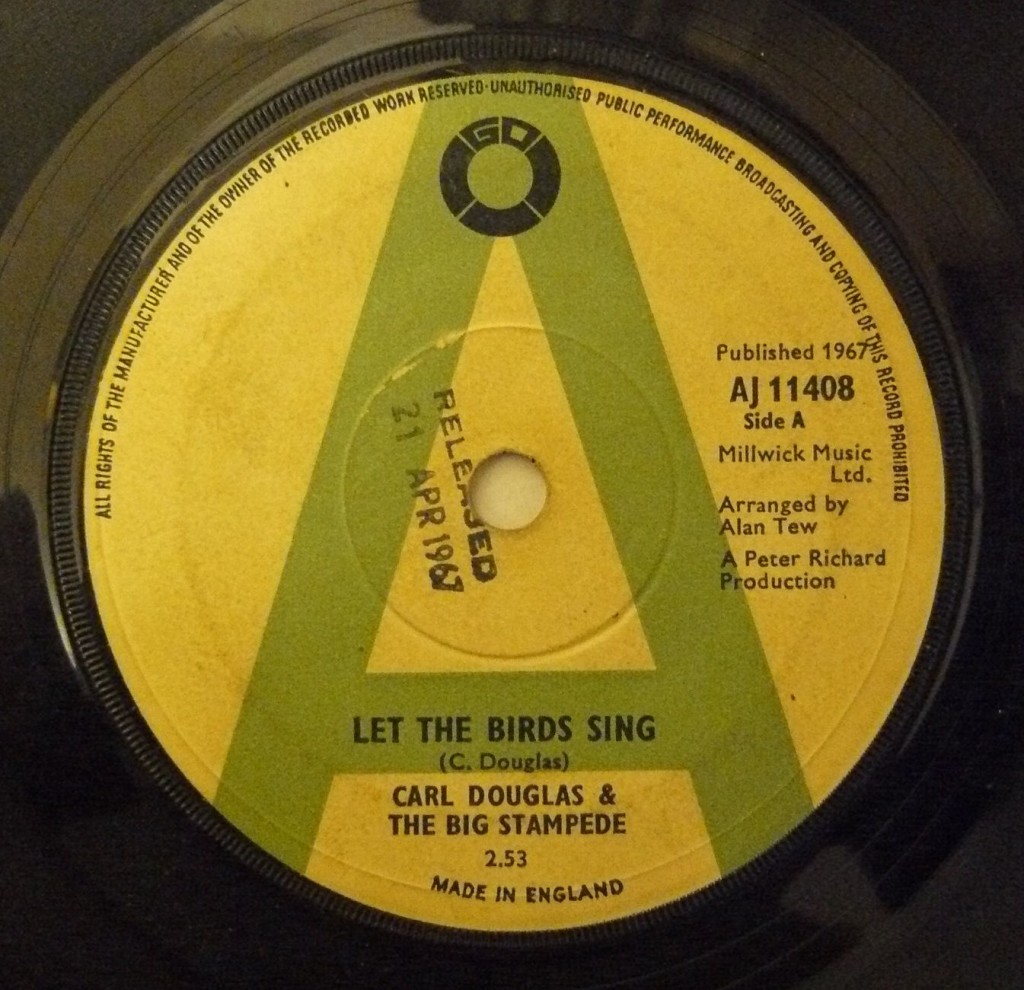 Produced this time by Peter Richard, both tracks capture Douglas's soulful vocals to perfection but unfortunately the record buying public wasn't having it and the single failed to chart.
"Some of them [the singles] we didn't even know that Carl had done them," confesses Webb. "We found out he's been in the studio and obviously the band weren't pleased about it because we were his band.
"But what could we do? When we started out as Sounds 5 it was a group but when Carl came along everything revolved around him because he's the singer. We ended up as Carl's backing band."
In an interesting side note, when it came to the photo shoot for the single's picture sleeve cover, Del Coverley was absent and manager Ken Baxter had to don a pair of shades and impersonate the missing drummer to an unsuspecting public.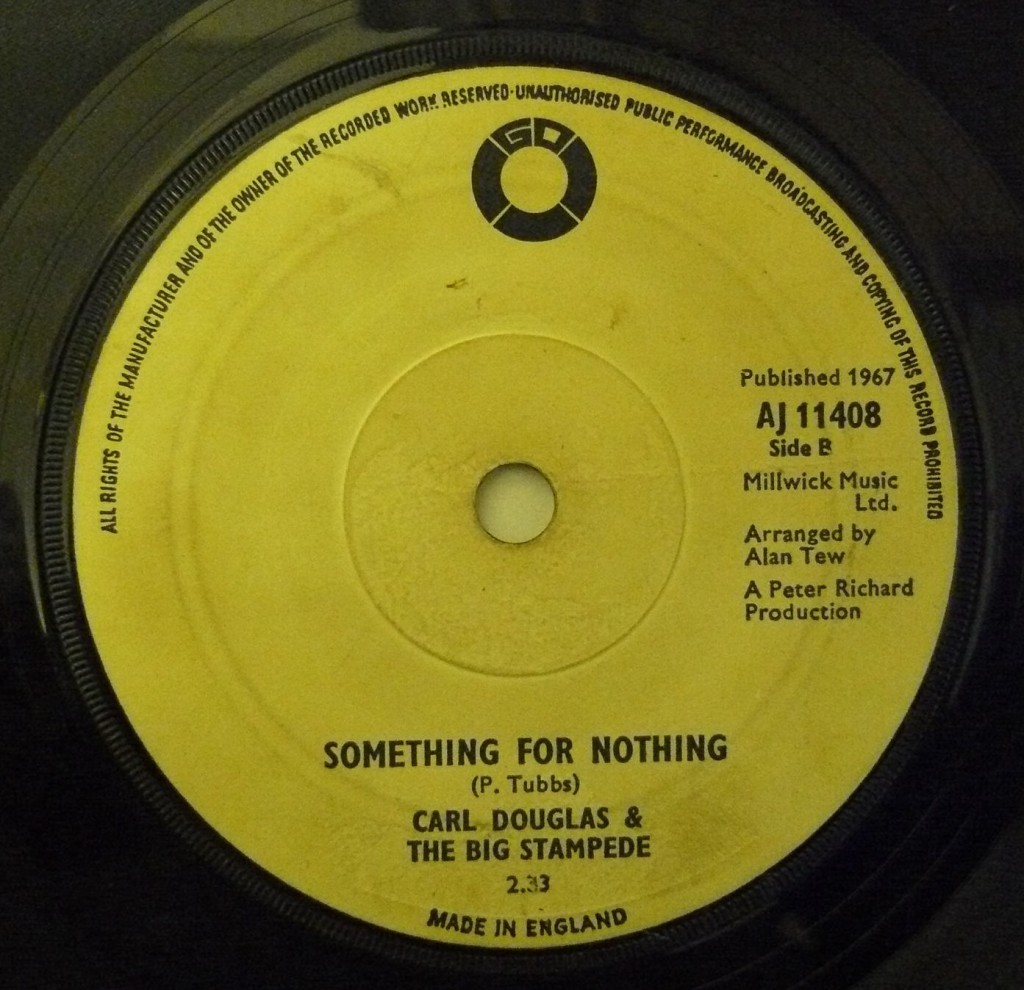 According to Mike Manners the band never played any of the singles, including the group's debut release "Crazy Feeling" on stage.
"We were more than capable of doing it but we never did," says the keyboardist. "Carl wanted to be a Memphis star. He wanted to be Otis Redding. He idolized him. He wanted to be Wilson Pickett and the rest of those Memphis stars and so we covered all the soul grades."
Less than a week after the single's release, the new line up piled into the group's repaired converted ambulance and took the ferry across the channel, driving down to the south of France for an extended-tour of the coastal towns.
Based at a villa in Valbonne, a village about 12 kilometres north of St Tropez, the group kicked off with a short residency at the Valbonne Club where Mike Manners celebrated his 21st birthday on 2 May.
The French tour had been set up through British businessman John Bloom, who had met Carl Douglas & The Big Stampede at Sibylla's the previous August.
"The Valbonne had this beautiful Olympic size swimming pool outside and we used to jump in at night to cool down after the dance," remembers Douglas.
Using the Valbonne as a base, Carl Douglas & The Big Stampede next played the Voom Voom nightclub in St Tropez. On one occasion French beauty Brigitte Bardot turned up and danced after meeting the musicians at her husband, Gunter Sachs's home.
"One night after a show at the Voom Voom, myself, Ken and a few of the band were invited to an exclusive party," explains Douglas. "We arrived at this place and this gentlemen met us at the door; he was the host. It was Gunter Sachs."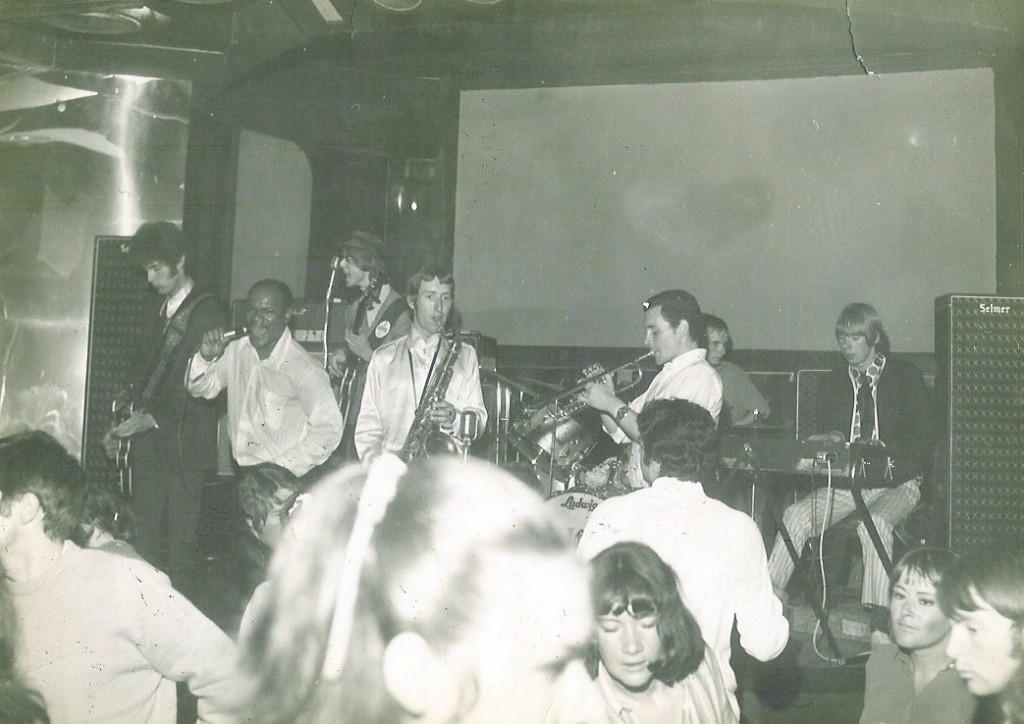 Carl Douglas & The Big Stampede playing the Voom Voom in St Tropez in May 1967 with Mel Wayne
After completing the French tour at the Whisky A Go Go in Nice, the musicians started the long journey home, stopping off in Lugarno, Switzerland to play an American girls' school in early June.
Incidentally, while staying in the south of France, Carl Douglas & The Big Stampede were also engaged by the producers of the British film Blow Up to perform at the opening night of its presentation at the Cannes Film Festival with its stars David Hemmings and Vanessa Redgrave and director Michelangelo Antonioni in attendance.
"The south of France was one of the places I enjoyed the most," recalls Del Grace looking back on his time with the band.  "We'd just finished doing Smashing Time with Jeremy Lloyd and he came down [to the Voom Voom] and joined us with Mike D'Abo from Manfred Mann."
Back in the UK, the band resumed its heavy workload, honouring a brace of shows in Southampton, Derby and Bradford before returning to London for a two-night stand at the Bag O' Nails on 11-12 June.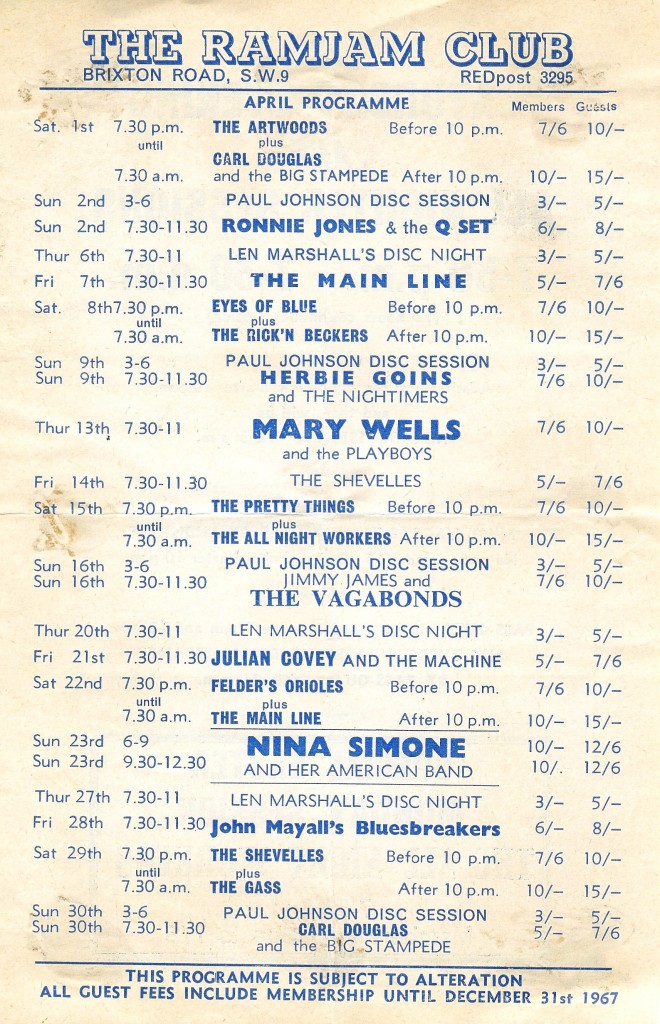 Ram Jam advert, April 1967
With little money to show for their efforts and a punishing schedule, it was inevitable that cracks would appear. After playing his final gig at the Cue Club in Paddington on 7 July, Mike Manners became the next casualty after Dave Brooks's departure earlier in the year.
"We'd had a long, hard slog on the road," explains the organist. "We were a touring club band if you like and we'd been exploited in my view by our agency."
Initially hiring several stand-in players via the Rik Gunnell Agency, the group turned to Verdi Stewart's mate, organist Ian Green, who'd spent a short time with Tony Jackson & The Vibrations and The New Vaudeville Band's road group. Green's first engagements were two gigs at St Birinus School in Didcot and Rasputin's on Bond Street in London, both on 14 July.
"Ian Green was very good and was married to this blues singer who was at the High Tower," says Douglas. "He didn't stay long… He was a bit more advanced than we were. He was in the Georgie Fame class."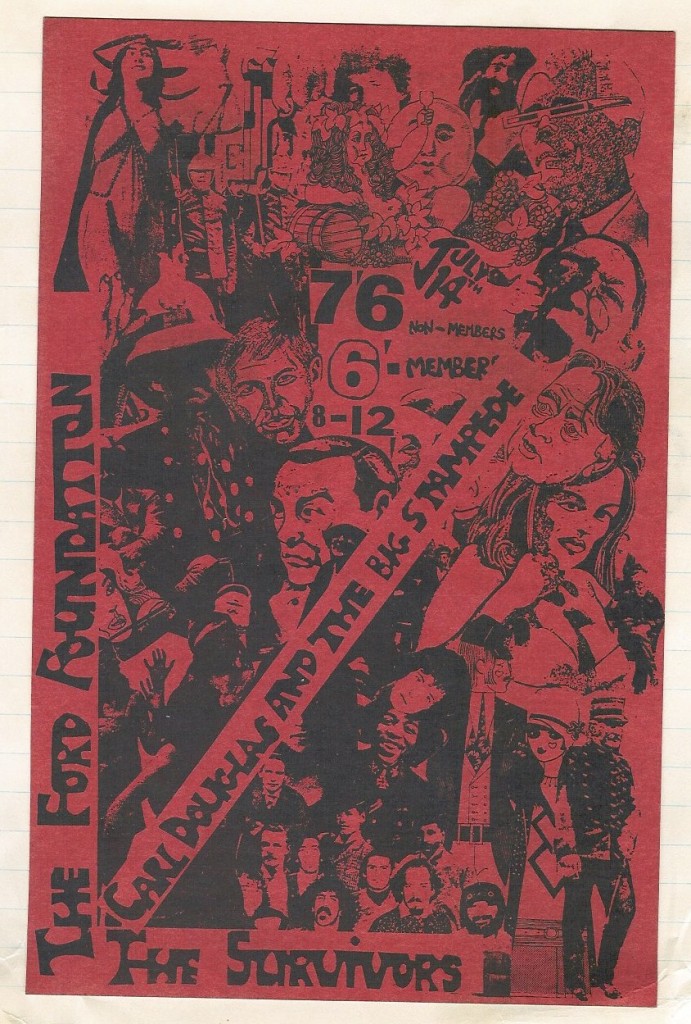 Rasputin's Poster featuring Carl Douglas and The Big Stampede, July 1967
Green was also on hand the following day to honour three gigs that kicked off with a show at the California Ballroom in Dunstable. Also on the bill was The All Night Workers whose bass guitarist Doug Ayris had previously played with Mel Wayne's younger brother, Brian Hosking, in The Legend.
Borrowing a lead guitar from his band mate Brian Sell, Ayris returned with Carl's group to London and a second show later that evening at Paddington's Cue Club before the exhausted musicians headed south of the river for their final gig that evening at the Ram Jam in Brixton during the early hours.
While all of this was going on, former member Mike Manners was busy in the studio working with Australian singer Johnny Young, having answered an advert that Polydor Records had placed in the music press looking for backing musicians.
Joined by fellow Englishmen, Rob Alexander (lead guitar) and Peter Piper (bass) plus Young's long-standing drummer from Australia, Danny Finley, the band, Danny's Word cut four tracks in the studio, all Gibb brother compositions, with Barry, Robin and Maurice also providing backing vocals.
The first single, "Craise Finton Kirk" c/w "I am The World" was issued on 30 July but failed to chart despite the Bee Gees association and a plug on the Dee Time TV show. A second release, coupling "Every Christian Lionhearted Man Will Show You" with "Wonderful World", also flopped and, disillusioned by his reception in Britain, Johnny Young returned to Australia that December.
Manners, who'd turned down an offer from Young to join him Down Under as his musical director, next accepted a job as the keyboard player on the P&O ship Canberra, before an unlikely reunion in the 1970s with Verdi Stewart in the house band at the Orchid Ballroom in Purley, Surrey (more of which later).
Back in the Stampede, Del Grace, who'd alerted Manners to the advert in the music press but missed out on Johnny Young's band, was also getting itchy feet. Less than a week after Manners's departure, and following a show at the Bag O' Nails on 11 July, the guitarist also departed.
Signing a solo deal with Liberty Records in August, Grace linked up with future Wombles producer Mike Batt and laid down a handful of recordings, including a cover of John Sebastian's "Younger Generation" and Jeff Lynne's "Follow Me, Follow Me" with session musicians.
"I was with Mike [Batt] for quite a long time," says the guitarist. "We did a few songs at the Marquee studios with my solo act. At the same time that I was with Mike, I was managed by Ray Williams, Jeff Lynne and Elton John's manager."
Forming a backing group to support him on the road, Grace next landed a prestigious gig in the Swiss Alps and saw out 1967 in style.
"We played at the Farinet Hotel in Verbier, which is still there strangely enough," he recalls. "We played there right through Christmas and New Year.
"I got a really tight harmony band together. I asked Del [Coverley] to come with me but he didn't come and we had a different drummer. They even sent a private aeroplane for us to Heathrow to pick us up and take us out there."
Back in London, the guitarist renewed his ties with producer Pierre Tubbs and cut two further solo recordings for United Artists at Olympic Studios in Barnes with session players. One of these was the Tubbs-penned "Gotta Get Back", featuring the guitarist on banjo.
Grace subsequently moved into production and opened a studio with Tubbs, working with people like Steve Harley, Eddie Reader, Steve Hackett, Brian Poole and comedian Lenny Henry. Since the late 1990s, however, has been living in Marbella in Spain and has released four solo CDs, recorded at his Pink Lizard Studio.
In desperate need of a replacement, the band's road manager Nick Baxter came to the rescue by recommending his wife Caroline's cousin, Martin Pugh. Originally from Cornwall, Pugh had spent the past few years working with local band, The Package Deal before moving up to London in search of fame and fortune.
However, within weeks of Pugh's arrival, and with the remaining July gigs honoured, Del Coverley (who'd recently auditioned unsuccessfully for The Easybeats) also departed, forcing Ken Baxter to restructure the band around the surviving members – Carl Douglas; bass player Tony Webb; sax player Mel Wayne; trumpeter Verdi Stewart; and new arrival Martin Pugh.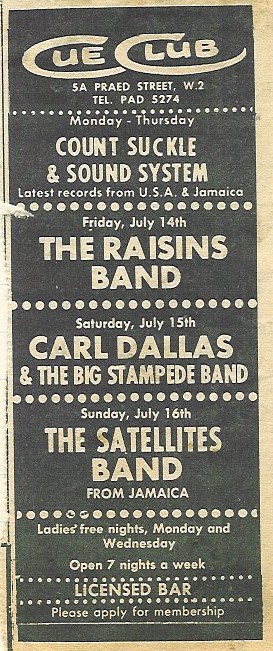 Carl Douglas and The Big Stampede at The Cue Club, London, 15 July 1967
"I thought flower power was going to be big because it was happening and the soul thing was dying," explains Coverley on his decision to leave. "Andy Clark [from Big Wheel] got in touch with me and said, 'a band is reforming with the old members of Bern Elliot & The Fenmen', so I joined that."
Linking up with guitarist Alan Judge and bass player Eric Wilmer, who'd carried on with The Fenmen name when Wally Allen and John Povey joined The Pretty Things, the new four-piece became Kindness.
After touring the country extensively, playing Byrds and Love covers, Kindness folded in late 1967 when Andy Clark left to join Sam Gopal's Dream with guitarist Mick Hutchinson, bass player Pete Sears and drummer Viv Prince.
"Of course it [flower power] died. It had its lifespan," says the drummer. "I should have hung around with Carl really and seen where it went."
Undeterred, Coverley surfaced next in Rust with singer John Thomas, bass player Alex Alexander and guitarist Eric Lindsey (today the owner of a music shop chain in southeast London) and moved out to Germany where the new four-piece cut an ultra-rare German-only LP.
After failing to land the drum position with Mark Bolan and Mickey Finn's second version of T. Rex in early 1970 (his bass drum pedal broke at the audition), Andy Clark got back in touch.
Together with Mick Hutchinson, the keyboard player had formed the progressive rock outfit, Clark-Hutchinson. Cutting the highly-acclaimed album A=MH2 in 1969, the pair next decided to expand and brought Coverley in on drums for two more albums – 1970's Retribution and Gestalt the following year.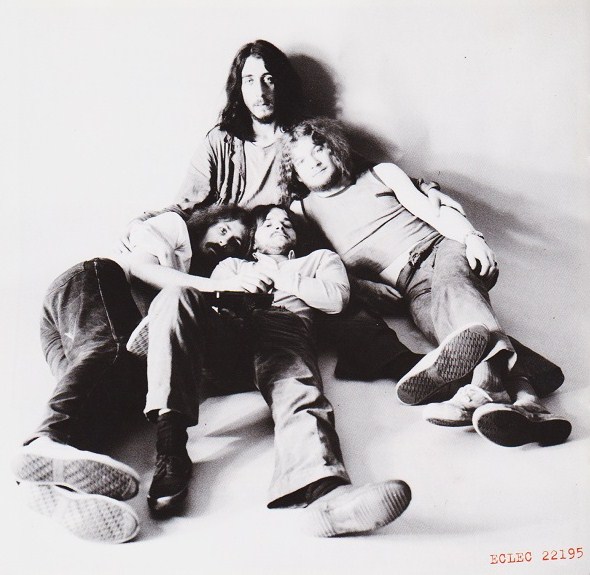 Clark-Hutchinson

In later years, the drummer very nearly landed a job with singer Kate Bush. Today he works as a drum tutor and occasionally plays with his reformed school band, The Scimitars and his own group, Stardust.
Stumbling across a red haired drummer called Colin via the music press, Carl Douglas & The Big Stampede returned to the south of France during August 1967 for a second residency at the Valbonne Club, the Voom Voom (where Mickie Most was in the audience) and the Whisky A Go Go.
However, on the group's return to London, Verdi Stewart handed in his notice and returned to France. Over the next few years, he hired out his services as a jobbing musician on London's session scene. Tapping into his talent as a singer, he even entertained Frank Sinatra at a private party held at the Hilton on Park Lane in 1969.
In the early 1970s, Stewart assumed the stage name Johnny Fontane and sang with The Ray MacVay Band and then The Cyril Stapleton Band before returning to session work. He also worked extensively with the BBC's B1 and B2 Orchestras.
By the mid-1970s, Stewart had landed a regular gig with the Mecca Organisation and its house band at Purley's Orchid Ballroom. Reuniting with Mike Manners, the group, which also included trombone player/singer Terry Martin and drummer John Snow, signed up Dick James Music to work as session players.
When that band fell apart, Stewart did TV and live work with Georgie Fame and then became an integral member of Alan Price's support band from 1978-1983. He is currently rehearsing a double act called The Dangerous Brothers to play the south London scene.
Copyright © Nick Warburton, 2014. All Rights Reserved. No part of this article may be reproduced or transmitted in any form or by any means, without prior permission from the author. 
To contact the author, email: Warchive@aol.com 
Many people helped piece this story together. My personal thanks go to Carl Douglas, Tony Webb, Ken Baxter, Del Grace, Dave Brooks, Mike Manners, Del Coverley, Verdi Stewart and Mel Wayne. Thanks to Ken Baxter and Tony Webb for the use of band photos.