By Nick Warburton
Forty years ago this summer, Pye Records issued Carl Douglas's disco anthem "Kung Fu Fighting" to an unsuspecting public. Shipped just as the chopsocky film craze was taking hold, the Jamaican singer's best known recording initially struggled for airplay. However, by the tail end of 1974, the single had stormed to the top of the UK and US charts, eventually selling over 11 million copies worldwide. 
To mark the 40th anniversary of his global chart topper, Carl Douglas is preparing a new CD, for release this September, his first collection of new material since 2008's Return of the Fighter, which includes a re-recording of "Kung Fu Fighting".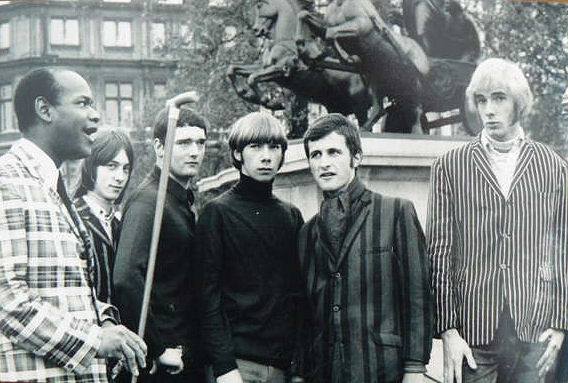 The Carl Douglas Set, September 1966 (left to right: Carl Douglas, Tony Webb, Nick Baxter, Mike Manners, Dave Brooks and Del Grace)
The long awaited release follows hot on the heels of a superb new compilation LP from revered collectors' label Acid Jazz, issued on 30 June. Pulling together much of Carl Douglas's recorded work during the mid-late 1960s, including a number of previously unreleased tracks, the album finally throws a light on the singer's little known, formative years.  Nick Warburton continues the story of Carl Douglas's rise to fame. 
By late September 1966, The Carl Douglas Set was on the verge of a significant overhaul. Bass player Danny McCulloch had departed to join Eric Burdon's 'new' Animals and the group was about to be expanded with a horn section.
Inspired by McCulloch's inventive bass style and uncomfortable playing keyboards, longstanding member Tony Webb assumed the bass role.
Just prior to McCulloch's departure, manager Ken Baxter had placed an advert in Melody Maker for a sax player. A number of horn players responded, including recently departed Manfred Mann member Lyn Dobson, but the band settled on north Londoner, Dave Brooks.
Born in Hampstead (where he continues to reside) and brought up in Soho and Camden, Brooks was playing in a north London dance band when he responded to the advert.
"We auditioned loads of sax players but with Dave Brooks he seemed to click straight away," says Webb. "We all liked him and if you're pro, you've got to get on with each other."
The Carl Douglas Set line-up, however, continued to evolve and by early October, guitarist Del Grace had brought in his former band mate from Big Wheel – Mike Manners on Hammond organ and as musical director, while road manager Nick Baxter stood in briefly after drummer Ray Beresford departed to form Lewisham band, The National Existence. The temporary line up was captured for posterity in a series of promotional shots taken at the time.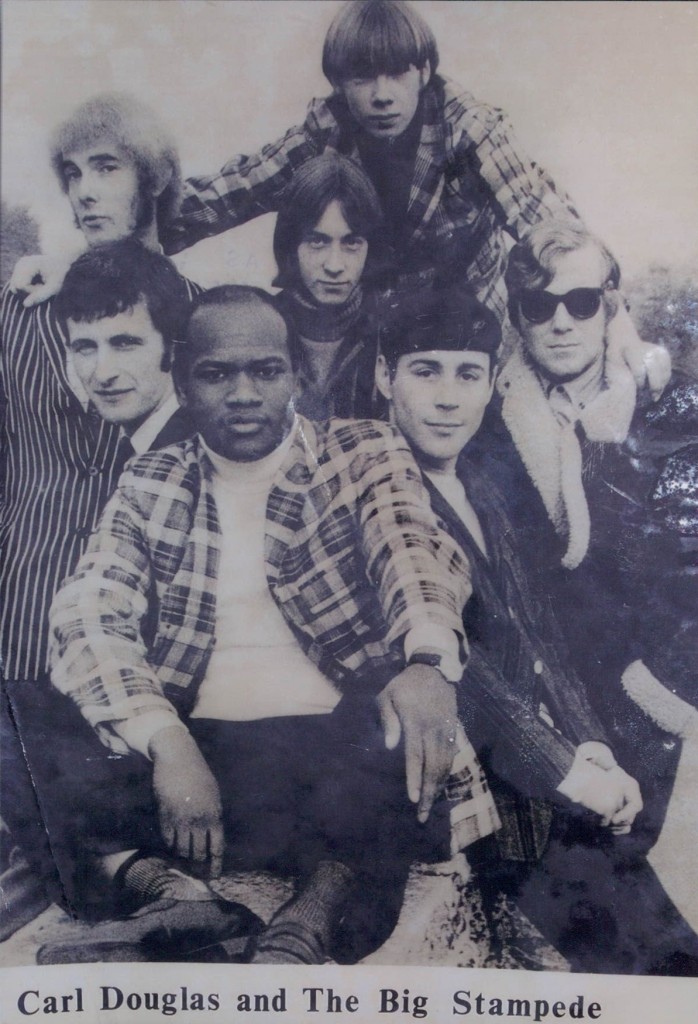 Carl Douglas and The Big Stampede, 1966 (Ken Baxter far right and Verdi Stewart second right (front) )
Within weeks though, the drum stool was filled permanently by another Big Wheel member – 17-year-old Derek 'Del' Coverley, who returned from Switzerland where he was playing at the Hotel Hirschen in Zurich's red light district.
Inspired by Jack Parnell, the drummer in the house band at the London Palladium, and jazz musicians Buddy Rich and Gene Krupa, Del Coverley had started playing drums in his early teens. After working with his school band, The Scimitars for several years, he signed up with Big Wheel at the tail end of 1964.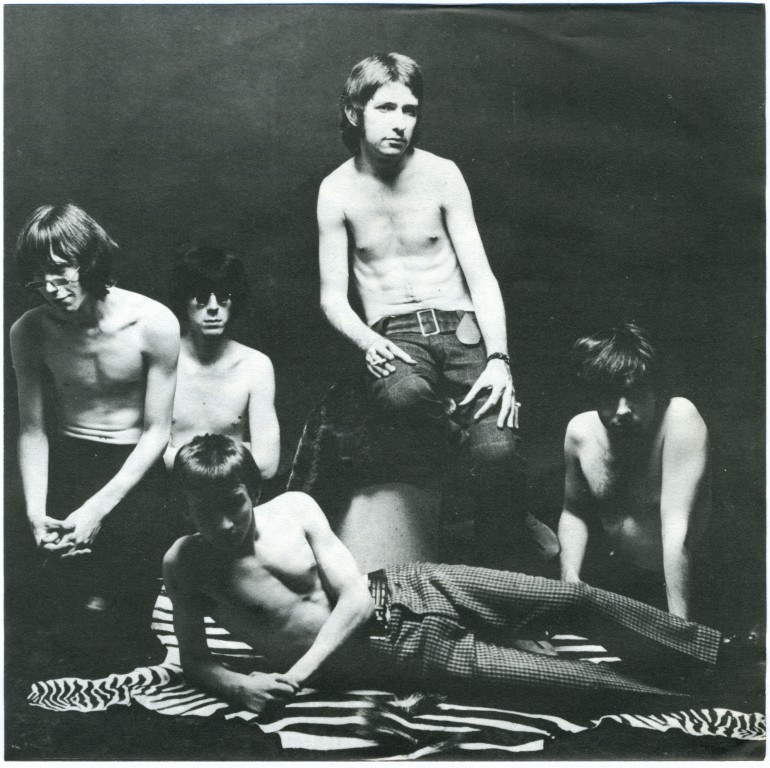 Big Wheel, (from left to right: Mick Holland, Andy Clark, Del Coverley (front), Paul Stroud and Ron Bryer)
"We played all around Southeast London," recalls the drummer. "We were quite a good soul band, playing little festivals at that time… it took off from there I suppose then Big Wheel had a chance to go to Switzerland."
With only lead singer Paul Stroud and Del Coverley remaining from the original line up, Big Wheel Mark 2 now included bass player Mick Holland, organist Andy Clark and (somewhat surprisingly) Grace's predecessor in The Carl Douglas Set, Ron Bryer (who years later worked with Swiss progressive band Brainticket).
The new configuration developed quite a following in Switzerland, playing at the Tanzrad in Basel before moving on to Zurich. Big Wheel even issued a hopelessly rare (Swiss-only) mod single, Andy Clark's "Don't Give Up That Easy" c/w "You're Only Hurting Yourself", released on the Eurex label in February 1967.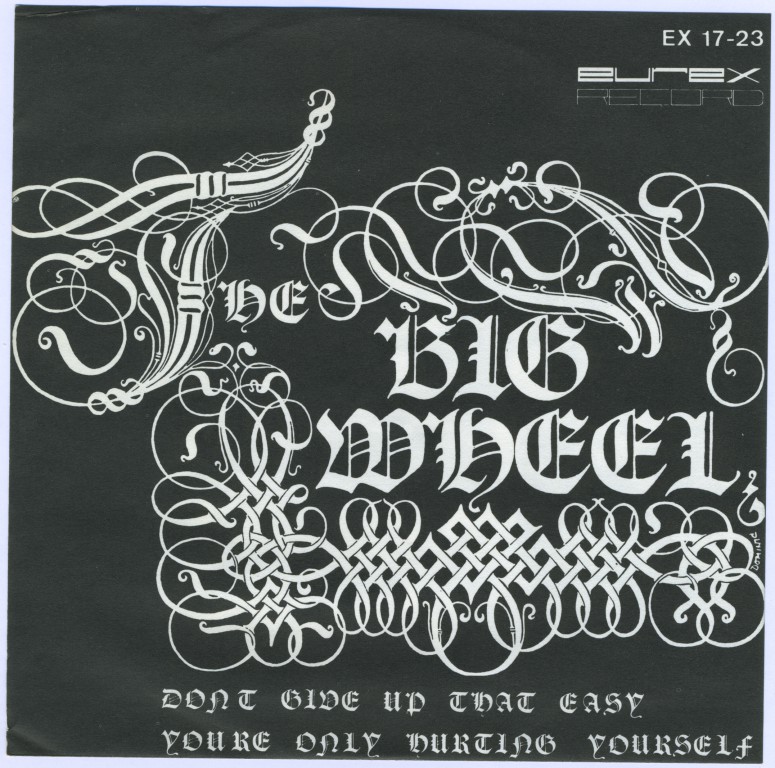 Big Wheel 'Don't Give Up That Easy' Single Sleeve
However, Coverley was far from happy with the situation; Mick Holland had decided to assume management of the band and had hidden everyone's passports.
"He took the passports away from everybody and said, 'No, we're not going home, there's too much money to be made here'," remembers the drummer.
Coverley, however, had sussed out where his own passport was kept and, in a scene reminiscent from a Second World War movie, staged his exit one night by stuffing pillows under the sheets to make it look like he was asleep.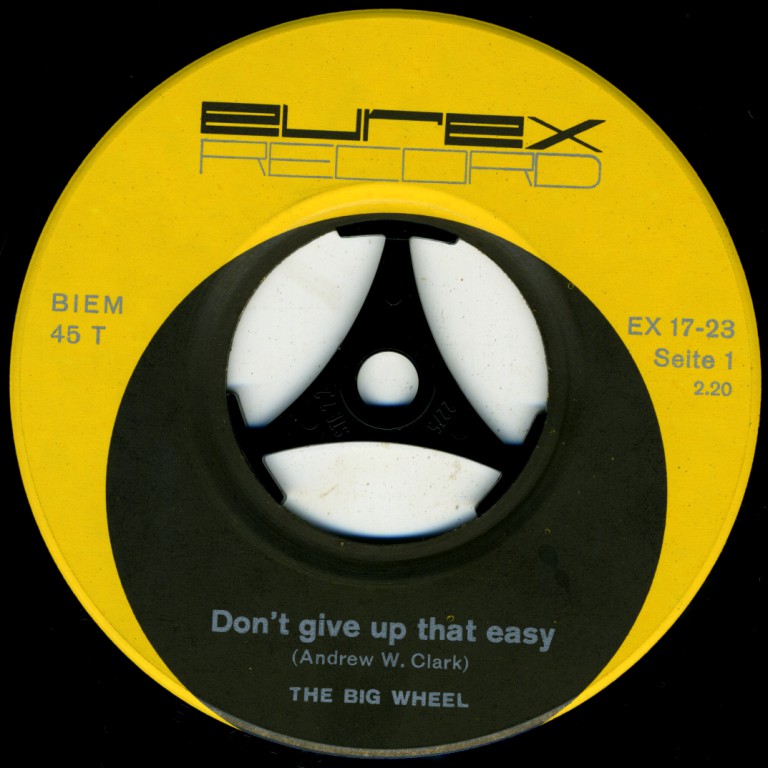 Big Wheel 'Don't Give Up That Easy' Single 
"I'd already bribed the roadie," he continues. "He had taken my drums and locked them in a room at Zurich airport…so when I escaped the drums had already been sorted and were loaded on the plane."
Interestingly, Coverley very nearly didn't take up the offer to join Carl Douglas's band; around the same time he signed up, he also auditioned for the second version of The Herd after Mick Underwood had left.
With Coverley assuming the drum stool, the final piece in the jigsaw was West Norwood-based jazz trumpeter Verdi Stewart, a family friend of Ken Baxter's, who agreed to try out after failing to land a gig with Hamilton & The Hamilton Movement (where he befriended future member Mel Wayne).
The son of a boxer, and christened Verdun Tristram Higham, Stewart was a colourful character who had learnt his trade from The Happy Wanderers' William Longman and had previously played trumpet in a rumba band at the Astor Club in Berkeley Square.
Renamed Carl Douglas & The Big Stampede, after a very descriptive LP cover by US jazz band Woody Herman, the new line up's first notable booking was opening for Ike & Tina Turner at the Ricky Tick in Hounslow, Middlesex on 16 October.
Within weeks, the band received some handy press coverage after Go Records picked up "Crazy Feeling" from the earlier Strike release and re-issued the single on 4 November. This time around, the '45 became a hit, climbing to #21 in the UK charts, perhaps helped by Radio London's incessant plugging. In the US, it was issued on the Okeh label the following month.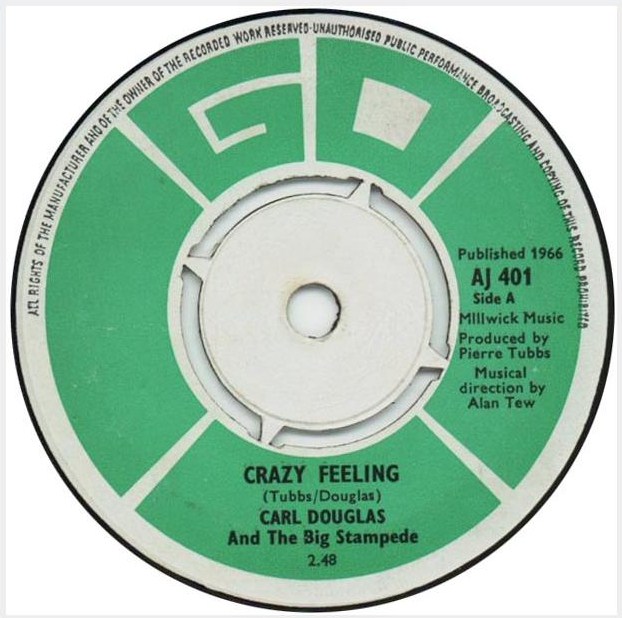 Carl Douglas and The Big Stampede, Crazy Feeling, Go Single – photo from http://www.45cat.com/
The re-release also appears to have coincided with a film crew and esteemed music journalist Chris Welch turning up at Tiles (most likely on 7 November when the musicians shared the bill with Dave Antony's Moods) to capture the group's live act for posterity.
[Chris Welch] used to come and follow us around," remembers Baxter. "He would just suddenly turn up at so many gigs because he just loved Carl and he was the lead writer for the Melody Maker."
Del Grace remembers another eventful incident around this time. "We played a week at the Playboy Club," he recalls. "We used to do our set and then Mike and I and Del [Coverley] would stay on [the stage] and do a jazz trio and do 'Satin Doll' and 'Honeysuckle Rose', standard jazz things in the interval."
That autumn the musicians also shared a bill with Eric Clapton's band, Cream. Mike Manners has fond memories of the evening in question, a joint (no pun intended) booking at a university somewhere in the north of England.
"We were in an interval and had the same dressing room. He [Ginger Baker] handed me this huge joint and I said, 'I'll pass it round' and he said, 'No, no, no, that's for you. I'm making one for everybody'. It was huge."
Having signed up to the Rik Gunnell Agency a few months earlier, work started to pour in. It was through the band's association with Gunnell that Carl Douglas & The Big Stampede landed a prestigious 14-night residency at the Gunnell brothers' latest West End acquisition, the Bag O' Nails nightclub in Kingly Street, kicking off on 21 November.
"We were cheap and cheerful [and] they got their money's worth with us," confides Brooks on the arrangement. "Although Rik Gunnell liked Carl, he thought we were a bunch of wallies really, which were for the money we were playing for. But that's the way things were. We were just glad to play."
During those eventful two weeks, some notable guests dropped in during the evening, including The Young Rascals, who were on a brief UK tour. One afternoon (25 November is the most plausible date), the musicians turned up to find a future rock legend on the stage.
"We'd been playing at the Bag O' Nails the night before and had left the gear there," remembers Webb. "When we went in [the next day] all of our gear was off the stage to one side. We didn't know it at the time but this guy who we now know was [Jimi] Hendrix and his three-piece band was playing onstage with photographers. We were more annoyed that our gear had been taken off the stage!"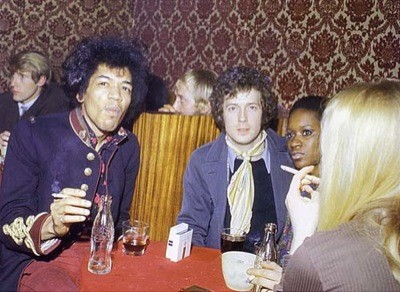 Jimi Hendrix at The Bag o'Nails Club February 1967 (from left to right: Jimi, Eric Clapton, Brandy – Eric's girlfriend and Kathy Etchingham) photo from http://www.jimihendrix-lifelines.net/
"Jimi Hendrix was having his press reception and we were all laughing at him," adds Brooks. "He had lighter fluid and was setting his guitar alight for the press. We're all going, 'Oh, flash in the pan, he won't last five minutes'…we were really slagging him off."
However, a few days later, the guitarist returned to the club and joined the musicians on stage, as Webb continues. "This particular night we were playing and Hendrix come up to me and said, 'Can I play your bass?' Remember, he's left handed and I'm right handed so he was playing my bass upside down. Big Del was playing beside him on guitar. Then I got back up on stage and Hendrix played Del's guitar and we done another couple of numbers."
Carl Douglas picks up the story: "That night the bass player from The Animals [Chas Chandler] comes up and says he's got a wicked guitarist and he's going to be a personality. Could he come up and jam with us? He joined us on this Otis Redding song, 'Try A Little Tenderness'. What a night!"
Despite hobnobbing with future stars like Jimi Hendrix and personalities on the scene like Chris Farlowe, Eric Burdon and Long John Baldry, who all used to sit in with the group after hours, The Big Stampede were flat out gigging virtually every night.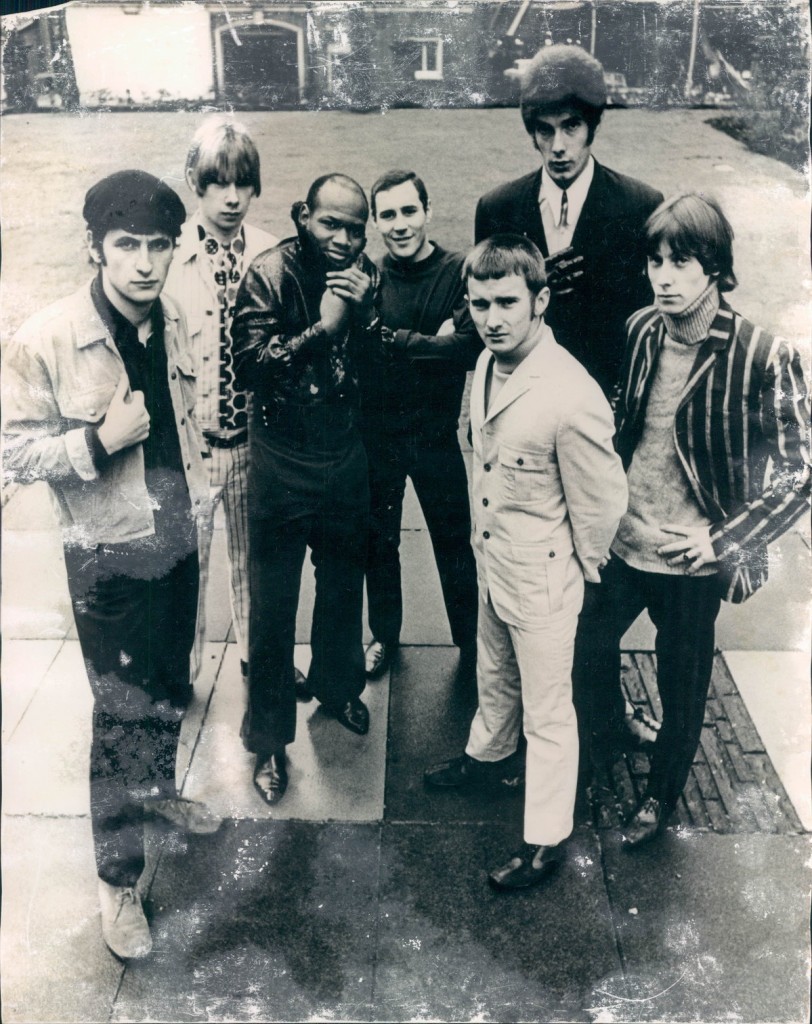 Carl Douglas and The Big Stampede, 1967 (from left to right: Dave Brooks, Mike Manners, Carl Douglas, Verdi Stewart, Del Coverley, Del Grace and Tony Webb)
In the run up to the Christmas period, the group had a packed schedule of bookings. The musicians played frequently at top West End clubs like the Cromwellian and another Gunnell brothers' venue, the Flamingo, not to mention returning to their old stomping ground – the Ram Jam in Brixton where they played afternoon and evening sets on Christmas day.
Incredibly, despite the hectic schedule, the outfit also found time to venture north for a few days and a couple of gigs in North Yorkshire and Humberside.
The relentless one-nighters soon took its toll as fatigue set in. Returning home from a gig at the Dancing Slipper Club in Nottingham late on the evening of 13 January (sans Douglas who'd stayed behind with a girl) the band's converted Bedford ambulance came off the road.
"We rolled down this embankment… and I got thrown out of the back and landed in a cow pat," recalls Manners. "It was pitch-black, deep in rural England and there was a thunderstorm brewing in the distance, so that distant rumbling of thunder and the fact that we were in shock was very spooky."
"I can remember it clearly," adds Verdi Stewart. "I saw the piano player go out the back doors. Thank god he was all right.
"We all ended up in hospital. I said to Ken Baxter – 'What? Did you fucking fall asleep [at the wheel]?' He said, 'I managed to turn the petrol off!'"
Four days later, the still-shaken band headed off for its first European jaunt – a three-night booking at the New Inn Club in Liege, Belgium, where Ken Baxter met his future wife.
"All that I can remember is that the owner of the club took Tony, I think it was, and I for a spin in his Ferrari at five o'clock in the morning down the main high street at 150mph," says Manners. "I remember him saying, 'I've got to take it in to get it tuned properly'."
Stewart, meanwhile, remembers the trip for entirely different reasons. "I pulled this bird. She was a beautiful, beautiful woman. She turned out to be this chemist's daughter," he recalls.
"She got me this big bag of Predadin (speed). I went, 'Not that many! You're robbing your father's shop'. She took me to have lunch with her family. I'm full of Predadin and I couldn't eat a thing. It was like I was in space."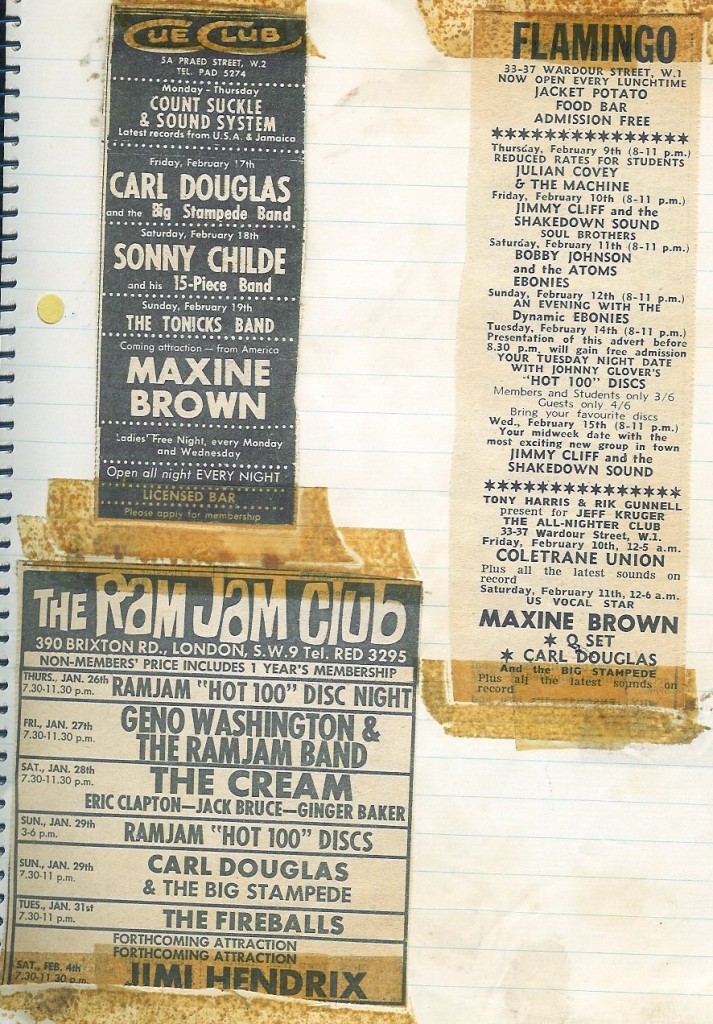 Carl Douglas and The Big Stampede Adverts, January-February 1967
Back in London at the tail end of January, Carl Douglas & The Big Stampede honoured an important showcase gig at the Gunnells' Flamingo nightclub. The booking had been lined up a few months earlier thanks to a chance encounter with top London disc-jockey Johnny Walker.
"We had [had] a gig at the Wimbledon Palais where the M.C. was Johnny Walker. He was impressed by our performance and asked me after the show to keep in touch," remembers Ken Baxter.
"He invited the band to appear on a live broadcast show [for Radio Caroline] from the Flamingo. Johnny was very encouraging to Carl and the band and from that we got a booking at the Marquee and a helpful introduction to Mr Ronan O'Rahilly, which produced top draw bookings and appearances."
Carl Douglas also remembers Walker arranging a gig for the band in a rather unusual venue.
"He told us about these people who put on shows for Radio Caroline in Chislehurst Caves," says the singer. "That was one of our greatest nights because the fans were sort of like Bohemian types and hippies and so on, filling out this place against this rock wall."
The band would go on to play Chislehurst Caves several times throughout 1967 and on one occasion Del Coverley had a bit a shock when Mick Holland from Big Wheel turned up. It was the first time he'd seen the bass player since making his escape from Switzerland.
"He stood right at the front," remembers the drummer. "I looked out and thought, 'bloody hell, it's Mick Holland. I know what's going to happen when I get off this stage'… I thought, 'I'm going to go up to him and say something'. As I walked up to him, he put his hand out and shook hands with me. He said, 'Well done, first person to do one over me'."
On 4 February, Carl Douglas & The Big Stampede headed north again for four days and a gruelling mini-Scottish tour. It was on their return home from Glasgow that news came through over the van's radio that Del Grace's former producer Joe Meek had shot himself.
As winter turned to spring, the band kept up its frantic schedule of gigs, interspersing appearances at London hotspots like the Bag O' Nails, Paddington's Cue Club, Burton's in Uxbridge and Eel Pie Island in Twickenham with shows further afield, such as the Student's Union at Newcastle University and the Bird Cage in Hull.
It was also during this time that the musicians joined a star-studded bill at Loughborough University with The Move and The Bonzo Dog Doo Dah Band.
"I remember The Move; they were very professional," says Coverley. "They went straight through the audience, all carrying their guitars high in a line, on the stage… and bang straight into the first number. I think it was 'I Can Hear The Grass Grow'."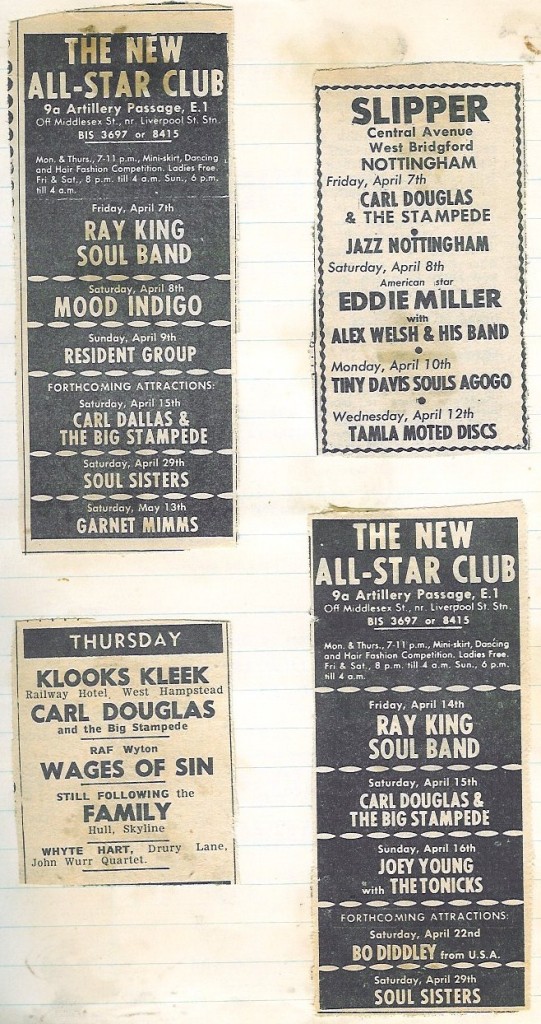 Carl Douglas and The Big Stampede Adverts, April 1967
However, with the musicians spending long periods of time together, conflicts were inevitable. After a series of gigs in the Midlands, taking in Nottingham, Derby and Hanley on the outskirts of Stoke-on-Trent, the band returned to London in mid-April and sax player Dave Brooks bailed out (his deteriorating relationship with Del Grace the main cause) and briefly joined Felders Orioles.
To be continued… 
Copyright © Nick Warburton, 2014. All Rights Reserved. No part of this article may be reproduced or transmitted in any form or by any means, without prior permission from the author. 
To contact the author, email: Warchive@aol.com
Many people helped piece this story together. My personal thanks go to Carl Douglas, Tony Webb, Ken Baxter, Del Grace, Dave Brooks, Mike Manners, Verdi Stewart and Del Coverley. Thanks to Ken Baxter, Tony Webb and Rolf from Feathered Apple Records in Switzerland for the use of band photos.