Forty years ago this summer, Pye Records issued Carl Douglas's disco anthem "Kung Fu Fighting" to an unsuspecting public. Shipped just as the chopsocky film craze was taking hold, the Jamaican singer's best known recording initially struggled for airplay. However, by the tail end of 1974, the single had stormed to the top of the UK and US charts, eventually selling over 11 million copies worldwide.
To mark the 40th anniversary of his global chart topper, Carl Douglas is preparing a new CD, for release this September, his first collection of new material since 2008's Return of the Fighter, which includes a re-recording of "Kung Fu Fighting".
The long awaited release follows hot on the heels of a superb new compilation LP from revered collectors' label Acid Jazz, issued on 30 June. Pulling together much of Carl Douglas's recorded work during the mid-late 1960s, including a number of previously unreleased tracks, the album finally throws a light on the singer's little known, formative years.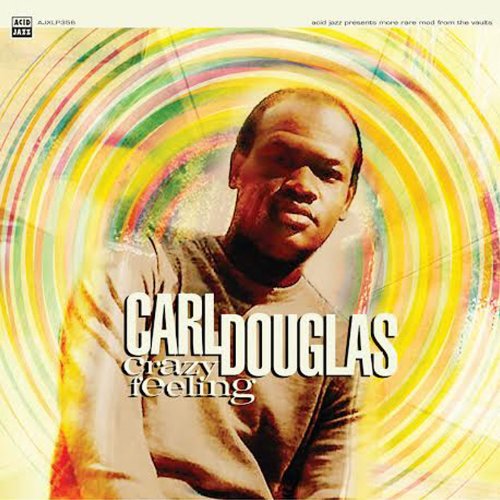 Indeed, between 1966 and 1968, Carl Douglas led a succession of promising London soul outfits, starting with The Charmers and culminating with The Big Stampede. 
During these golden years, the future star of "Ku Fu Fighting" fame released a cache of memorable singles, most notably the mod/dance floor classic, "Crazy Feeling", recorded with the cream of London's session players, and originally released in August 1966. Nick Warburton looks back.
To trace Carl Douglas's rise through Swinging London's vibrant club scene to international superstardom, we have to go back to an evening in mid-1965 when a young Jamaican ventured from his mother's East Dulwich home to his local football club's party, and stumbled across the musicians that would come to form his first backing group – Carl Douglas & The Charmers.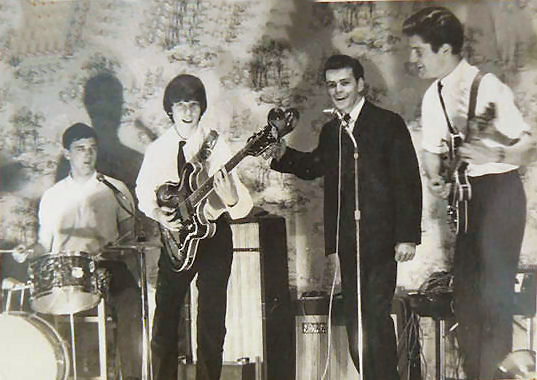 Sounds 5
Formed in West Dulwich around late 1963 by multi-instrumentalist Tony Charman (the only musician to survive most of the many iterations of Douglas's Sixties bands), Sounds 5 originally comprised Charman on lead guitar; Johnny Johnson on rhythm guitar; Roger Simms on bass; Nick Baxter on drums; and Tony Fuller on lead vocals.
A regular fixture at local schools and youth clubs in south London, Sounds 5 decide to adopt a new name after the band's manager Bob Charman (Tony's father) invited Carl Douglas to join The Charmers on stage one afternoon.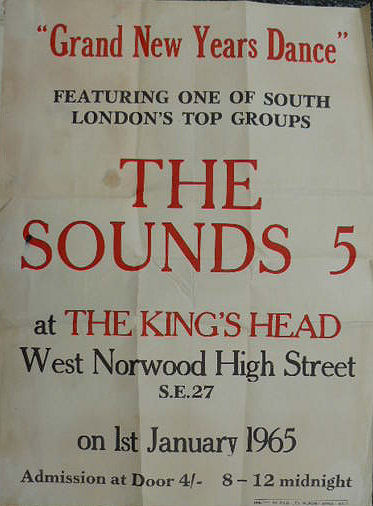 "Carl came up and sang with us," remembers Tony Charman. "Our singer at the time was my brother-in-law and he was leaving, so my dad said to Carl, 'If you want to join a group, here's the phone number'."
Born and raised in Jamaica, Carl Douglas had spent part of his youth in southern California staying with relatives before joining his mother and stepfather in south London where he pursued a scholarship in engineering at Southeast London Technical College from 1959-1962.
While the plan was to qualify as an engineer and return home to take over his father's family business, Douglas had secret ambitions to become the first black professional football player at Tottenham Hotspur and was a keen and proficient player. But as fate would have it, one afternoon he attended his football club's party at Flodden Road in Camberwell, south London where his destiny was changed forever.
"It was during that time and playing football that we had this party and the guys [The Charmers] were playing," remembers Douglas.
Encouraged by his football mates to go up and sing with The Charmers, Douglas impressed the young musicians with his raucous renditions of "Long Tall Sally" and "Tutti Frutti".
"Bob had given me his number but I didn't call because I wasn't quite certain how to tell my mum," admits Douglas. "One day while I was out at football training, he called and talked to my mum and asked if I'd decided yet."
Despite his mother's protestations over his decision to put his engineering career on hold, Douglas called Bob Charman back and agreed to try out at a rehearsal. It didn't take long for everyone to realise that it was a winning combination.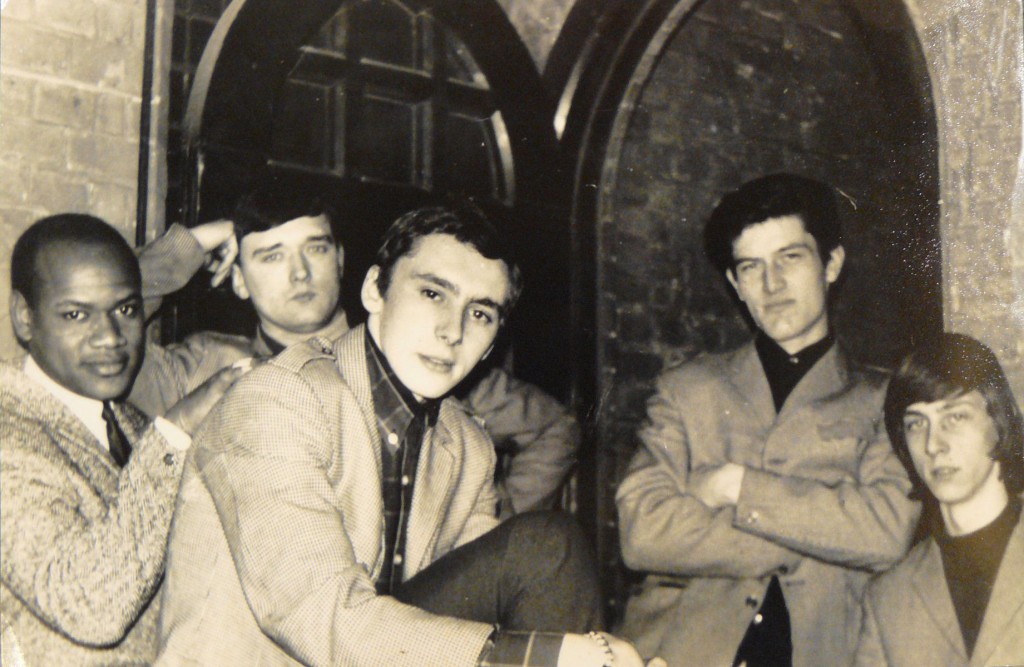 Carl Douglas and The Charmers (from left to right: Carl Douglas, Nick Baxter, Lee Hall, Mick Patel, Tony Charman)
Rechristened Carl Douglas & The Charmers, the musicians spent the next six months establishing a foothold in the Brixton/Streatham/Tulse Hill area, playing pubs, youth clubs and schools.
Along the way, lead guitarist Mick Patel and bass player Lee Hall came in to replace Johnny Johnson and Roger Simms respectively, while Charman (who'd adopted the stage name Tony Webb) moved from lead guitar to organ.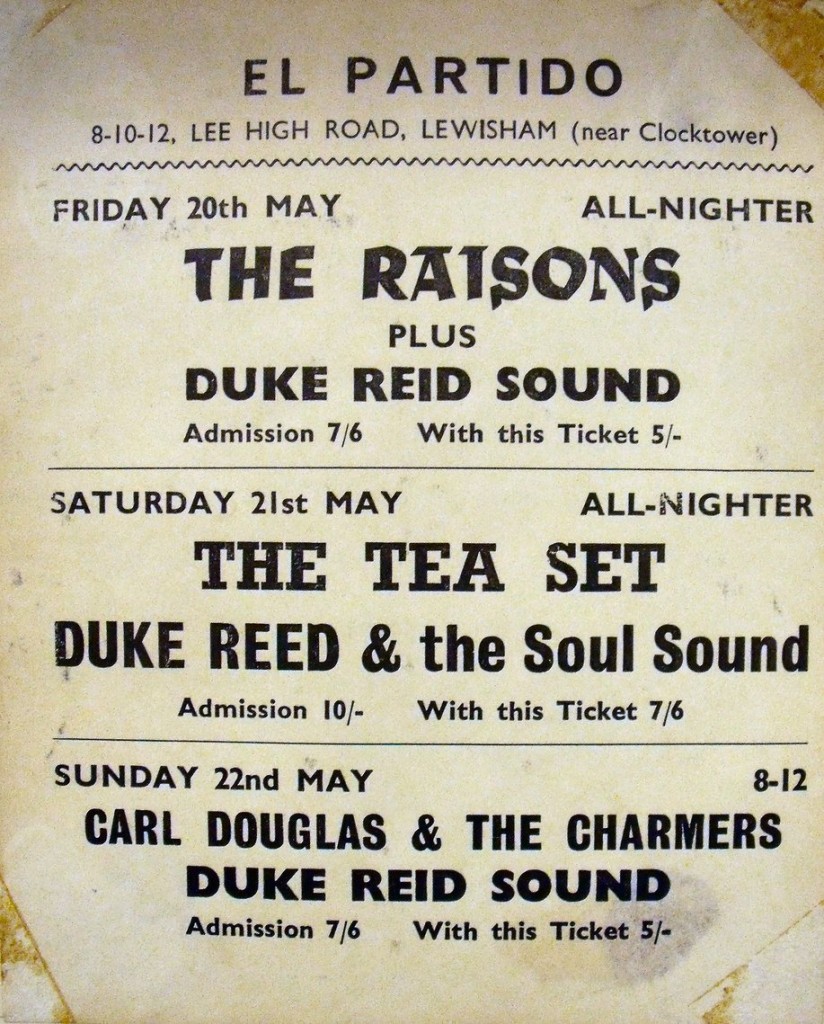 Sometime during late 1965, the band's drummer introduced his cousin Ken Baxter, who worked as an engineer at a recording studio in Crystal Palace.
"When Carl joined us, we needed some demos," says Webb. "Ken had this little recording studio, which he'd just started, so we recorded in there and then Ken was asked to be our manager."
Impressed by Douglas's singing, Baxter agreed to oversee the recording of a six-track demo, mixing soul standards like Otis Redding and Steve Cropper's "Mr Pitiful"; Naomi Neville's "Pain In My Heart"; and Wilson Pickett and Steve Cropper's "In the Midnight Hour", together with Carl Douglas originals – "Going Out of My Mind", "Why Hurt" and "You Are the One I Love".
Having assumed the band's management from Tony Webb's father, Ken Baxter then hawked the demos around London in a bid to secure a recording deal. The tracks ended up in the lap of A&R scout Pierre Tubbs, who had connections with the small indie label, Strike Records. Knocked out by Douglas's soulful voice, Tubbs offered the band some studio time to hone its act, in preparation for some further recordings.
"Pierre Tubbs was very influential in creating our unique sound by taking us down to his own recording studio in Surrey to practise for about two weeks and for me to record the band's results on tape," recalls Ken Baxter.
Prior to the new recordings, under Ken Baxter's management, the band's personnel had undergone another reshuffle with Ray Beresford taking over from long-standing drummer Nick Baxter and Ron Bryer, guitarist with The Loose Ends, the house band at Lewisham's El Partido Club, succeeding Mick Patel.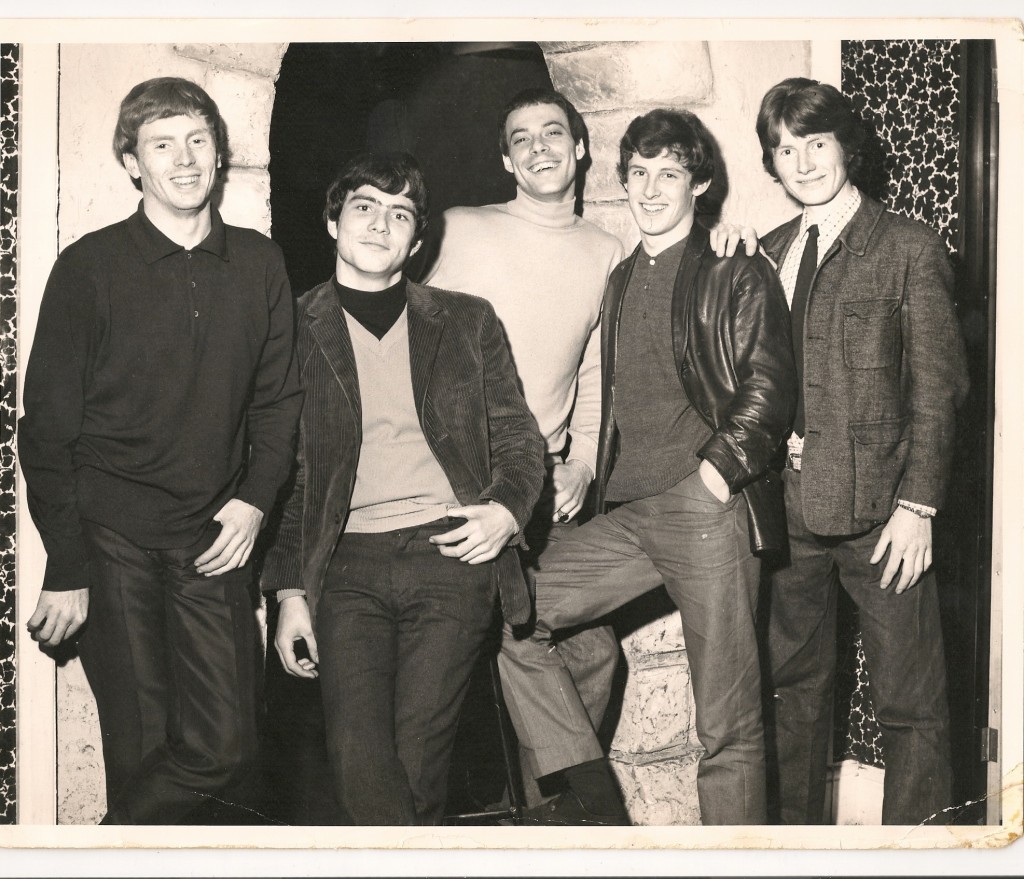 The Loose Ends, 1966, after Ron Bryer had left (photo from Alan Whitehead)
Now renamed The Carl Douglas Set, the reconfigured line up also started to gig further afield, landing a regular gig at Tiles on Oxford Street in central London, and even landing a clutch of shows at The Who's old stomping ground, the Goldhawk Social Club in Shepherd's Bush.
Back in Tubbs's studio, and with Ken Baxter at the helm, the new formation cut two new tracks – a powerful take on the Hayes and Porter classic "You Don't Know", coupled with a soulful rendition of "I (Who Have Nothing)", an Italian song that Ben E King first took into the charts, with English lyrics courtesy of song-writers Lieber and Stoller.
Presented to Strike Records, the label was suitably impressed by the raw energy of the recordings to sign Douglas to a one-off single deal. However, as Baxter recalls, arranger/producer Alan Tew was sceptical that the musicians had the experience to produce "a professional, economical sound behind Carl at the time".
Handing production duties to Pierre Tubbs, Tew decided to bring in top session players like guitarist Big Jim Sullivan, organist Harry Stoneham, trumpet player Kenny Baker and bass player John Paul Jones to provide the instrumental support for Douglas's first single, the frantic, infectious soul number "Crazy Feeling" (credited to Tubbs-Douglas), coupled with "Keep It To Myself" (attributed to Tubbs), which was cut at Pye's studios in Marble Arch.
"He put his name on all my songs," explains Douglas on the song-writing credits attributed to the four singles that he would cut under Tubbs's direction. "I wrote them. He had nothing to do with the writing of them. The ones we did do together, he put them down as himself."
In an interesting side note, Ken Baxter remembers that the group almost landed a record deal with EMI Records after a chance encounter with producer Tony Macaulay (who would work with Douglas's friend Clem Curtis in The Foundations) prompted a one-off session. The whereabouts of the two tracks cut remains a mystery.
"He came to a church hall in Dulwich where we were rehearsing and brought some material which he showed to Ken," recalls Douglas. "We thought he was going to take us on but for some reason it did not materialise."
Sometime in mid-late June, Ray Beresford put in a good word for his neighbour – lead guitarist Del Grace, who swapped places with Ron Bryer. Standing at six foot five, Grace had started out in the early 1960s with Carl Lee & The Epitaphs in the Bexley, Kent area.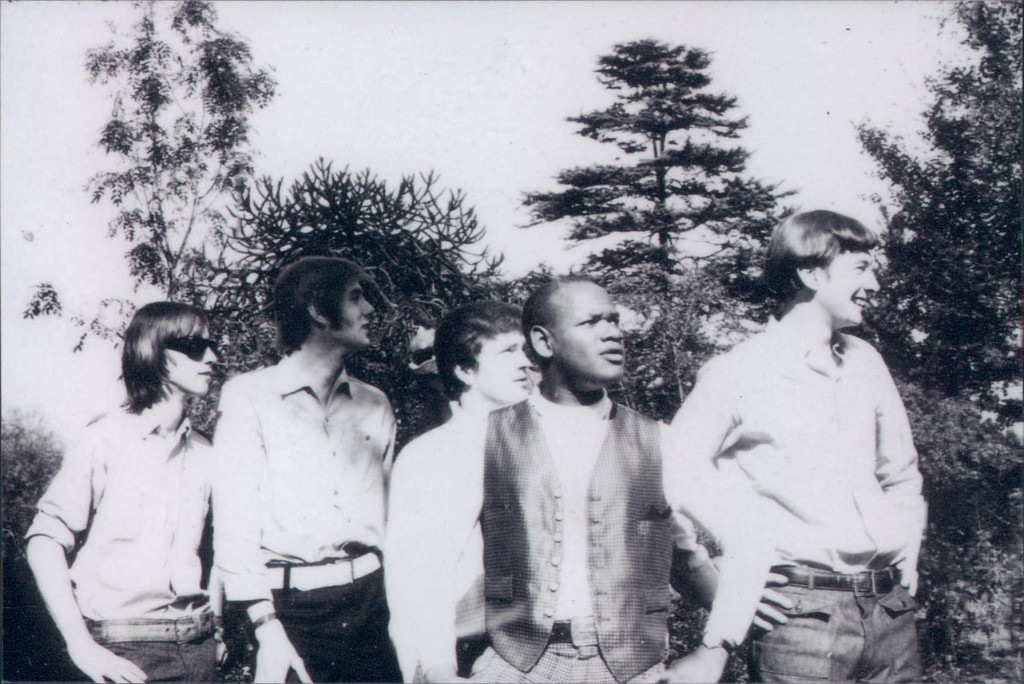 The Carl Douglas Set, early September 1966 (from left to right: Tony Webb, Del Grace, Danny McCulloch, Carl Douglas and Ray Beresford)
In 1964, he became a pivotal member of The Big Wheel, a local soul/R&B band, which opened for the likes of John Mayall's Bluesbreakers and The Graham Bond Organisation (and also included bass player Barry 'Baz' Nicholls who went on to heavy metal group, More).
While gigging around London and the Home Counties, Grace, together with The Big Wheel's Hammond organist Mike Manners also offered their services as session players to a producer in the Catford/Lewisham area.
"Mike and I used to work for a recording studio being the backing band for the young hopefuls they got in," remembers the guitarist. "It was for a guy called Mick Willis and Frank Taylor owned the studio."
Of more historic note, Grace also did several sessions with maverick producer Joe Meek at his studio on the Holloway Road during late 1965/early 1966.
Not long after the guitarist's arrival, Strike finally brought out "Crazy Feeling" but inexplicably the single failed to dent the charts, even though, according to Tony Webb, it was voted a hit on Juke Box Jury.
About the same time, seasoned bass player Danny McCulloch took over from Lee Hall. Originally hailing from Shepherd's Bush in West London, McCulloch had first come to prominence with Ealing-based outfit Frankie Reid & The Casuals (alongside drummer Mitch Mitchell) before landing a prestigious gig with Screaming Lord Sutch & The Savages.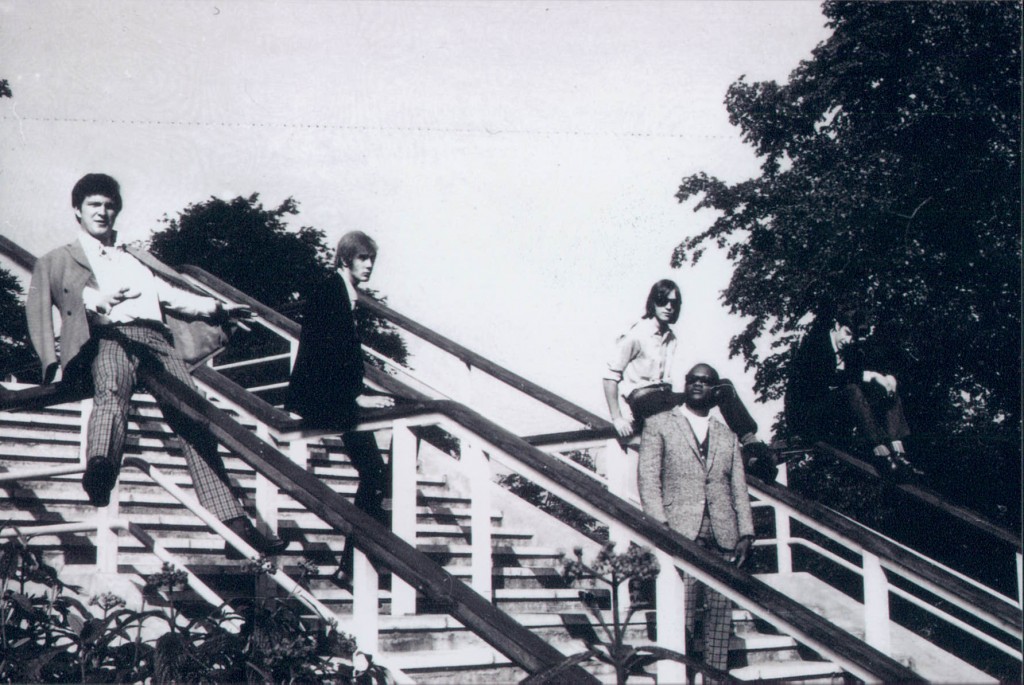 The Carl Douglas Set, 1966
After a brief spell in Germany as The Savages, McCulloch returned to the UK and recorded a lone single with The Plebs – "Bad Blood" c/w "Babe I'm Gonna Leave You", released in late 1964. During 1965, the band travelled to Hamburg to play the club scene but broke up soon after.
Remaining in Germany, McCulloch next backed singer Tony Sheridan and then participated in a short, scratch band with future Deep Purple axe man Ritchie Blackmore before returning home. He was at something of a loose end, however, when the opportunity came to join Douglas; most likely after running into the band at the Goldhawk Social Club on his home turf.
With McCulloch in place, The Carl Douglas Set entertained the crowds at George Harrison's recently opened nightclub Sibylla's in late August, working the venue for a week and receiving a rave write up in the music press.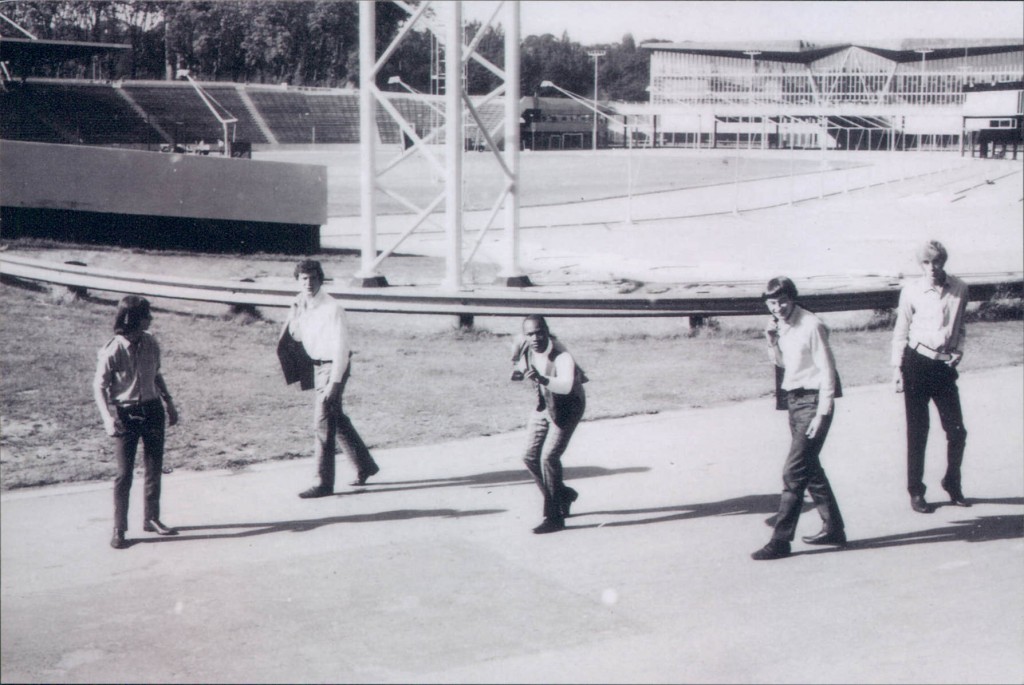 The Carl Douglas Set, 1966
While there, Carl Douglas remembers meeting actress Joan Collins, who was married to actor Anthony Newley at the time.
McCulloch, however, did not hang around too long. Barely a week after opening for Otis Redding at Tiles on 18 September (where Lord Sutch turned up in the dressing room), the bass player landed the gig of his dreams.
"[Danny] was a talented bass player and had his own entourage of musicians in close proximity," recalls Ken Baxter. "It wasn't surprising that he was soon to be poached from us by Eric Burdon, who used to visit the Cromwellian and witnessed Danny's talent. He offered him a job in his soon-to-be formed 'New Animals'."
Continued in Carl Douglas – Stampeding the Mod Scene – Part 2
Copyright © Nick Warburton, 2014. All Rights Reserved. No part of this article may be reproduced or transmitted in any form or by any means, without prior permission from the author. 
To contact the author, email: Warchive@aol.com 
Many people helped piece this story together. My personal thanks go to Carl Douglas, Tony Webb, Ken Baxter, Del Grace and Danny McCulloch. Thanks to Ken Baxter and Tony Webb for the use of band photos.
CORRECTION!
Lee Hall, not Danny McCulloch, played with The Carl Douglas Set at George Harrison's club Sibyllas in late August 1966, which means that Danny McCulloch joined in late August/early September 1966 and was only with the group for about three weeks.