The unmistakable voice of Annie Haslam crowned the lush recordings of Renaissance in 70s, a group responsible for timeless songs such as 'Ashes Are Burning', 'Mother Russia' and 'Northern Lights'. Now based in the States, Annie will shortly embark on a rare UK tour with Renaissance.
For the first time the shows will bring them together with co-headliners Curved Air. The eight shows start on 17 April at the Buxton Opera House, culminating at London's Shepherds Bush 02 Academy on 26 April.
In advance, Annie wets our appetite for what promises to be a string of great concerts by speaking to Jason Barnard. She reflects on her time with Renaissance, their fantastic return to form as well as pondering their plans for the future.
Hi Annie. It's fantastic to speak to you. Firstly you'll be soon going on a UK tour with Curved Air as Renaissance's special guests. Before we look back, what material should your fans expect to hear in April?
Very much looking forward to performing alongside Curved Air, I am a fan myself but we never got to work together back in the day, so this will be a very good 'pairing' I believe!
We will be performing some of our classics like Mother Russia, Northern Lights (our top ten hit from 1978) and Song for all Seasons plus some new material from our most recent album 'Symphony of Light.'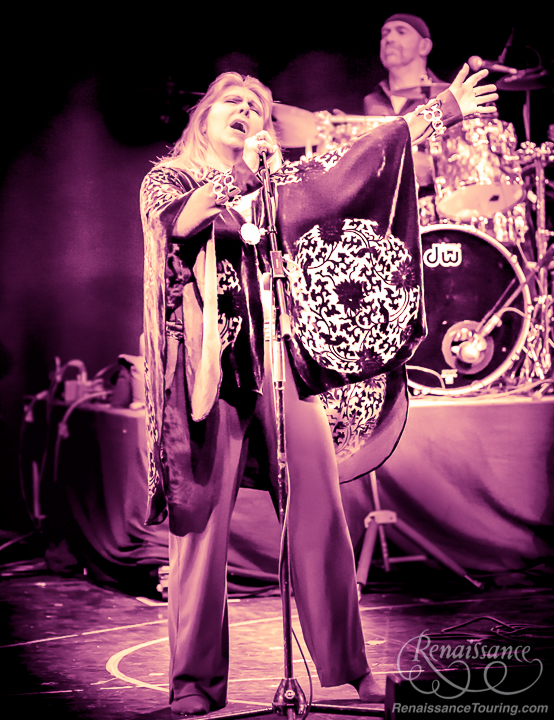 Looking back to 1971 the template that Keith Relf and Jim McCarthy set with Renaissance seemed to fit perfectly with your vocal style. Is this something you felt at the time?
Yes I think it was unanimous from all who were at my audition too… Keith and Jim were there as well as Michael Dunford and John Tout! That day was a blessing and will never forget it… I was called the next morning New Year's Day 1971 to tell me I had the job, I was THRILLED!
What are your favourite Renaissance albums and tracks?
That's a hard one, I love so many of them. There is Scheherazade and other Stories, Turn of the Cards and Novella. These albums had some of the best of the best on them.
I loved Ocean Gypsy, Trip to the Fair, Midas Man, Mother Russia, Running Hard, Song for all Seasons, Northern Lights, Captive Heart, Carpet of the Sun…. list goes on.
Can you tell me about playing live at Carnegie Hall with the New York Philharmonic Orchestra and choir? That must have been such a special thing to do and a career high point.
It was one of the major highlights in the band's career.
Three nights sold out!!! I joined the band in 1971 and here we were four years later in 1975 at Carnegie Hall, quite an achievement.
It was hard to focus on the performance being in such a world-renowned concert hall with full orchestra and choir!!!! and filled to the brim with our wonderful fans. Unforgettable!!!
The Royal Albert Hall show in 1977 with The Royal Philharmonic Orchestra (conducted by Harry Rabinowitz) and the Royal Chorale Society in 1978 was equally stunning!
You had a UK top 10 single, the classic 'Northern Lights'. Did that create pressure to make your sound more 'commercial' or 'contemporary'?
Yes it did cause some pressure to come up with more commercial material, and because of that we started to move away from our own unique style of music. Eventually this led to the band's demise at which time I was very sad about that and felt helpless as the changes unfolded before me.
What led to the band going their separate ways in the 1980s?
We gradually lost our way and so eventually we disbanded one by one and in 1987 decided to call it a day. That was a sad time.
The music that you've been making since you reformed really stands up alongside what are now known as your classic albums from the mid 70s. What led you and Michael to reforming Renaissance and make a full album in 'Grandine il Vento'?
Michael and I had kept in touch over the years, he had carried on working on his 'Scheherazade' musical project and I formed my own band that I had for 15 years recording several solo CDs and a DVD and touring Japan and Brazil.
We decided to reunite in 2009 with all original members but time wise it just didn't work out.
In spite of this we carried on under the management of John Scher who had managed us in the 70's. We were back on the road and raring to go, the fans came out to support our new venture and we went full steam ahead with a new Renaissance.
This was very successful and we toured the east coast of the US, Canada, Japan and Korea. Michael and I wanted to record a new album and go back to our roots. We created a Kickstarter crowd funding campaign and raised enough money to write and record a new album 'Grandine il Vento'! It has received great acclaim and Michael and I were very proud of what we had created along with:
Rave Tesar, Keyboards, Jason Hart Keyboards, David J Keyes Bass/Vocals and Frank Pagano on Drums, Percussion and Vocals.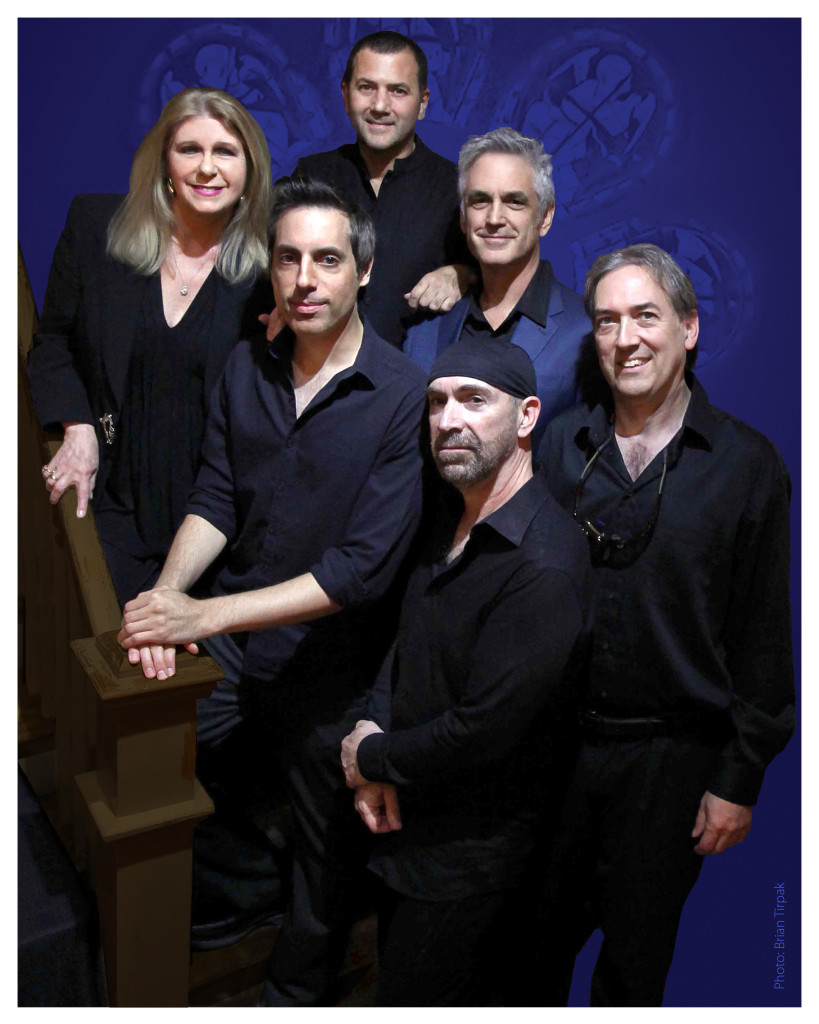 A few months passed and we were offered a distribution deal, the label wanted us to change the album title and add three bonus tracks along with new artwork. We did this and called it 'Symphony of Light.'
Can you tell me about the writing of the track 'Symphony of Light'. It really is a stunning song. What inspired you?
'Symphony of Light is about Leonardo da Vinci. I am also a painter now and when we decided to write a new album one of my first thoughts was to write a piece about Leonardo da Vinci. You are correct it is stunning! And sometimes while I am singing it, brings me to tears. It also a very strong piece and reminiscent of our earlier work.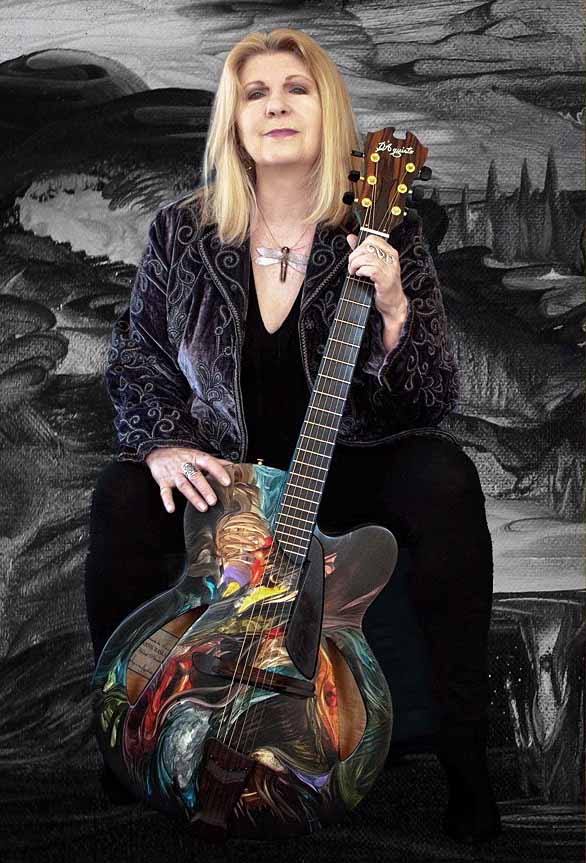 Michael passed away soon after you recorded 'Grandine il Vento'. Was it difficult to carry on or was it made easier as you are celebrating his legacy?
It was a terrible shock and so unexpected, we had worked so hard with the band and were moving forward, back in the swing of it and a new album about to be released. I couldn't just let it all go; we had all put our hearts into our first album in over 13 years. I knew that Michael would have wanted me to carry on, we both believed strongly in the new music. I know he would be and is proud of what has been accomplished in the past three and a half years since his passing.
Renaissance are known for their huge symphonic sound. Is it difficult recreating such rich studio recordings live?
Not at all difficult as now have two keyboard players and also 5 strong voices, which we lacked in the 70's. Don't get me wrong by saying that, back then we basically only had four musicians and me, it always amazed me how we managed to create a huge sound even back then. Now we have six band members, all excellent musicians and singers too.
Annie, I wish you all the best for the tour, what's next for Renaissance? Do you have plans to record new material?
Yes, there will be new music but not quite yet as we really would like to tour more and further afield to support the most recent CD and the 'Live at The Union Chapel' DVD. Both of which are available on our website at:
Facebook pages are:
www.facebook.com/renaissancetouring
www.facebook.com/anniehaslamart
VENUE CHANGE: Renaissance + Curved Air Tuesday 26 April – This show has moved to O2 Forum Kentish Town on the same date. All tickets remain valid: www.ticketweb.co.uk/event/GDP2604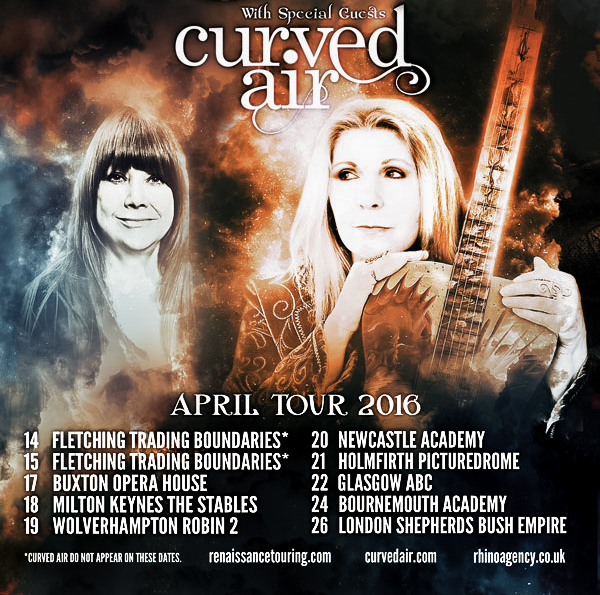 Copyright © Jason Barnard and Annie Haslam, 2016. All Rights Reserved. No part of this article may be reproduced or transmitted in any from or by any means, without prior permission from the author.
This post does not allow comments