Andy Morten is tied to British psych-pop like The Kinks are to Muswell Hill.  In the pre-internet era he painstakingly pieced together the sixties psych scene through rare records, re-issues, compilations and word of mouth inspiring the formation of Bronco Bullfrog; a group whose sound echoed that scene. Andy wrote many of their tracks as part of the trio that enjoyed minor Spanish stardom. When the band split Andy went onto various side projects, album design work, liner notes, podcasting and music journalism. In the run up to the release of Bronco Bullfrog's new single Jason Barnard speaks to Brit-psych's renaissance man.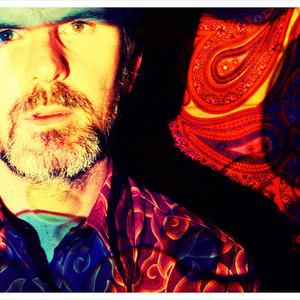 Hi Andy – can you tell me about your early years and how and when you got into sixties psych-pop?
OK, the lineage went something like this: I got into The Jam at school in around 1981 because my mates liked them. We pieced together the heritage as well as provincial 12-year olds could (thank God for that All Mod Cons inner bag) and went from there straight back to the '60s. Most of my mates favoured the Motown and Ska stuff but I immediately gravitated towards the British mod bands so I picked up Small Faces Greatest Hits (the one on NEMS with a curious mix of Immediate tracks on it), two Golden Hour Of The Kinks sets (one with 44 tracks from the '67-71 era and one with all the hits) and The Who Collection (a double that went right up to 'Who Are You'). These have remained my three favourite bands pretty much ever since. I was utterly in love with the notion of bands making three or four singles a year and each one being as good, or better, than the last. Fortunately, those singles were still ten a penny in the mid-80s so I started buying things that might be alright, purely because they were on Pye or Decca or Immediate. I bought a lot of rubbish.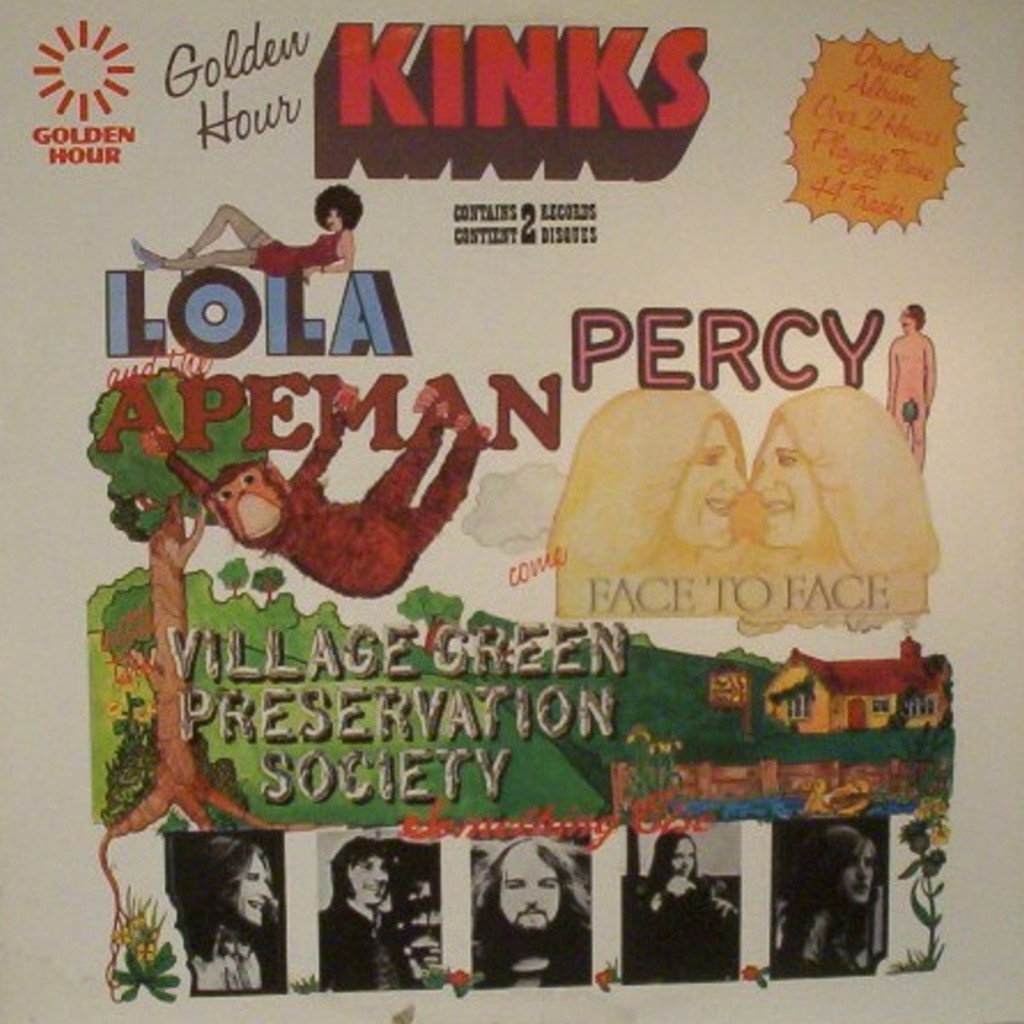 The next big turning point was The Beatles. I'd attached some kind of stigma to The Beatles, possibly because my mum and dad had 20 Greatest Hits on tape and that somehow invalidated them. Also, I knew how popular The Beatles were and I was, even then, predisposed to shunning populism (why else would I be hunting down Yardbirds and Zombies singles at the age of 14 when I should've been out chasing girls and popping wheelies?). Somebody had told me that Revolver was really good. I saw a copy for (I think) £1.25 and decided to take a punt. I struggled with some of it but really liked the Lennon songs – they had a crunchy, metallic sound that I somehow equated with a handful of contemporary bands I was getting into; bands like The Times, The Direct Hits and The Prisoners, who I started going to see live around that time. Anyway, I dug Revolver and started snapping up all of The Beatles' albums and singles. Got the lot and never paid more than a couple of quid for any of them.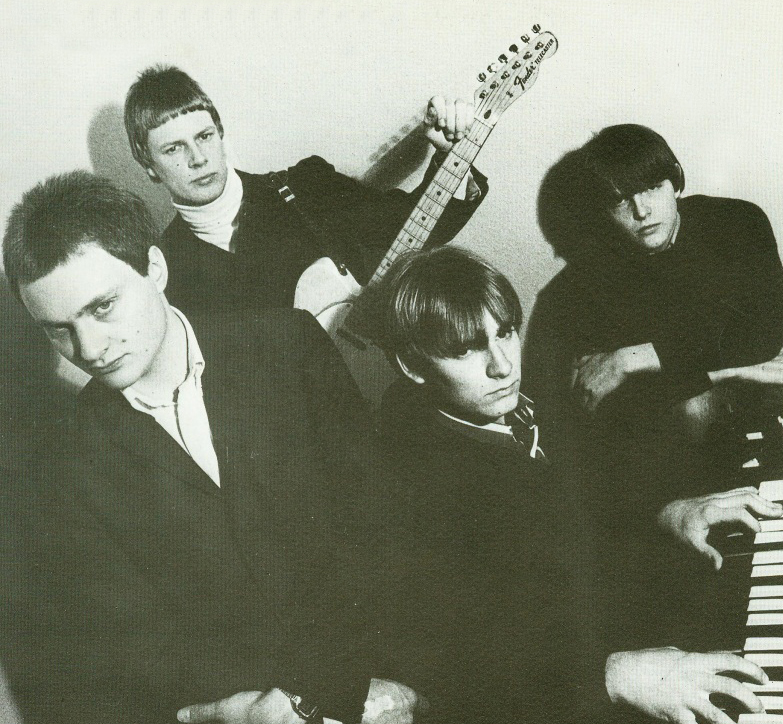 The Prisoners
The Prisoners opened a lot of doors for me, musically. You have to remember that, outside of fanzines, the odd Record Collector feature and maybe an album liner note (such as they were at the time), us bumpkins had no way of finding out about stuff. Every new discovery was a triumph, a notch on the wall. So when I began going down to London to see bands I'd talk to anybody who'd listen and ask questions. When someone told me The Prisoners had ripped of The Crazy World Of Arthur Brown, I went straight to the Virgin Megastore on Oxford Street and bought The Crazy World Of Arthur Brown album. When they started covering Hendrix, I bought the first two Experience albums and Smash Hits. Once you start doing this, new avenues begin to open up; you become educated, better at joining the dots.
[tubepress video=b5hs3IDETcg]
The reissue scene really kicked off around this time too. I'd already bought The Ultimate Action and The Creation's How Does It Feel To Feel as they were pretty high profile acts, but suddenly there were '60s reissues and compilations appearing in my local record shop (Spinadisc in Northampton) like nobody's business. Tomorrow, The Pretty Things 1967-71, Honeybus At Their Best, The Collection by Blossom Toes, The Idle Race's Light At The End Of The Road, John's Children's A Midsummer Night's Scene, The Eyes' Blink and The Artwoods' 100 Oxford Street. Once I'd bought something on Edsel, Decal or See For Miles, I'd have to buy all of them!
This meant the purchase of SFM's The Great British Psychedelic Trip Volume 1 in 1988, a hugely significant record for me – my first exposure to what I respectfully and affectionately call "the third divison bands". I can vividly remember cueing it up for the first time, hearing 'Tales Of Flossie Fillet' and just thinking, "yes!". It was like The Kinks and The Small Faces rolled into one. Timebox, The Attack, The Poets, The 23rd Turnoff, Fire, Tintern Abbey – it's still a great comp 25 years and 25,000 songs later. So I bought Volume 2 and, lo and behold, 3 and 4 were released soon after.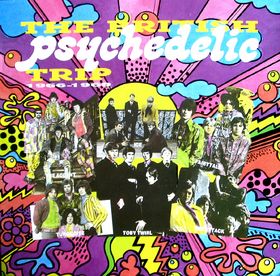 The most tantalising of all the labels was Bam Caruso. The artwork was better, and the printed inserts carried lengthy liner notes, photos and often discographies. The first Rubble comps I bought were The Psychedelic Snarl and The 49 Minute Technicolour Dream. There were maybe eight volumes available at the time and me and my friend Jim McAlwane (with whom I was sharing my journey into '60s psych and who would later start the Marmalade Skies website) took it in turns to buy them. We lived on the same road so I'd run up to his house and he'd play me 'Riding A Wave' by The Turnstyle from Professor Jordan's Magic Sound Show and we'd freak. It seemed like each volume contained a track that was better than anything we'd ever heard – the excitement and sense of impetus must have been immense as, for the next few years, I spent every penny I had on collecting volumes of Rubble, Perfumed Garden and Chocolate Soup, bootleg reissues of Kaleidoscope, Elmer Gantry's Velvet Opera and End albums, and the odd original LP or 45 whenever a bargain came up.
[tubepress video=Brizmz08ii0]
I'm still a student of this music now; I've never stopped learning and rarely does a week go by when I don't fall in love with a new tune or band. Anyway, I better stop now. My eyes have broken.
Could you introduce Bronco Bullfrog to the uninitiated, how you formed, your members and your style of music?
Bronco Bullfrog is Michael Poulson, Louis Comfort-Wiggett and me. The band got together in late '96, broke up in 2004 and started again about two years ago. Mike and I have been mates since our teens – we used to meet on the train going to see The Prisoners. He's been in pretty much every band I've been in. I met Louis much later when I was depping with The Aardvarks. Our band The Nerve and his band The Immediates were playing the same circuit in the early '90s. Bronco Bullfrog started when we all found ourselves a) without bands and b) keen to get away from the strict garage and psych set-ups of those previous outfits. We were getting into sunshine-pop and country-rock and prog and folk and wanted to be in a band where all of these ingredients formed part of the puzzle. It gelled from the first beat of the first song we ever played together.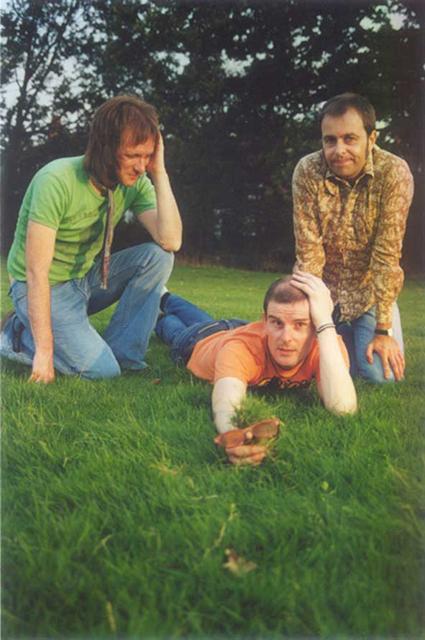 Bronco Bullfrog (left to right: Louis Comfort-Wiggett, Andy Morten and Michael Poulson)
You released a few records in the late nineties – what are your favourite tracks from that period?
Our first LP was released in '98 and remains my favourite. The songs were written and rehearsed very organically in between the three of us hanging out all the time, getting high, buying records, meeting girls, getting dumped and generally sharing each other's experiences. I don't remember anyone ever vetoing a single idea – we were totally on the same wavelength. I was the primary songwriter by default really (i.e. I wrote a song a day and the other two wrote a song a year) so I just tried to absorb the music and the books and the films and the people we loved and regurgitate it in a form that was both pleasing to the ear and challenging for us as musicians. Consequently it's those early songs that still mean the most to me. There were flashes of brilliance after that but not in such concentrated doses!
[tubepress video=MvC947apS1I]
I understand you whilst you enjoyed some moderate success in the UK you were much bigger in Spain…
Yep. Still not entirely sure why. Those Spaniards love their rock 'n' roll and must have seen something in us that appealed. We did our first gig there in 2000 and then went out there every other month for the next four years. It's the best place to be popular: the people, the places, the food, the girls and the music were mind-bogglingly good and we played some blinding shows.
[tubepress video=Fc7LmD5fcjs]
You teamed up with Pete Dello and Colin Hare from Honeybus. That must have been amazing.
It was! Bronco Bullfrog had played at a festival called Felipop in the north-west of Spain and the organisers scored something of a coup by convincing Pete and Colin to come out and play the old songs together as Honeybus. Louis and I were asked to back them up on the more rockin' numbers and they handled the rest of the set either as a duo or with a drum machine thing. They said the ones we played with them were the best though. I played with Colin a couple of times in Spain after that too. We backed up PF Sloan and Patrick Campbell-Lyons at Felipop there too. Not together, sadly.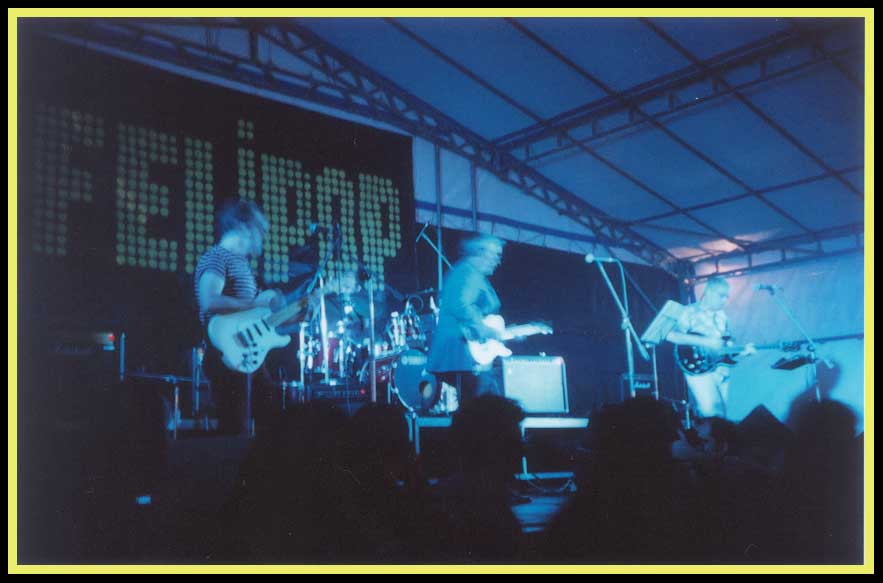 Felipop (left to right: Louis Comfort-Wiggett (out of shot), Miguel Angel Villanueva, Andy Morten, Pete Dello and Colin Hare

You've also had some other musical side projects. Your version of "Baby Your Phrasing Is Bad" as Campbell Stokes Sunshine Recorder is very valuable as part of the Fruits de Mer LP.
Why, thank you sir. When Bronco Bullfrog went their separate ways I had no inclination to write or record for a while as we'd had some stressful and counter-productive experiences doing our albums. Then, after a while, the bug sort of got me again so I did the Campbell Stokes Sunshine Recorder album and recorded a few covers on my own. I was learning how to record on my computer really, it was an experiment. Being asked to contribute to Fruits de Mer's phasing comp was an honour although I can't quite believe I was cheeky enough to attempt the Caleb track.
[tubepress video=7ZCqrPa0K8g]
You enjoy a parallel career as an excellent graphic designer for a who's who of sixties reissue labels including Cherry Red, Rev-Ola and Tenth-Planet/Wooden Hill. What kick started your work in this area and your proudest achievement?
In a nutshell, I walked out of a soul-destroying 9 to 5 pen-pushing job before it drove me nuts and didn't know what else to do. I'd met Joe Foster, who was running Rev-Ola through Cherry Red, and I really liked the stuff they were putting out and the stuff he'd done at Poptones. Thomas & Richard Frost, The Moon, Sandy Salisbury? This wasn't just any old rubbish. I was a bit pissed one night and asked him if I could do a liner note for him. Without checking my credentials at all he said yes! I chucked my day job for a £100 liner note gig! I'd dallied with design work as most music nerds do, putting together over-elaborate inserts when I made tapes or CDRs for friends.
At that time, Joe was having issues with his design guy (not Steve Stanley – another one) and by a series of small miracles I ended up doing some artwork for him. The Gremlins comp was the first one I did. I truly had no idea what I was doing – I'd never used the software before, didn't know about print prep – but I just about got away with it. Much later I was bemoaning my early attempts at design work with Paul Bevoir, who was designing most of Sanctuary's '60s stuff at the time, and he said, "Don't worry. I did 40 of them before I got one right." I feel a little better about my shortcomings now.
You've also done liner notes and essay for the likes of the Hollies, Apple and Kippington Lodge. You had a hand in the excellent recent Family box set too.
Again, my take on this is that if you're a music nerd and you're into THIS kind of music or THAT kind of music to a ridiculous degree then the chances are you're likely to become an authority on the subject. Everyone's an expert now because of the internet and endless liner notes and magazine features but even going back just 10 years or so, it wasn't like that – you did actually need to possess some knowledge. I try not to write about things I'm not mad about because it shows in the writing – there's nothing worse than an uneducated, contrived liner note.
[tubepress video=Gl4srrENxi8]
Through your show Toffee Sunday Smash you helped inspire my work on the Strange Brew. It acted as a great primer for lesser known groups that helped deepen my knowledge of British sixties psych.
OK, enough with the compliments, already! Thanks Jason. I remember you telling me that when we began corresponding and I was truly chuffed. The only reason I started TSS was because I'd bought a new Mac and all the technology to record and publish podcasts was there, and I was missing making mix tapes for people (CDRs aren't the same are they?). There was no notion of anyone ever hearing it. It seems a few people enjoyed TSS though – I certainly did. It was a shame I had pack it in but that's life.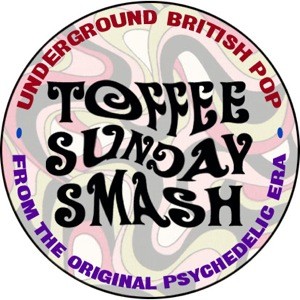 Along with Jon Mills you're a leading light at Shindig! magazine. You seem to dig much deeper than other music magazines who have the usual rotation of Beatles, Floyd, Queen, Bowie front covers?
Well, if Shindig! has a role in 2013 (and we think it does), it's to offer an alternative to the monthlies and to righteously spread the word about the stuff we and our writers are mad about. Simple as that. I love the fact we can do what we do, with very little concession to some sort of imagined "market" or "demographic" (ack! kill me now) and see our popularity, coverage and sales continue to increase. I think the printed magazine mirrors the resurgence in vinyl and tape – it's a physical product that you can cherish and look after and file away, rather than an intangible digital thing that can be replaced with the click of a button. Convenience isn't always the best option, as we know.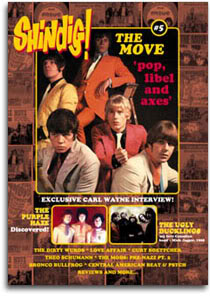 Could you tell me more about some of the interviews you've done? Did you meet Carl Wayne for the Move feature?
Yes, Jon and I met Carl a couple of times for that colossal Move piece we did way back in Shindig!'s early days. He was hilarious – a proper, old school showbiz guy. He insisted we went to some swanky Soho piano bar where he ordered champagne and regaled us with stories of his days in The Move. What a star. I haven't done a lot of that kind of interview as I'm generally uncomfortable in that situation. I'd rather be doing the talking than asking the questions.
You also were on BBC 6 music's Freak Zone with Stuart Maconie a few years back.
Yes. Stuart was in Manchester and we were in London so they had a life-size cardboard cut-out of him in the studio for us to react to! He was very accommodating I thought; he let us waffle on about the mag and play West Coast Pop-Art Experimental Band and 13th Floor Elevators tunes for ages.
You currently live in Frome, Somerset. There seems to be a great scene in the south west.
Well, I don't really know about "scenes" any more, unless you're talking about ancient burial mounds and cream tea. Gitte and I moved to Frome because we wanted to bring Oliver up in a mellow, fairly rural environment. And because we can't afford Bath. Frome's pretty cool though – it's a hippy, liberal town and we can live with that. There's a lot of music, art and food here, especially in the last five years or so since all the Londoners started coming down. Look, I've turned into a local!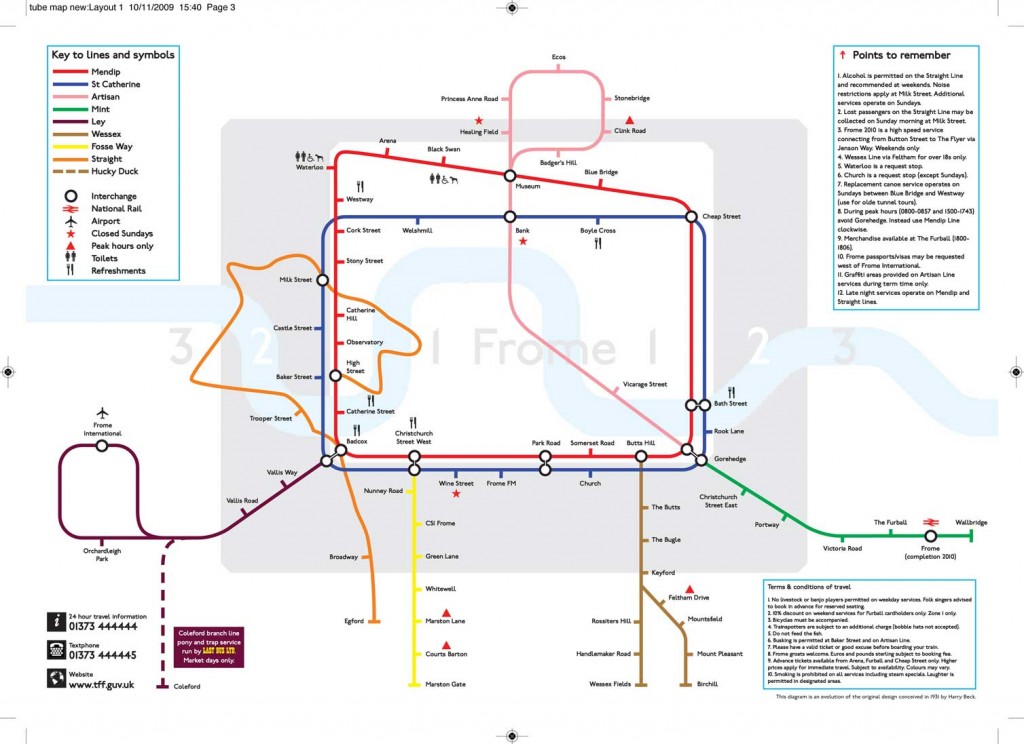 Andy's Frome underground map 
The new Bronco Bullfrog record "Clarifoil" is excellent. It's a fantastic homage to the sixties scene; is there a little bit of "Hey Mrs Housewife" in there?
Could very well be. Virtually everything we've ever recorded is the by-product of our collective record collections and Tony Hazzard looms large for all of us. I put him on in Frome last year and he was great.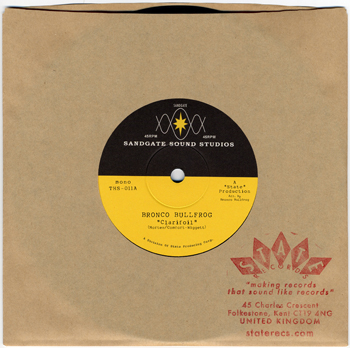 What's next in multi-talented world of Andy Morten?!
A holiday with any luck!
Clarifoil / Never Been To California by Bronco Bullfrog is out on State Records in July 2013.
Andy has been reposting his definitive Toffee Sunday Smash podcasts on Mixcloud.