Jason Barnard speaks to Andy Ellison, legendary John's Children, Jet and Radio Stars front man about his amazing roller coaster half century in music.
Read about infamous banned records, Marc Bolan, The Who, pioneering psychedelia, glam theatrics, wild live antics and much, much more.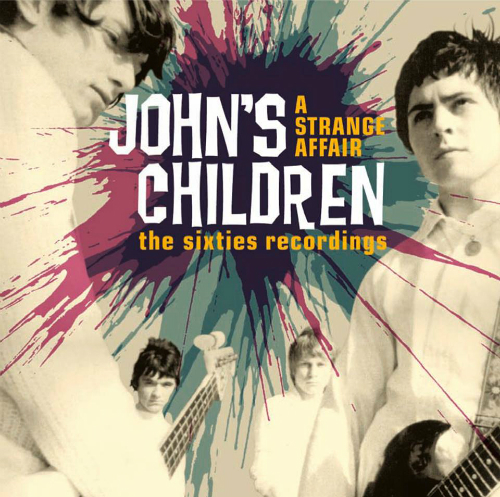 It's a massive privilege to speak to you. There's a new John's Children CD out 'A Strange Affair'.
It goes back to before John's Children to The Silence. There were 3 tracks recorded in a shed in Dorking in Surrey by Pierre Tubbs. Luckily we got those recordings today only because recently we managed to bake the two track recordings in an oven and retrieve the 3 tracks. They were 'Cold On Me', 'Forgive Me If I'm Wrong' and 'Down Down'.
The Silence were the beginnings of John's Children before Marc Bolan joined. We were one of South London R and B bands, and quickly became a mod outfit. In fact I called the band The Silence because we were so loud at that point in time. We had obviously been watching The Who and the Small Faces.
In terms of new John's Children collection, is that the first time all the material has been pulled together in one package?
Yes it is. There are about 52 tracks in all. I don't know what happened to 'Dan The Sniff' but it really is a comprehensive volume of JC.
Simon Napier-Bell was integral to the band changing their name from The Silence to John's Children.
During The Silence we were going to play this outdoor swimming pool at the bottom of Box Hill for a party but just before that Chris and John had gone down to the South of France without telling the rest of us. They had gone with the guy who owned The Bluesette Club but had no idea he was bouncing cheques. Anyway they woke the next morning, in a bleary haze at the Carlton Hotel in Cannes and realized they hadn't told the rest of us where they were going. So they just ordered more champagne.
To cut a long story short Chris and John had been lured by the local Leatherhead Club manager, Gordon Benett, yes that is his real name, with his stolen cheque book, to go off to France with him.
Eventually Chris and John were arrested in the hotel. Gordon Benett mysteriously disappeared. John somehow managed to get bail and left Chris in jail and found a lift to St Tropez with a girl he met earlier at the Carlton.
In St Tropez he was passing the 'Voom Voom' club when he recognised the sounds of 'The Steam Packet', with Long John Baldry singing. Stepping inside, he happened upon Brigitte Bardot sitting with the Yardbirds manager Simon Napier Bell. Simon took a fancy to him and invited him to his table and soon John was dancing with Brigitte Bardot.
John could charm anybody and soon he was telling Simon about this amazing band he played in and eventually convincing him to come and see the Silence when he got back to England. John also got some bail money for Chris. Simon did come down to the swimming pool and saw our mad attempts at playing. Me diving into the swimming pool and fusing everything and Chris kicking his drum kit in the pool. Simon thought it was a very wild act and was not sure what he would do with us but he was taken with our wild abandon and wanted to sign us.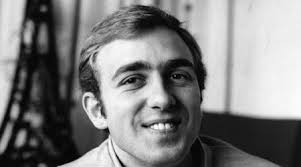 Simon Napier-Bell
A short time afterwards he decided he wanted us to be called John's Children. He then stipulated that we wear total white outfits which was a brilliant move, as all the photos of us seem timeless. We had to wear these white outfits all the time, from the moment we got up. We had 10 or 15 outfits each.
Your first single was 'Smash Blocked'. It is true that you're the only member of the band who appeared on it with all the music being played by U.S. session musicians?'
Yes I was the only band member to appear on 'Smashed Blocked'.
Before Simon set off for the USA, we had been listening to a Joe Tex song, 'The Love you Save,' that he was quite taken with.
This became the basis for 'Smashed Blocked', 'The Love I Thought I'd Found', with, 'You think I need you…. but you are so wrong,' complimenting the melody of the Joe Tex song.
The following day Simon left for LA saying he would be back in a week. To the displeasure of the rest of the band, Simon returned with a backing track that top session musicians in LA had put together.
Whilst Simon had been there he had witnessed the newly growing acid and flower power scene, and number one at the time in the USA was, 'Let's go to San Francisco', by 'The Flowerpot Men'. On the plane home he invented (it is claimed) a new adjective, 'psychedelic', and duly told us that we were going to be the first psychedelic group. The backing track had this spiralling weird beginning and Simon asked me to talk over the intro which was getting more psychotic as it reached the verse.
Simon had secretly taken me off to 'Advision' Studios telling the band that they were not needed and recorded my vocals over this weird piece of music. This caused ructions in the band at the next meeting with Simon. Geoff was the most reticent about the release of a song that he hadn't played on. John came round to thinking the idea was quite good especially as Simon said no one would know it wasn't him playing the wonderful bass riff and Chris didn't seem to care as long as it started getting airplay. Simon had secured a deal with, 'White Whale Records', a Californian-based record label where 'Smashed Blocked' suddenly became a smallish hit on the West Coast, especially California, with talk of the band doing a tour there. With that we made enough money to buy our own club in Leatherhead which was originally The Bluesette Club. We were all originally from that area. We renamed it The John's Children Club. That's where we'd set up and rehearse and in fact Chris lived in the club half the time.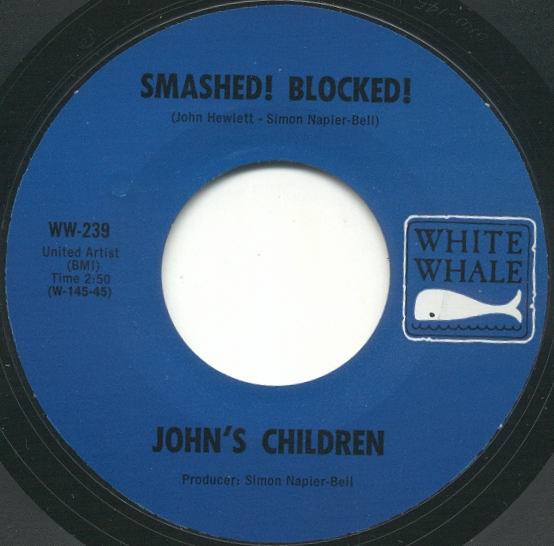 Smashed! Blocked! US single (photo from Discogs)
Did you have any bands play there?
We always had a Friday night spot. We had The Herd, The Birds (Ronnie Wood's first band), Jimi Hendrix played there one night, Cat Stevens, lots of different names.
Wasn't 'Smashed Blocked' banned over here?
Yes, things didn't go so well in England, when Simon took the tape to EMI they had issues with the title, 'Smashed Blocked', (Blocked being a euphemism for being high on amphetamines at the time), bowing to their demands, Simon had to change the name to, 'The love I Thought I'd Found', just to get a release in the UK. The record still stands today as probably the first recorded example of British psychedelia.
Needing a B-side Simon, who had been in the studio with session musicians once again, called me up, "Can you come over to the studio?" make up some words to this track".
Once there, Simon asked if I could make up some words to a track they had been working on. I went into a side room as some unknown backing singers sang some, 'yeah yeahs', they were introduced to me as 'Dusty Springfield', 'Rod Stewart' and 'Madeleine Bell'. Coming out of the room some five minutes later with a few crazy words, I went into the vocal booth and literally made the rest up as it went along. It was called, 'Strange Affair'.
Your 'Orgasm' album was released in the States, although it was delayed for a few years due to the controversy.
Simon decided that we'd do a live recording in the studio with lots of screams added over the top to make it sound like it was a live concert.. Some of the other guys didn't really take to it but John and I thought it sounded amazing, a really mad concert. It was obviously banned, especially in America.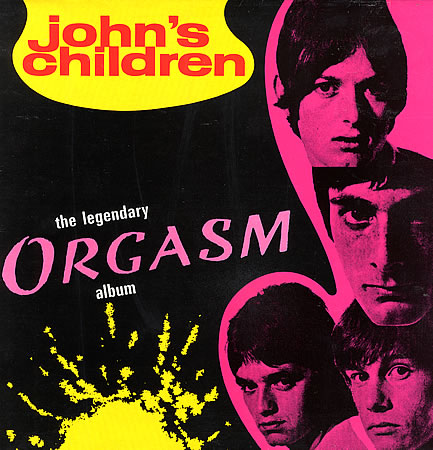 How did Marc Bolan get involved with the band?
After speaking with Kit Lambert who wanted to sign us up to Track Records, Kit had said you ought to lose 'the tall, lanky guitarist' Geoff McClelland and get somebody else in. I don't know why but the idea in those days was that bands look good if they were all the same height. Simon said I've got this guy I'd been working with, more or less a folk singer, 'Andy, why don't you go down and meet him and see if he'd fit in with the band.'
I went off down to Wimbledon and met up with Marc, spent the afternoon with him, played a few songs and got on very well. I brought him to the club the next day for rehearsals. Poor old Geoff he was working during the daytime so didn't know what was going on and usually came in Saturday mornings. By the end of the week we decided Marc was going to join the band. Geoff was sadly told he would have to leave which was a bad scene at the time.
Anyway Marc was introduced to this huge wall of amplifiers. He'd never played anything like that before. I remember Chris handing him a guitar and him plugging in and played the first chord, Marc leapt in the air and put his fingers in his ears. He went 'Oh, my god.' But eventually as the afternoon progressed we got him to play all these songs. I don't think we'd got round to 'Desdemona' at that point but later on he came up with that song which he said was his version of 'Jailhouse Rock'.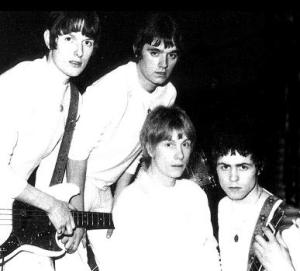 John's Children at Tiles club, Oxford Street, London
It's interesting to hear that as there was a huge controversy later when Marc went electric from Tyrannosaurus Rex into T.Rex. But John's Children were massively electric.
Yes, massively electric with our wall of sound. He'd be playing electric with us for at least six months and going way over the top, smashing his guitar with chains on stage. He had these special screens that he brought down to the rehearsal room one day covered in silver foil. He kneeled down inside and created this amazing feedback.
John's Children must have really honed him for T.Rex and those live shows.
Exactly, the interim period, Tyrannosaurus Rex, seemed so unlike Marc. I was quite amazed when he went off and decided he just wanted to be a two piece, him cross legged and a bongo player. But there is the fact that when we where thrown off The Who tour and deported from Germany, we stayed one night in Luxembourg where Ravi Shankar happened to be playing.
Simon said that he'd get tickets for us to go and watch. I remember watching Marc watching the performance. He was leaning over entranced. I don't know if Ravi Shankar sitting cross legged playing sitar with another guy to the left of him playing bongos was the influence. Maybe he thought 'John's Children are just too wild for me now, I'll go back to my acoustic guitar and get a bongo player.'
It's famously said that when you supported The Who you threw feathers around the stage so much that Roger Daltrey could not sing, is it true?
Yes that is true, there is never a typical performance with us and that still stands today. When we go out on stage, anything can happen. "We were dangerous!'. Today I look back on those early performances with unease, we were young and crazy. No performance was ever the same.
During sound checks I would usually check out the lighting gantries, speaker stacks, ladders, fire extinguishers, curtains, anything that I could climb. Sometimes things would go wrong. Some of the stages in Germany were higher than we thought, so some fights with John would end in some bad injuries.
Of course our massive wall of sound from the most powerful speakers made by NASA. (Jordon amps with satellite amps that each connected to one another), helped create a deafening backdrop to the wild stage act.
If there were lights at the front of the stage they were kicked in.
Chris would play the drums so loud, his sticks would splinter and his hands would bleed, spilling blood out on to his snare, splashing red droplets into the air. As he drummed the blood would flow down his drum sticks. Each night the back of my white outfit would be covered in streaks of blood as it flew from his sticks.
Marc would thrash his guitar with chains, as he knelt in front of his section of the massive wall of sound, steeped in feedback.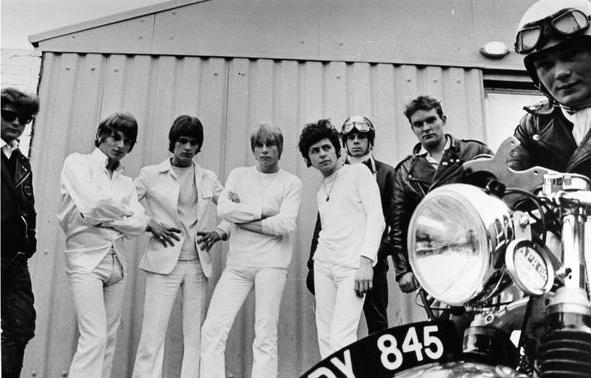 John's Children with the local chapter of the Hells Angels, outside their club, Leatherhead, 1967
Then came the feathers.
After somersaulting off the stage, I would charge in to the audience as I split open a pillow. You have no idea how much chaos one pillow can make, the feathers travel everywhere. Then of course there would be fights as I tried to get back to the stage.
Anything would happen after that, but usually a riot. Time to get out.
One night in Germany, Roger Daltrey from the Who, (whom we were supporting), found he couldn't sing when feathers got stuck in his throat. He angrily left the stage. The following night there was a such a riot The Who couldn't even come on and play.
So was that what led up to John's Children splitting up?
Well after we'd got thrown off the Who tour so much so that all our gear was confiscated by the German police and we had nothing to play with. We were then deported. After we came back to England Marc disillusioned left the band.
John's Children were on a mission to self destruct. So somehow the mayhem we caused in Germany on the Who tour, which was escalating rapidly, was taking us to some kind of dangerous finality.
Maybe our saving grace, was The German Police? The confiscation of all our equipment, (the 30 Jordon amps, our massive wall of sound). Then our subsequent deportation.
We were almost at the culmination of seeing how far we could take it. So maybe this scenario possibly saved our lives.
One thing is for sure, Marc would never have stayed on with all this madness. I think if John's Children had continued with Marc we could have become a huge band. Girls were always screaming and hammering on out dressing room door.
But we didn't let them out!
It was four crazy angelic boys all in white, with a wildly dangerous, loud act. We learnt quickly how to play and manipulate audiences, sometimes to our disadvantage. It could very get scary at times.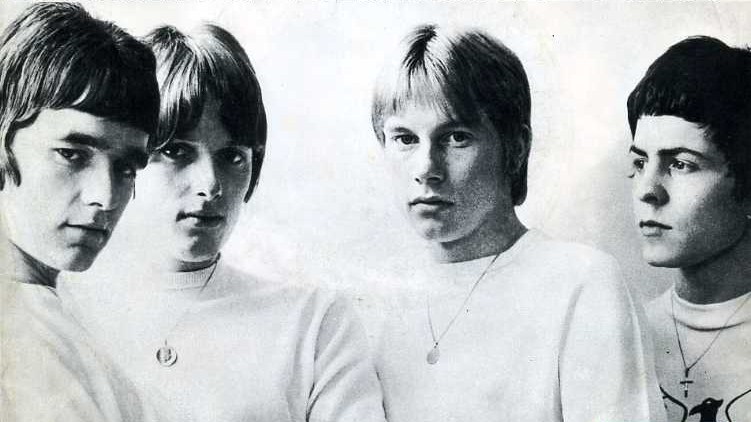 John's Children, from left to right: Chris Townson, John Hewlett, Andy Ellison and Marc Bolan
Had we gone on to major stardom we would probably all be dead by now. In between sound checks and gigs, we would climb on the highest points, the roofs of the theatre's and balance along the edges, just for dares.
The combination of John, Chris, Marc and myself was a dangerous cocktail of extremes.
We did manage to do a few gigs after Marc had left, with Chris Colville our club manager and roadie. It's almost impossible to believe that Simon said 'I've got a gig for you tonight in Hamburg'. I don't know how we managed to get back into Germany but it was to take over from The Bee Gees who were ill! We said we didn't have Marc anymore so Simon said to Chris 'You know some of the songs why don't you play guitar'. He was very good at throwing drum sticks in the air and catching them, but had never played before he took over on drums. So we went off to play The Star Club.
What a contrast to The Bee Gees. You must have been the loudest band at the time.
Yes before we had our Jordan amplifiers taken from us by the German police we were the loudest band. This was a huge wall of sound across the back of the stage. Even Pete Townsend came out on the first night of the German Who tour and thought we were playing with their gear because it was so loud. He got very angry and also Keith Moon didn't like the fact that Chris had a much bigger drum kit, a double Slingerland silver kit.
Keith started kicking Chris's drums. Pete started throwing our amps, kicking them over and seeing how much they could take and stormed off. We were incredibly loud. These amplifiers were built by NASA to throw the sound out away from us and towards the middle of the auditorium. It was a huge thundering sound.
You recorded one of Marc's tracks 'Hippy Gumbo' solo.
We also recorded that with John's Children with Marc singing. But my version was recorded with a small orchestra which I think gives it a haunting quality. My version was the ethereal version.
You did some BBC sessions and did a version.
Yes, a think it was Brian Matthews Saturday Club. Those recordings are on the 'Marc Bolan At The BBC' album so those were left off 'A Strange Affair'. But those recordings are great. In fact, Brian pulled Simon Napier-Bell aside and said 'Are these guys on drugs'. We had virtually smashed the studio up towards the end.
Some artists didn't fully record their BBC sessions they used studio backing tracks and sang over the top. So you guys played live then.
Absolutely live. You couldn't make that up. You can hear John and I fighting.
Your debut solo single was 'It's Been A Long Time'.
It was for a film by Clive Donner, 'Here We Go Round The Mulberry Bush'. That was used as the love song throughout the film and I also recorded it as a single. I think it might have got one of the first promo films. We went off down to Swanage and around Corfe Castle for a couple of days.
It was a song Chris and I had been mucking around with in the club before we broke up. Simon had been working on film editing for Clive Donner for the film and I was helping him. One day Clive said to Simon 'Traffic and The Yardbirds haven't really come up with a love song for the film, we have the rest of the music. Do you have anything?' Simon said to me 'Why don't you have a go with that song you were doing with Chris? It was quite good.' So we gave him our idea for the song and he took it off. Again I was back into the studio with a big orchestra. So I recorded it that way and then put some seagulls at the beginning and at the end.
Andy Ellison – 'It's Been A Long Time'
[soundcloud url="https://soundcloud.com/andyellison/04-its-been-a-long-time" params="show_comments=false&auto_play=false&show_playcount=false&show_artwork=true&color=cc6633″ width="100%" height="85″ ]
So in terms of your solo career I assume Simon was keen to keep your career going after John's Children?
After we had split he took John and I aside and said 'John, I know you'd rather get in the management side of things. Why don't you manage Andy for me and we'll try and get him a solo career.' So I started off with the track 'Fool From Upper Eden'. At the time John had got a job at Apple the Beatles headquarters in Savile Row and was an A&R guy there. He found this guy from a band they'd recently signed called Grapefruit, George Armstrong. He'd written a track that John thought would be good for me. I didn't actually like it at the time but I recorded it. Now it stands the test of time with its sixties feel.
'You Can't Do That' was released on the SNB label. I assume that was Simon's.
Simon wanted to do his own stuff and I think it was distributed through CBS. I remember designing the logo for him. I don't know how many tracks were released on SNB.
Now I'd started this solo career Simon had asked me 'Do you have any idea of what songs you want to do?' I said there were a couple of Beatles songs I'd like to do. He said 'Yeah, ok.' I really liked 'You Can't Do That' and 'Help'. He said 'Right, I'm going to get somebody to arrange the music and we'll go into a big studio and full orchestra and record these two tracks.' It was quite daunting as you had to sing live with orchestras in those days. We had backing singers believe it or not, Dusty Springfield, Rod Stewart and Madeleine Bell. They were doing a lot of backing work in those days.
Your discography went quiet in the early seventies. What did you do in that period?
After my solo career gradually ground to a halt I got disillusioned with the whole thing I thought I'd leave it and later went off to France. I also did a lot of painting and sold a lot of my paintings in England. Later while I was in France, in St Rapheal to be precise, I heard on a jukebox, Marc's 'Ride A White Swan' I thought 'Wow. I recognise that voice.'
Anyway, eventually I returned to England and got a phone call from Chris Townson saying he was working with a guy who been thrown out from Sparks. He said 'Would I like have a go at getting together with him for an idea for a band'. That eventually became Jet.
You can hear the Sparks influence in 'Nothing To Do With Us' by Jet.
Well obviously Martin Gordon our bassist came from Sparks. I think he was doing a lot of writing for them at the time but I think the Mael brothers didn't like the fact that he was almost taking over. He was too good for Russ and Ron, they wanted to keep control of the whole thing so he was thrown out. So Martin came with that sort out Sparks-ish feel.
Once we'd signed to CBS they wanted us to be the English Sparks although I don't think it really became that way. If you listen to the album it's of its own. 'Nothing To Do With Us' stands the test of time for that glam rock period. Very English.
Chris from John's Children was in the band wasn't he?
Yes, Chris Townson and myself. Also we brought in a guy called Davy O'List who was originally in Bryan Ferry's Roxy Music. Ferry had recorded a solo song we heard the radio and thought 'Wow, what's that song?'. It was 'The In Crowd'. We thought that the guitar on that was amazing. So we just phoned Davy up to see if we could get hold of him somehow and amazingly he agreed to come down to the next rehearsal. We couldn't believe it. Then we thought we'd get ourselves a keyboard player. We found this guy called Peter Oxendale and changed his name to Sir Peter Oxendale.
There we had Jet dressed up in all these glam outfits. We completely changed our whole look. Martin was in this kind of riding outfit, Davy was in a dinosaur outfit and I was in white, with a cape with Jet on the back and white boxer boots. All a bit stupid really, but there you go!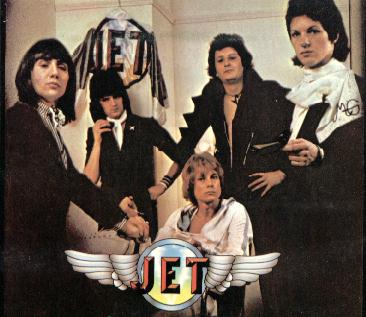 You also did a tour supporting Ian Hunter and Mick Ronson.
Yes, we did. In the second night we were at The Apollo in Glasgow. It had a very high stage, about 25 foot off the ground with a huge audience going up to the gods. They had this smaller stage that goes in front of the stage and went up and down. You could take your equipment up on it and then it dropped 5 foot below the stage. So I thought it would be good to leap off at the beginning of the act. By then it was dark. We started doing 'Cover Girl' which was off the Jet album. I immediately leapt off the stage thinking I was going to land 5 or 6 below but they'd already taken it right down to the bottom. So I dropped the full twenty five foot through space and landed in an orchestra pit in darkness. The band thought I'd be jumping back up again but I didn't.
Then I realized that I had to go to the left or right to go back up to the stage. Of course there was a mass of doors and corridors I was running as fast as I could trying to get near the music. Then the music seemed to get further away. Then I went through a door and a corridor and I could hear it again. Eventually in this labyrinth of corridors I found a door and banged it open. I found myself out in the street! Two drunks were standing there with cans in the street looking at me like I was completely mad in my outfit. I ran round to the front of the auditorium and tried to push my way back in. Of course I didn't have tickets and they didn't know who I was so I had to leap over the kiosk, then some bouncers came chasing me. I went through the doors and managed to be chased through the crowd to the speaker cabinets on the left and climbed all the way back up the scaffolding and back on the stage. The band by now were almost about to give up and were still playing the opening to 'Cover Girl'.
That was the start to the Hunter-Ronson tour!
Your next group Radio Stars shared a similar line-up to Jet.
Awhile after we'd done the first album we were sent us off to the country to record the second album so we were in an old Church in Bruton in Somerset. We gradually got more and more out of it on the lovely cider of the area. After about two weeks we hadn't come up with much of anything at all. So we virtually made up a rock opera on the spot which we played to some irate executives from CBS. This got us thrown off CBS and once again all our equipment disappeared.
We were left with a couple of songs that Martin had written that sounded great and we went to Island records to try and get some money for backing for them. In the end they didn't really want them. So I took them off and there was one called 'Dirty Pictures' I took around to some smaller record labels. I turned up at Chiswick Records in Camden Town. Ted Carroll who ran the label said 'Wow, I really like this.'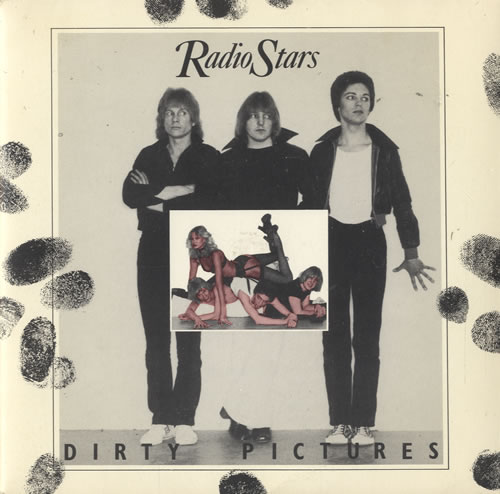 From there on we were signed again but still didn't have a new name as yet. I had left a list of names that might work. The next thing we saw our new release 'Dirty Pictures' in the papers with the name 'Radio Stars'. So we were off again but this time there was a slight change of angle because it was the beginning of the punk era. Somehow we were slotted us into this punk thing even though we were the quirky madcap Jet people. I think because of our wild stage act coming from John's Children, which I was still doing, we got lumped in with being punks.
Was 'Dirty Fingers' your first single?
I like that…. Dirty Fingers, I'll have to write that. Anyway 'Dirty Pictures' was the first single with 'Nervous Wreck' next and 'No Russians in Russian' on an EP.
'Nervous Wreck' was the hit.
As soon as we'd played 'Nervous Wreck' on 'Top of The Pops' the audiences changed overnight. We couldn't believe it, the next gig we went to there was queues around the block. I thought for a minute that there was some other band playing. It just went on from there.
The first Radio Stars album 'Songs for Swinging Lovers' was very well received but by the time we got to the second album 'The Holiday Album' I think Chiswick Records were running out of money. We'd already been offered the chance to go to Chrysalis Records but you're obliged to stay with the company you're with if they match the offer. We didn't realize that Chiswick were fooling us and didn't have the money. So we went out on tour to promote the second album but we did the whole tour before the record came out. It was a bit of a pointless exercise.
You were on the Old Grey Whistle Test too.
We played 'Dirty Pictures' and the 'Beast of Barnsley' a song about a notorious rapist of the time. We got into a lot of controversy over the fact we had this tongue in cheek song about a rapist. The papers went a bit mental. Any publicity is good publicity.
Another of Martin's great titles was 'No Russians In Russia'. It was something that was said in a political debate between US president, Richard Nixon and Gerald Ford and put on the front of Private Eye. With Ford announcing [adopts Russian accent] 'There are no Russians in Russia'.
You played 'No Russians' on Marc Bolan's show.
I think it was the second from the last episode of the Marc show. It was a few weeks before he tragically died in a car accident in Barnes. I hadn't seen Marc since John's Children. So it was amazing to catch up with him in Manchester doing his show. He looked absolutely great. Apparently in the period before that he'd got overweight, was taking a lot of cocaine and champagne and was living in exile in Monte Carlo. But when we saw him he was back to square one and back to his wonderful self. I think he'd been keeping himself fit by running all the way from Barnes to his office into town each day.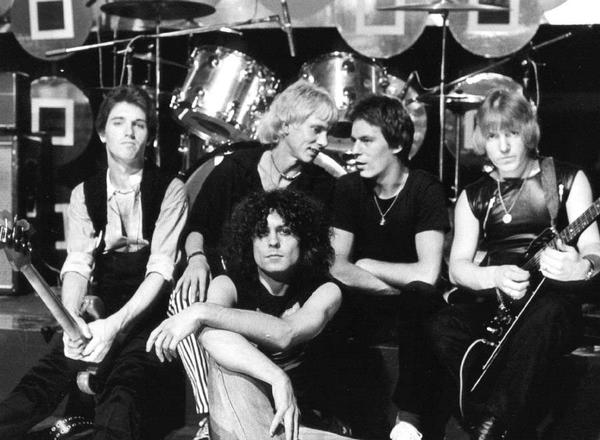 Radio Stars and Marc Bolan (photo from martingordon.de)
Can you tell me about the Radio Stars track, 'Back in Your Town'?
It was recorded after the demise of Radio Stars. However, when I say demise, I actually carried it on. Martin got disillusioned after Chiswick hadn't come up with the money to keep us going, and had left to form another band called The Blue Meanies. But I continued and brought Trevor White in to play bass even though he's a guitarist. We continued that way and managed to do quite a few tours throughout Europe. We went into an 8 track studio in Herne Bay and recorded about 10 tracks which have as yet never been heard. They are Radio Stars Mk 2, I would say. They may come out one day. Could be a brilliant album.
When were they recorded?
1980. Radio Stars had taken a slight move to become heavier, a slightly different sound. It was very exciting. To this day I think it was one of the best periods of Radio Stars. We were an incredibly tight band. The album is probably going to be called 'Back In Your Town' and this would be the opening track.
Coming nearer to the present day you made a track called 'Heather Lane' with Andy Lewis.
Andy Lewis is well into sixties music and a DJ of that music. He's also the bassist for Paul Weller but has done a lot of solo recordings and had a variety of vocalists come in and sing. He phoned me one day and said that he 'had a track that would really suit your voice'. He came over to my place with his recording equipment and I put the vocals down. His work is very underrated, a great pop writer and superb with lyrics.
That's also from your 'Cornflake Zoo' album.
Yes, a few years back I put an album out with some of my unreleased recordings and 'Heather Lane' was on that.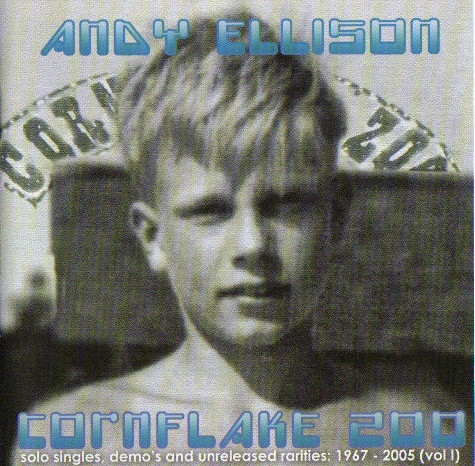 It's quite Syd Barrett-esque.
Thank you. I think that's what Andy Lewis said at the time. He thought of me because he thought I would come up with the Syd Barrett-esque feeling.
You also did 'Top Of The Tower' with Andy Lewis on his album 'You Should Be Hearing Something Now'.
It really sums up that period in the sixties when the Post Office Tower had a restaurant at the top of it and it turned round. It took twenty minutes to see the whole of London. It got closed down because of the IRA which was a shame. The song is about sitting in that restaurant in that cool sixties period, with a lost love of that time.
Andy Ellison and Andy Lewis – 'Top Of The Tower'
[soundcloud url="https://soundcloud.com/andyellison/13-top-of-the-tower-with-andy" params="show_comments=false&auto_play=false&show_playcount=false&show_artwork=true&color=cc6633″ width="100%" height="85″ ]
Did you do the lyrics?
No it is totally Andy Lewis. He comes up with some great stuff. He really does simulate the weirdness we went through in John's Children and really gets the strange lyrical content that went around in the sixties.
Can you tell me about your 'Fourplay' EP released 5 or 6 years ago?
It's virtually home recordings I had made, but I thought I'd put them on a 4 track EP. I put out 200 copies I think. 'Cluster Bombs' was the last track and is about selling arms in London at the Excel Centre. There's usually a lot of fuss outside the Excel at the time with demonstrators. I remember hearing they were selling cluster bombs and I thought it was an interesting angle for a song.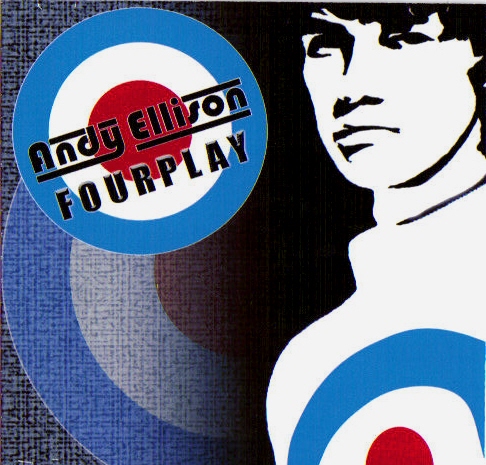 Boz Boorer played on 'Anyway Goodbye' on the EP too.
Boz, Morrissey's songwriter, helped me record that and he plays some of the guitar and keyboards. It's a song that I wrote and a bit sad in a way. It could be played at anybody's funeral……..hopefully not though. Read into the lyrics what you want. Lost love, who knows?
Andy Ellison – 'Anyway Goodbye'
[soundcloud url="https://soundcloud.com/andyellison/01-anyway-goodbye" params="show_comments=false&auto_play=false&show_playcount=false&show_artwork=true&color=cc6633″ width="100%" height="85″ ]
You reactivated the John's Children name in the 90s with him.
Yes, John's Children hadn't played in many years but one day I was in a corner shop in West Hampstead. A guy came up to me and said 'Hi. I'm one of your biggest fans. I really like the band you were in.' I wasn't sure what he was on about as I was in 3 different bands.
He said 'John's Children. My name is Boz Boorer, I'd love to play guitar for you. How about reforming?' I thought 'My god. This can't be possible but after spending the evening with him at his place round the corner we decided to start rehearsing.' So I phoned up Chris and he came back in again. Then we got Martin to come over and play bass guitar. We played quite a few gigs with that line up and Boz playing guitar.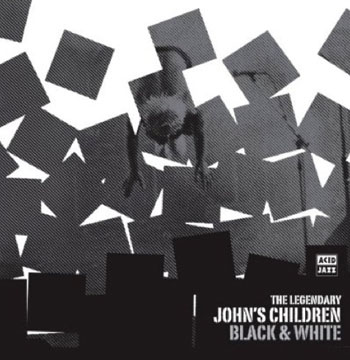 Eventually we got round to recording an entirely new album a few years ago which we titled 'Black and White' on Acid Jazz records. It was a whole new set of recordings. The opening track 'I Got The Buzz' sums up the amphetamine fuelled buzz of the original John's Children.
There's a YouTube clip of you doing the song Seventeen, one of your unreleased recordings.
Yes, it's just me with an acoustic live. I've got a home studio down on the River Thames near Windsor. I'd heard Frank Sinatra singing it many times and I thought that I'd have a got at that. I sat down with an acoustic guitar and recorded it straight off.
Hopefully we might do a recording of it with the new John's Children, the other three guys from Finland who recreate John's Children amazingly. Maybe we'll do an album and record it with the band and maybe play it live at some point.
In fact we're playing live on the 7th February next year at the 229 Club in Great Portland Street. That should be a wild evening, bring suitable clothing!
The Hypnotic Eye did a great version of 'Smashed Blocked' recently.
Yes, it was a double sided single for Record Store Day earlier this year. We did 'Cornflake Zoo' and The Hypnotic Eye did 'Smashed Blocked'. They did an amazing version.
The Hypnotic Eye – 'Smashed Blocked'
[soundcloud url="https://soundcloud.com/hypnoticeye/smashed-blocked" params="show_comments=false&auto_play=false&show_playcount=false&show_artwork=true&color=cc6633″ width="100%" height="85″ ]
Looking back over your career it's been quite a ride.
Oh my god. It's a never ending roller coaster. It's still going on today. We have some new John's Children gigs coming up, possibly playing with Radio Stars this year. Who knows? I don't know how much more my body can take as I've had so many injuries over the years. I can't wait to go back on stage and throw myself off again!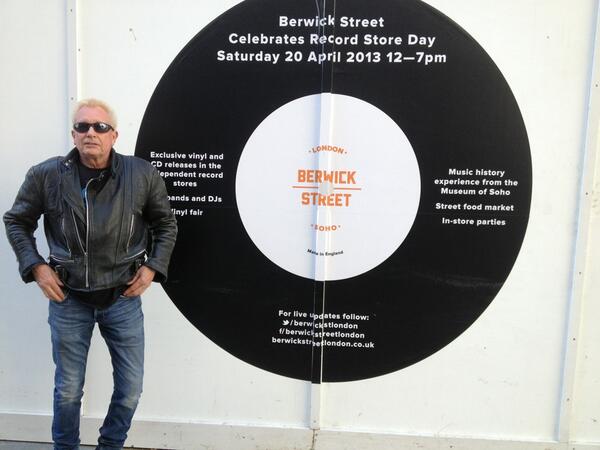 It's great to have spent some time with you, thank you. I wish you all the best with the new John's Children collection. I hope it's a showcase for all your other material as your career spreads even wider.
Maybe one day I'll get a band together and play it all. But it's been a pleasure talking to you. Thanks very much. Anyway goodbye!
More information on Andy's incredible career can be found at: http://www.johnschildren.co.uk/
Martin Gordon's site is also a mine of information on Jet, Radio Stars and a lot more: http://www.martingordon.de/bands.html
Don't forget to hear Andy's Strange Brew Podcast show too.
With thanks to John Reed at Grapefruit/Cherry Red.
Copyright © Jason Barnard and Andy Ellison, 2014. All Rights Reserved. No part of this article may be reproduced without the permission of the authors.