Alan Avon, holder of the finest voices in late sixties and early seventies rock, shone brightly with his band The Toyshop. They are fondly remembered and are best known for two tracks in particular, "Send My Love To Lucy" and "Night To Remember". They feature on the essential compilations of UK Psych – Chocolate Soup, Fading Yellow, Hen's Teeth and Rubble.  For the first time speaking to Jason Barnard, Alan sheds light on his time with the band.
We heard on the Hedgehoppers Anonymous article that you'd been involved with Hedgehoppers drummer Bill Honeyman from the age of 14 in a band called Alan Avon and The Presidents. Can you tell me about your early groups?
I was first in a group with John Askey called Larry Avon & The Dominators when we were at school. We did everything through one amplifier. Even so, we won an award in the Port Vale Social Club in a talent show. It was when I was around 14 that I joined the Presidents however I still went under the name of Larry Avon.
How and when did The Toyshop form?
I got married to my school girl sweetheart and packed in with the groups, but missed it so much. John Askey called on me one day and asked me if I wanted to be in a group again. I jumped at it, that group eventually became Toyshop. This is when I changed my name to Alan Avon. People used to say "Are you any relation to Larry Avon?" jokingly I used to say it was my older brother!
What are the highlights from your shows – the best venues and bands you supported?
We played many gigs and probably the most memorable was The Cavern in Liverpool. We did quite few tours of Scotland, Elgin and surrounding areas around the same time as a group called "Kindness" who eventually changed their name to "Smokey".
Can you tell me about the band's material – did you play primarily original material or covers?
We mainly did covers but threw in original material too.
Didn't John Peel describe you as being one of Britain's loudest bands?
Can't remember John Peel saying that but he did like our original tracks. We did quite a few Radio One Club shows. One in particular was at a club in Hereford called the Flamingo Club where we did a live version of "House of the Rising Sun". About 6 months later I was listening to Radio One Club and Stuart Henry was the DJ. He said "You have heard the Animals version and Frijid Pink's version of House of the Rising Sun, here is a version that will knock them both into a cocked hat." I thought "oh great" as I really love the track! I was shocked however as it was our live recording he played. I will never forget that moment or Stuart for his kind words. I often wish I could get hold of that recording.
How did the band get signed to Polydor – was this due to Terry Kennedy (Donovan, Flowerpot Men and Ivy League producer)?
We used to be looked after by an agent called Keith Fisher, who in the past had launched a few local bands with record deals. He contacted Terry Kennedy and Terry came up to Stoke on Trent to The Golden Torch in Tunstall to see us, something that seldom happens now. You can't get A&R people out of London, some you can't even get out of the office. Anyway, Terry liked us and signed us to Polydor.
Can you tell me about the April 1969 single "Say Goodbye To Yesterday"/"Send My Love To Lucy"?
"Send My Love to Lucy" has come to be a cult classic since its inclusion in the Fading Yellow Compilation series.  "Say Goodbye to Yesterday" was a Carter / Lewis composition. Terry knew them well as they were two of the Ivy League. We recorded it at Chappel Studios in London, Terry said he had booked a few musicians for atmosphere; he had the full string section of the London Symphony Orchestra and loads of other session guys. It was a great experience. The track did better in France than in the UK.
However, Terry told me that the man who organised the Eurovision Song Contest loved my voice, (he said I sang with the soul and feeling of Paul McCartney) and said that if it had any success he would let me do Eurovision for Great Britain. I never did Eurovision!!!!
Who wrote and choose the tracks for release?
As I said, Carter / Lewis wrote "Say Goodbye to Yesterday", but "Send My Love To Lucy" was written by Tony Todd. Our lead guitarist Terry chose which tracks were A and B.
Did the line up change prior to the next single on Concord in 1970 – These Are The Reasons/Night To Remember?
The original line up was myself, John Askey on Bass, Tony Todd Lead Guitar, Ron Smith second lead guitar (they played harmony lead guitar, it was an awesome sound) and Roger Jones on Drums.
John Askey left the band to get married, and was replaced by Maurice Cope. It was that line up that recorded on Concord Records, Terry had left Polydor and formed Concord Records for Campbell Connelly. "These Are The Reasons / A Night To Remember" was 005, Ike and Tina Turner with "Nut Bush City Limits" was 006. Both of our tracks were written by Tony Todd, he was a brilliant and talented lad. A great loss to the business he died of a heart attack at 35.
The single got a lot of airplay, including Radio One. Do you know why it did not break through into the charts?
Don't really know why that was, that's the UK record business. Personally I think "A Night to Remember" should have been the A side. Tony's guitar solo was fantastic. People said my voice wasn't bad too, but I can't comment on that can I?
It got a US and European release too?
Not sure about that as Terry left Concord went to live in Sweden with a Swedish medical student. Rumour has it that he was involved in the early stages of ABBA.
[tubepress video="YHOE1Co7vfc"]
"Night To Remember" is a haunting psychedelic rock song about the sinking of the Titanic. Can you tell me more?
I can't really tell you any more than I have already said, Tony played us the track and we all liked it so used to play it live. The only thing I know is that Captain Smith, the Captain of Titanic, was from Stoke on Trent. It was another of Tony's fabulous tracks.
Did you record any more material and is there anything else in the vaults?
Toyshop didn't, but after Hedgehoppers I signed to Tony Hatch and made a couple of singles on Philips. But my problem with Tony was he could not make up his mind in which direction I should go. I met Peter Waterman when he was with Magnet Records and he liked a track I had recorded written by David Parton (who recorded "Isn't She Lovely). The track Pete liked was "I Don't Wanna Dance" a reggae track. He wanted to record it but wanted Tony Hatch to pay 50% of the recording as he had the publishing, Tony refused so it never got recorded.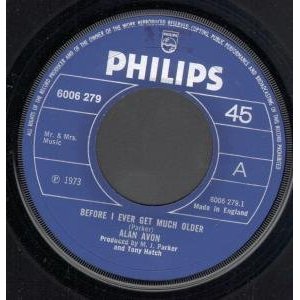 Was it the lack of commercial success despite the quality of material that led to the band's split in late 1971?
It was not really the lack of commercial success. It was more that the band started to argue on what direction we should go, and could not agree. It was then that Bill Honeyman contacted me and asked if I would go to South Africa to complete the six month contract with Hedgehoppers. They did carry on a little while without me, but then split altogether, Tony went to London and ended up working for a major label in A&R and then tragically died.
Did you keep in touch with the band members afterwards?
I still see John Askey occasionally from Toyshop, but the rest Tony, Ron and Roger have all passed away.
As well as continuing as a solo artist, Alan carved out a successful acting career, appearing in Coronation Street and Emmerdale.
He has recently written and recorded a track called "Peace, Love and Brotherhood". It's about stopping all the fighting and killing and living in love, peace and brotherhood, for the sake of us all:
[tubepress video="PiMDtWMYE90″]
Thanks to Nick Warburton and Jörgen Johansson for their help with this feature.