Jason Barnard speaks to Brian Southall, author of 'The Road Is Long: The Hollies Story'. With exclusive guest interviews and contributions from band members including Graham Nash, this new biography re-evaluates The Hollies place in the history of popular music.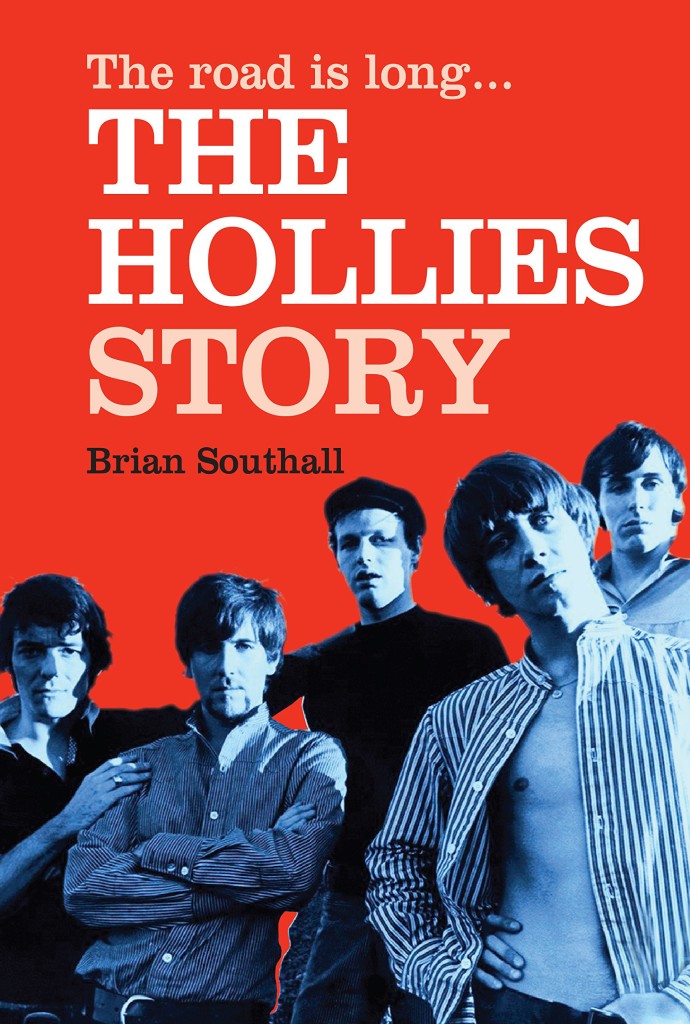 It's great to finally read an in depth study of The Hollies spanning over half a century. Is this the first book on them?
I believe it is the first UK book about the Hollies. I have heard that something came out in Germany some years back but this is the first major British biography of the band.
What do you think marks The Hollies out as being so special, even amongst such great contemporary bands?
The Hollies have an extraordinary track record when it comes to hit records spanning 30 years plus over 50 years of being on the road. While they never really rose to great heights with their studio albums, they were one of the great singles bands of their generation and combined some wonderful cover versions with their own self-penned hits. For anyone who was around back then The Hollies were up there along side the likes of The Beatles, Stones, Kinks, Who, Animals, Manfred Mann etc.
I understand you used to work for EMI. That must have provided you with particular insight into the band.
Actually I first saw the Hollies perform as part of a Rolling Stones UK tour back in 1965 when I was on a local paper and had been impressed by records like Stay and Just One Look.
I was at EMI for 15 years but it was after the Hollies had left although I did work with Allan Clarke on one of his solo albums and was also involved in various compilations we issued which brought me into contact with their manager Robin Britten. I also spent some time interviewing Tony Hicks in Abbey Road in 1981 for my history of Abbey Road Studios book and that was most informative.
I've read that Graham Nash helped, who did you get to speak to and what other resources did you draw on?
Graham Nash was kind enough to reply to a bunch of questions I e-mailed  to him while my long time in the record business meant I was able to get to a number of people I knew who had worked with or knew The Hollies such as Alan Parsons, Ken Townsend, Tim Rice, Roger Cook, Peter Noone, Danny Betesh, Ray Williams, Jim Cook, Wayne Bickerton, Graham Gouldman, Peter Jones and Terry Walker.
Also the British Library, as ever, offered a host of information via its collection of music papers and national newspapers.
Was it hard to track down some of these people given the years that have passed?
Actually it wasn't that hard to find people who were involved in the history of The Hollies way back when. ONCE I had made the first contact, it became obvious that they had all kept in touch with each other – or at least had contact details – so names and numbers kept coming in. Finding out about the Manchester scene in the 1960s was fascinating.
There were lots of reasons given for Eric Haydock leaving the band. It seems to have been a little acrimonious, what's your view on this speaking to those there?
It was interesting to get the up to date views of Eric Haydock plus those of ex-manager Michael Cohen and put them alongside what was reported at the time about Eric's departure. My view is that Eric did have some genuine concerns about the band's money and probably asked some difficult questions – although there is no suggestion of anything illegal – but it's also clear that he was not happy with the constant touring. Two other things also became clear – he was a moody so and so but also a first class bass player.
What will surprise readers about what you cover? For example, I didn't know that Allan and Graham featured on a Rolling Stones record.
Their involvement with the Rolling Stones is one thing but their close links to Elton John via their own Gralto music publishing company, which was looked after by Dick James who signed Elton and Bernie Taupin, might also be a surprise. Also that the fact that there were concerns within the band/management about recording tracks like If I Needed Someone, King Midas in Reverse, Jennifer Eccles and The Air That I Breathe – all hits of one sort or another.
It's also surprising to note that the band has had four lead singers – which must be unique for any band.
How did they successfully manage the transition from the early 60s to the late 60s and beyond?
Interestingly the transition in the late 60s wasn't that smooth as it was obvious that Graham Nash was going down a more hippy-inspired love and peace route than the other which meant lots of disagreements and made the late 60s a tough time for the Hollies. Had they not found and recorded He Ain't Heavy it could all ended at the end of the sixties particularly as Allan Clarke was unhappy and about to leave but they survived to live on for many more days.
What do you make of the current Hollies sound and line-up given the change of personnel?
The current line-up includes some very fine musicians alongside long-time (but not original) Hollies Bobby Elliott and Tony Hicks but it's hard for anyone to replace Allan Clarke as the sound of the Hollies. He had an extraordinary voice – Alan Parsons told me that it was one the loudest voices he had ever heard in a studio – and for Rickfors, Wayne and Howarth he is a tough act to follow. But having said that Hicks' guitar playing is as good as ever and the band it still working and selling out venues as they go around the country so lots of people are very happy with what they hear.
Unlike most 60s groups all band members are still here and in relatively good health. It seems unfortunate that won't reunite.
One the most interesting facts that came out of my chat with Eric Haydock was that all the members of The Hollies who played on their first No 1 hit I'm Alive in June 1965 are all still alive even though they don't all get on that well. A one-off final reunion tour with Clarke/Nash/Haydock/Hicks/Elliott – would be a great reward for all their fans and- as Eric reminded me- might make them all a few bob!
By my calculations The Hollies 'still alive line-up' from 65 is only topped with a complete surviving No.1 hit line-up by the Manfred Mann band which hit # 1 in 1964 with Do Wha Diddy Diddy … they are also all alive but again not on the best of terms!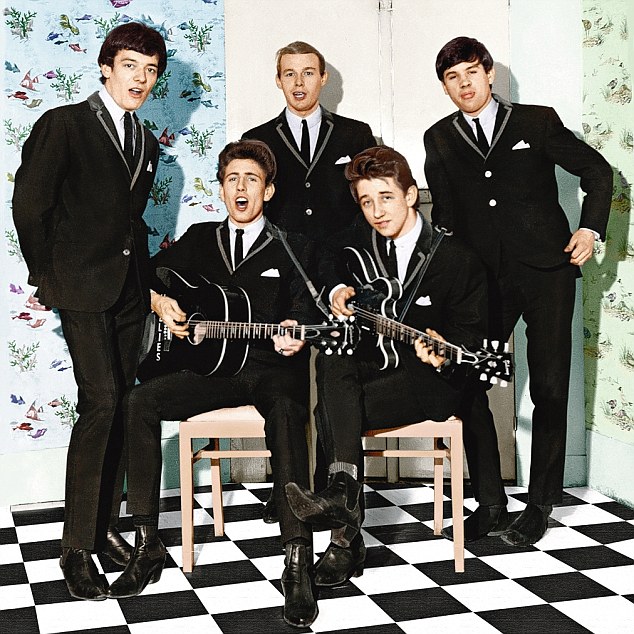 The Hollies 1964, (from left to right) Allan Clarke, Graham Nash, Bobby Elliott, Tony Hicks and Eric Haydock
Thanks for writing "The Road is Long" as it uniquely brings together their complete story. When does come out and how can people get a copy?
The Road Is Long is out as a paperback from Red Planet books and as an e-book from Poppublishing on Amazon Kindle on June 24th to tie in with the 50th anniversary of The Hollies' first number 1 with I'm Alive in 1965.
Copyright © Jason Barnard and Brian Southall 2015. All Rights Reserved. No part of this article may be reproduced without the permission of the authors.
Editor's post script:
'The Road Is Long' uses Jason Barnard's career spanning interview as one of its many references. It can be found here:
http://thestrangebrew.co.uk/allan-clarke-hollies-microsite/would-you-believe