Review by Jason Barnard
I recently posted an interview with Liverpool based songwriter Thomas McConnell and it's pretty clear that Merseyside has produced some exceptional artists over the past 50 years. Another group from that great lineage is Joe Symes & The Loving Kind, whose acoustic rock is gathering acclaim.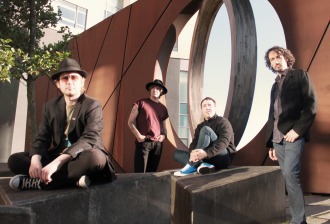 They have a mini album out which, from hearing a sampler, promises to be excellent.  'Fallen Down' starts on an infectious rocking note whilst 'Fine Line' (no relation to Macca's track) is a great Kinkish Barrettesque number. 'Lovers Undercover' shows a softer side showing the multifaceted nature of the group.
They also have a track on the 'Legends Shoulder to Shoulder' record in aid of the Pete Quaife foundation – great cause:
http://www.pqfmusic.com/album-vol2.php
More info on Joe Symes & The Loving Kind can be found at: